Microsoft vs Piracy!
Microsoft finally made a big step against piracy. They decided to use the benefits of the most popular service to validate all windows installation. Only users that own a legal copy of Windows XP will be able to use the Windows Update service from now on. The new version of Windows Update software is required to use this service, and the whole procedure for downloading the new version is very simple. All you have to do is just log in to the Windows Update web-site, and the system will inform you how to get the necessary download.
And this is where it all begins. Windows Update will check to see the product key associated with the copy of Windows that is installed, and will verify if the Windows version you are using is illegal or not. In case you are using an illegal copy, you will not be able to use this service. However, the Automatic Updates feature will still work to deliver the latest security updates, but you will have to enable it within the Windows control panel.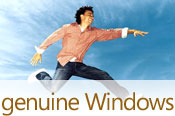 Of course, except Windows Update service, there several other ways to update your system. Rumours spread around the web speak of an AutoPatcher, a
utility
that can be used to install the necessary updates, without visiting the Windows Updates site. As the authors say:
AutoPatcher is a comprehensive collection of patches, addons and registry tweaks that give you peace of mind in the knowledge that your Windows system is up to date, even before you connect it to the Internet. It's designed to quickly patch a system with the most current updates and tweaks available, and requires no user interaction once you have selected what to install.
You can always see if you are using genuine Microsoft software by clicking
here
See users' opinions and solutions about this by
following this forum thread