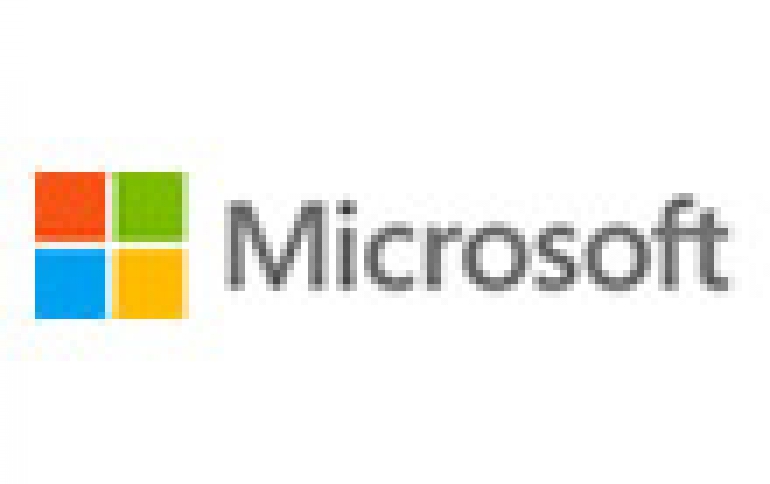 Microsoft Showcases new Windows 10 Devices At Computex 2015
Wednesday during a keynote address at the Taipei International Convention Center, Nick Parker, corporate vice president OEM Division, Microsoft, discussed how Windows 10 is enabling the next generation of devices and cloud-based solutions. Parker highlighted the opportunities that Windows 10 creates for partners to grow their businesses by selling the Windows 8.1 devices that are in the marketplace now, promoting the great experience that Windows 10 will offer on those devices when upgraded, and building new hardware across traditional and emerging device categories. These new devices will bring Windows 10 to life when it becomes available in 190 countries around the world on July 29 and in the following months.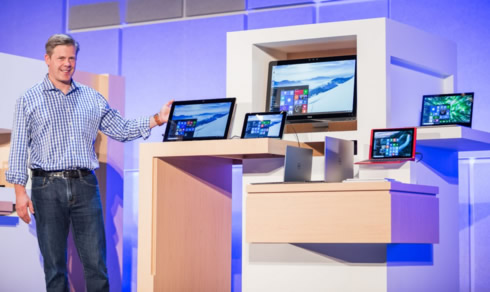 Parker was joined onstage by Tony Prophet, corporate vice president for Windows and Search Marketing, and Roanne Sones, general manager of Windows Engineering. Prophet highlighted the ambitious goal of 1 billion devices running Windows 10 in the next two to three years. Sones demonstrated new experiences and scenarios that Windows 10 enables including Start menu enhancements, universal apps and drivers, multitasking, and PC security features. She demonstrated Cortana, Continuum, Microsoft Edge and Windows Hello, and she discussed how DirectX 12 will improve the gaming experience.
Windows Continuum is a characteristic feature of Windows 10 in order to scale across all types of devices from mobiles, to tablets as well as notebooks, desktops, and the Xbox One. The promise is that you use an app on one form factor, and switch to another form factor, where the app will automatically scale its content and UI accordingly. It also works in the 2-in-1 and 3-in-1 form factor devices by dynamically switching between the optimal UI for tablet mode or notebook/desktop mode.
With Windows Hello, Microsoft is trying to eliminate user passwords, as well as save network administrators the headache of helping users to reset forgotten passwords. Instead of typing in a password, users have the option to either use their face, their eye, or use eye tracking technology to unlock their devices.
Windows Cortana takes the natural voice recognition mobile personal assistant from Windows Phone 8 across to all Windows 10 devices, and is powered by Microsoft Bing for delivering search results.
Parker highlighted an array of devices, esigned for Windows 10 including PCs from Acer, ASUS, Dell, HP and Toshiba:
Acer Z3-710 is an all-in-one PC that delivers powerful computing, enhanced audio and 10-point capacitive multi touch in a 1.4-inch-thin chassis.
ASUS Transformer Book T100HA is a 2-in-1 laptop with a detachable keyboard that boasts up to 14 hours of battery life and a tablet measuring 8.45mm and 580g. It supports Continuum
ASUS Zen AiO Z240 features the latest quad-core Intel Core i7 CPU, gaming-grade NVIDIA GTX 960M graphics, a 3-D camera and a six-speaker stereo sound system. It includes infrared 3D sensors built-in to allow users to unlock their PC with their face.
Dell XPS 15, shown publicly for the first time and optimized for Windows 10, features the same virtually borderless InfinityEdge display found at the XPS 13.
A new x2 from HP is a 2-in-1, ultra-portable, "tablet first" detachable -- with a magnetic hinge design that makes the device flexible and lappable -- and with Windows 10, users can transition from tablet to PC mode and back again in an instant.
A new HP tablet for mobile productivity has note-taking capabilities.
A new Toshiba PC enables Windows Hello with the latest in biometric security technology, including a face-authentication camera, an Ultra HD 4K screen and optimization for Cortana.
The Toshiba Astrea, a 2-in-1 convertible with an Ultra HD 4k screen, 6th gen Intel Core processor (Skylake) and face identification and authentication camera that supports Windows Hello.
In addition Parker demonstrated two new PC form factors:
FoxConn Kangaroo is an ultra-portable desktop PC that turns your TV into a full Windows PC, including a fingerprint reader to support Windows Hello and up to six hours of battery life.

Quanta Compute Plug is a mini-PC in a power adapter instead of a stick. Plugged into the HDMI port, it turns a TV into a smart computer and enables users to control their TV using Cortana via Bluetooth remote or headset.
Microsoft also confirmed that it will drop the manufacturer's royalty fee for the Windows 10 operating system for devices under 9 inches in size, as part of its efforts to see 1 billion devices running on the OS.
However, Microsoft has not finalized the hardware specifications for under-9-inch devices such as phones and small tablets that are eligible for the free licensing program for Windows 10.
In the emerging category Parker highlighted the Internet of Things (IoT) and announced a new collaboration between Microsoft and Toshiba to build next-generation Windows- and Azure-powered IoT solutions. The companies expect to release a complete offering for the transportation and logistics industry, from devices to services, including hardware such as an onboard video recorder that can also track vehicle data and analyze driver behavior. This also includes a ruggedized environmental device with up to 12 sensors onboard, a military-grade case and a battery capable of six months' continuous operation that will run on the Azure infrastructure to track shipping and ensure that goods arrive on time and undamaged. Parker also showed Crestron Pyng, a home-automation technology powered by Windows embedded services that connects lighting, shades, audio, thermostats, door locks and security systems, and utilizes Azure IoT services so everything works together to make life easier.
Mobile Essentials With The New Nokia 105 and Nokia 105 Dual SIM
icrosoft also on Wednesday announced the new Nokia 105 and Nokia 105 Dual SIM.
Aimed at first-time mobile phone buyers, the new Nokia 105 has everything found in the previous model and comes with enhanced functionality and features:
Expanded storage for up to 2,000 contacts
Enhanced audio
Increased talk time for up to 15 hours, and up to 35 days standby time
Refreshed design, available in three colors: cyan, white and black2
Two free, pre-loaded games, "Snake Xenzia" and "Bubble Bash 2."
Low price point, long battery life and ease of use make.
The new Nokia 105 and Nokia 105 Dual SIM will be available for an estimated retail price of $20 before taxes and subsidies and will begin rolling out in select markets starting in June 2015.
Tech specs:
Operating system: Nokia Series 30+
Display: 1.45-inch, LCD transmissive, HighColor (16-bit/64k)
Battery: BL-5CB, 800mAh, replaceable
Talk time and standby time:

Talk time: up to 15 hours (single SIM and dual SIM)
Standby time: up to 35 days (single SIM), 25 days (dual SIM)

Networks:

Dual-band 900/1800MHz (single SIM and dual SIM)
Dual-band 850/1900MHz (single SIM only)

Connectivity: 3.5mm AV connector, micro-USB charger
SIM: Mini SIM
Dimensions and weight: 108.5 x 45.5 x 14.1mm, 69.85g single SIM and 69.55g dual SIM (both including battery)