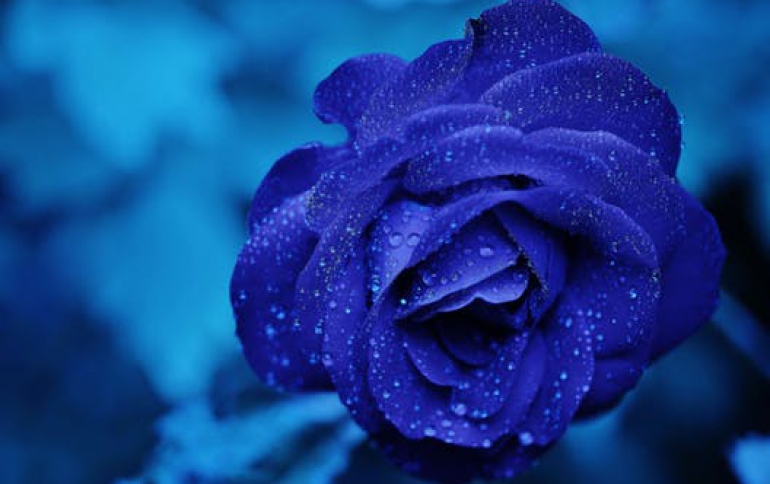 Microsoft Discusses Web Browsing With IE10
Microsoft outlined the Internet Explorer 10 Metro style browsing experience in Windows 8, which is powered by a new engine while at the same time it provides safety and control features such as tabs, keyboard shortcuts, and InPrivate browsing. IE10 is designed to make website interaction fast and fluid for touch as well as for mouse and keyboard use.
Microsoft designed the interface and controls to be there when users need them and out of view when they don't. The comapny also designed in the comprehensive functionality that people need for everyday heavy-duty web browsing: touch keyboard support for forms, integrated spell checking with AutoCorrect, finding text on the page, etc.
Panning and zooming, swiping back and forward for page navigation, and double tapping to zoom in and out of content are among basic touch functionalities. Context menus and form controls are optimized for touch, and the browser responds to device orientation (scaling smoothly to landscape and portrait screen layouts) and "snapping" Windows 8 applications next to it. IE10 also improves on the experience of browsing the Web with mouse and keyboard with support for the keyboard shortcuts and convenient mouse activations for back and forward navigation.
Metro style IE10 puts the focus on the websites users browse rather than all the tab and window management activity that has defined browsing to date. Navigation tiles are designed to help users find and navigate to sites immediately using the site's icon and color while minimizing typing. IE shows users frequently visited sites as well as sites that they've pinned to the Start screen:
As users type in the address bar, the navigation tiles filter to show sites from their history, favorites and even popular URLs. With Windows 8 roaming and connected accounts, users' browsing history and favorites roam with them so that they can access recent webpages across all of their PCs.
The Metro style tab switcher appears when users swipe in from the bottom or top of the screen with touch, right-click with the mouse, or press Windows key+Z on the keyboard:
Active tabs are shown as page thumbnails with page titles in text overlays. Tabs have a touch-friendly button for closing, and button for creating a new tab, or a new InPrivate tab. IE10 shows the last 10 tabs users have used. The tabs can be cleaned up with one command.
The Navigation bar in IE10 appears when users need it. The navigation bar includes controls (touch or keyboard/mouse) for common operations like back, forward, stop/refresh, and pinning sites to the Start screen. The address bar shows badges and coloring for secure sites, SmartScreen, and InPrivate browsing. It also supports auto-complete as well as web search, matching the behavior of IE on the desktop. The address box shows a progress indicator when a page is loading, and includes indicators for site compatibility and tracking protection. The navigation bar includes commands for Find on Page, and Open in IE on the desktop, for compatibility with sites that require older plug-in technologies, or for when users are using desktop tools and wish to continue using them in their existing workflows.
IE10 also works with physical keyboards as well as the Windows 8 touch keyboard, which it automatically adjusts. For example, when users set focus in the address bar, the "/" and ".com" keys become available to quickly enter URLs:

All alerts and user prompts come through a notification bar at the bottom of the screen. IE uses Windows 8 Metro style "fly-outs" when more interaction is needed. Notification bars automatically dismiss as appropriate. Downloads in the Metro style browser protect users from malicious software via SmartScreen's Application Reputation, as in IE on the desktop.
With IE10, websites are part of the Metro style experience in Windows 8. Through snap, charms, and integration with the Store and the Start screen, Metro style browsing blurs the boundaries between the web and apps.
Snap makes it easy to use Windows 8 for more than one thing at a time. Users can browse in IE10 and have side-by-side access to their mail, music, or any other application. The browser adapts to the narrow "snap" size and automatically undocks when necessary for user interaction. All of the core browsing capabilities are available when snapped – panning, pinch and double-tap zooming, and following links.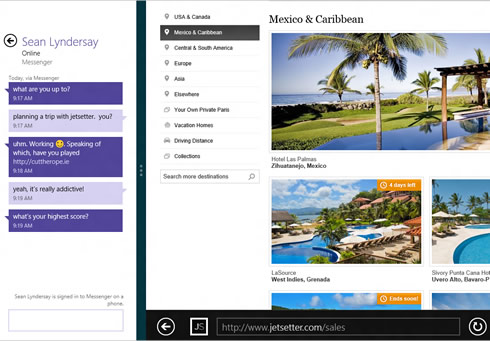 The new browser has no visible address or task bars. These commands can be accessed via "charms," which are icons that pop in from the edges when called up with either taps or mouse clicks, depending on whether the device has a touchscreen. Charms provide a consistent way to perform common actions like searching and sharing in Windows 8. IE10 supports the Search, Share, Devices, and Settings charms: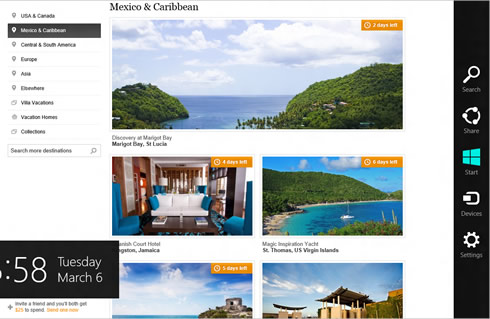 For the Search charm, IE10 uses the default search engine, which users can set to their preference. After initiating a search in the charm fly-out, search results are shown as they type, including the same picture and instant results they see in IE on the desktop.
With the Share charm, users can access any application that supports sharing (like Mail). This allows users to send a rich link preview with image, description, and hyperlink so it's easy to share more than just a link.
The Devices charm makes printing, projecting, and playing to external devices easy. For example, users can print from any webpage from IE by tapping or clicking the Devices charm and selecting a printer.
The Settings charm provides access to the most frequently used configuration settings for IE10. USers can clear browsing history, control location access, and more. Users get a simplified interaction with IE settings, while enthusiasts still have an easy way to access fine-grained controls through settings in IE on the desktop.
The browser has its own Start screen similar to the one for the operating system. It includes a set of brightly colored tiles that show popular sites, frequently visited sites and favorites that get filtered out as users type in URLs in the address bar that appears across the bottom of the screen.
With site pinning, users can personalize their Windows Start screen with the sites they use all the time. They can pin any website to the Start screen from IE10, so they have one place to access all the things they care about or need.
The tiles for pinned sites reflect the site's color and icon. With IE10, sites can provide background notifications for new messages and other account activity on the website. The site can also program additional commands that appear in IE's navigation bar in a touch-friendly way, the same way that sites can program jumplists for IE on the desktop.
Integration with the Store makes it easy to discover and launch Metro style apps for the sites users visit in IE. The navigation bar shows if the site has an application available. One tap (or click) takes users to the app in the Store. Once an app is installed, users can launch it directly from the site.
IE10 also offers the same security, privacy, and reliability features, building on IE9's SmartScreen, XSS filtering, Application Reputation, InPrivate browsing, Tracking Protection, and hang detection and recovery. In addition, IE10 takes advantage of Windows 8 to provide "Enhanced Protected mode" for better isolation of website content in each tab. InPrivate browsing is also extended to run per-tab, so users can run some pages InPrivate, leaving no history, cookies, or cached data.