Microsoft Announces New Windows 10 Devices and Tools For Schools
Microsoft is introducing seven new affordable Windows 10 devices to the company's portfolio for schools, faster assignments and grading tools in Microsoft Teams, and new programs to empower personalized learning.
Microsoft's Education team is in London for the annual Bett conference, the world's biggest education technology event.
The company is partnering with Acer, Dell and Lenovo to bring a portfolio affordable, easy to manage Windows 10 devices for the classroom that start at $189. These include two new 2-in-1 devices from Acer and Lenovo that start under $300 USD:
Lenovo 100e
Lenovo 300e​ (2-in-1)
Lenovo 14w
Acer TravelMate B1​(B118-M)
Acer TravelMate Spin B1​ (B118-R/RN)
Acer TravelMate B1-141​
Dell Latitude 3300 for Education
The Lenovo 300e is a convertible 2-in-1, but it also includes a garaged stylus. And if the stylus gets lost, students can write on the screen with a regular No. 2 graphite pencil.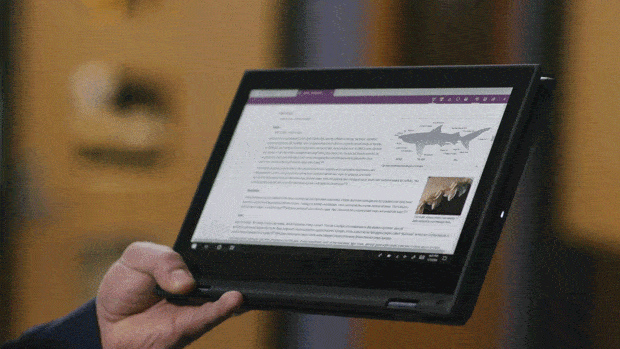 Microsoft also unveiled three new 13-15" PCs from Acer, Dell and Lenovo, all in the $300 price range.
The Acer TravelMate B114-21 is featuring a 14-inch FHD display, up to a 7th Gen AMD A6-9220C APU paired with Radeon R5 Graphics. It offers storage options with up to a 256GB dual-lane PCIe NVMe SSD or up to 64GB of eMMC flash memory. The Acer TravelMate B114-21 has up to 10 hours of battery life on a single charge. Other features include 802.11ac wireless, an RJ-45 Ethernet port, 1x HDMI, 1x USB 3.1 Gen1, 2x USB 2.0 and an SD card reader.
In addition to these new devices, Microsoft is introducing the Microsoft Classroom Pen, a new pen designed specifically with K-8 students and schools in mind, and optimized for use with Surface Go. The Microsoft Classroom Pen is designed for students who put their learning tools through heavy wear and tear and features a durable, hardened pen tip and a replacement tip for each pen included in the box. Plus, a built-in slot at the end makes for easy tethering to students' device cases, so the pen doesn't get lost.
Microsoft Classroom Pen will be available exclusively to education institutions and sold in packs of 20 for a cost of $799.80 USD (approximately $39.99 per pen). It will ship in all 36 Surface Go markets around the world, with the first wave of availability beginning next month.
Microsoft Teams and Flipgrid are helping students find their voice and develop critical social emotional skills, while also giving teachers new platforms for peer-to-peer professional development.
New features are coming to Teams this week including:
Grade Sync to connect Teams to your SIS. Say hello to Grade Sync, which automatically sends grades from Teams Assignments directly to your Student Information System, saving teachers lots of time. Grade Sync will be coming to systems like PowerSchool, Infinite Campus, Capita SIMS and many others soon.
Mobile grading. Now, teachers can grade Teams Assignments from anywhere on an iOS or Android device using the Teams app.
Turnitin allows teachers to check student submissions for multiple forms of plagiarism and helps teach the value of academic integrity, proper attribution, and authentic writing. With the new integration, coming soon, Turnitin subscribers will have access directly within Teams Assignments.
This month, Microsoft will kick off a beta which will allow teachers to access MakeCode, Microsoft's free platform for creating engaging computer science activities directly within Teams Assignments. Teachers can help students get started building their own programs using drag-and-drop block coding or JavaScript.
Coming soon, you'll see a new and simplified assignments experience. With the latest updates, you'll be able to grade faster than before and save time creating new assignments.

Microsoft also announced that it will be transferring the research and technology behind Code Jumper – a physical programming language that is designed to be inclusive of children who are blind or who have low vision – to the American Printing House for the Blind, so more students around the world can benefit from it.
Code Jumper is based on a Microsoft research effort called Project Torino, designed to give kids aged 7 to 11 an introduction to coding. Microsoft researchers developed Project Torino in close partnership with a group of students who are visually impaired. The project came about after the team learned the most popular path to introducing young children to coding, usually called block coding, was not accessible enough because it couldn't be read easily, not even with assistive technology such as a screen reader or magnifier. Together with APH, Microsoft believes Code Jumper can not only provide more students with the basic understanding of coding, but also provide important skills like computational thinking and resilience, which will have a positive impact in any career path a child might choose.
APH plans to make Code Jumper available in Australia, Canada, the UK and the US this year, and will distribute it worldwide over the next five years.
Microsoft also announced free mixed reality curricula to support every type of learner. Studies show that student engagement and retention increase as much as 35 percent when students learn with 3D technologies like VR headsets. The challenge lies in finding the right curriculum to get started with mixed reality – a barrier for many educators.
The company is making it easier to get started with immersive learning by partnering with VictoryVR to give schools 25 hours of standards-aligned virtual reality curricula across subjects for FREE when they purchase a Windows virtual reality headset.
This week at Bett, Microsoft will also be showing how Immersive Reader can work in a VR headset, benefiting anyone who requires additional focus while reading, whether they're five or 85. The company will also be rolling out free training materials in the Microsoft Educator Community to support teachers who have students with dyslexia as part of its partnership with Made by Dyslexia.