Mainstream Gaming PCs Powered by 7th Generation AMD A-Series Processors Debut
AMD's "Bristol Ridge" APUs pair with the new AM4 desktop platform to power new HP and Lenovo designs, which are launching today. "The consumer release of these new HP and Lenovo designs is an important milestone for AMD on two fronts. First, it marks a major increase in productivity performance, streaming video and eSports gaming experiences sought after by today's consumers, delivered through our new 7th Generation AMD A-Series desktop processors. Second, because these new OEM designs also feature our new AM4 desktop platform, the motherboard ecosystem shows its readiness for our upcoming high-performance "Summit Ridge" desktop CPUs featuring "Zen" cores, which share the same platform," said Kevin Lensing, Corporate VP and general manager of Client Computing at AMD.
Systems powered by 7th Generation AMD A-Series processors are productive and energy efficient, with up to four "Excavator" CPU cores. 7th Generation AMD A-Series desktop processors consist of 65-watt and 35-watt versions, offering power efficiency and enabling flexible solutions in a wide variety of form factors. The new 7th Generation 65-watt A-Series processors deliver performance only realized at 95-watts with the previous AMD generation. AMD claims that when compared to the Intel Core i5 6500, their new new 65-watt processors offer up to equivalent productivity performance and up to 99% higher graphics performance. In order to support this claim, AMD compared the new A12-9800 APU against the year-old quad-core Intel Core i5 6500 65W processor. PCMark 8 v2 Home was used to compare productivity (scores: 3483.25 vs 3466.5) and 3DMark 11 Performance was used to compare graphics performance (scores: 3521.25 vs 1765.75). Systems both used 8GB dual-channel DDR4 RAM, 228GB SSD, and Windows 10. The AMD system used DDR4-2400 RAM, while the Intel system used DDR4-2133 RAM.
7th Generation AMD A-Series desktop processors (previously codenamed "Bristol Ridge") also bring enhanced graphics capabilities and video playback features that support up to 4K Ultra HD in both the popular H.264 and new-and-improved H.265 formats. These devices will also feature AMD Radeon Graphics Core Next graphics, with full support for Microsoft DirectX 12.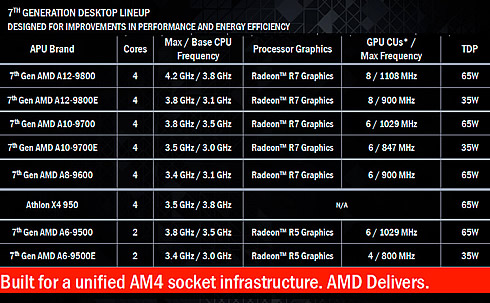 The AMD AM4 socket is a new unified socket infrastructure that provides compatibility between 7th Generation AMD A-Series processors and the upcoming high-performance "Summit Ridge" AMD desktop CPU. AM4 platforms feature DDR4 Memory and next-gen I/O and peripheral support, including PCIe Gen 3, USB 3.1 Gen 2, NVMe, and SATA Express.
AMD said Bristol Ridge will ship the AM4-based B350 chipset for mainstream consumers and the AM-based A320 for "essential" consumers. For those into tiny machines, AMD said a new X300, B300, and A300 chipset will fulfill those roles.
The B350 chipset adds additional USB ports including USB 3.1 10Gbps, a few more PCIe lanes, and more SATA ports that support various RAID configurations.
Summit Ridge probably will get far beefier SATA, PCIe support from the chipset to address enthusiast's needs.