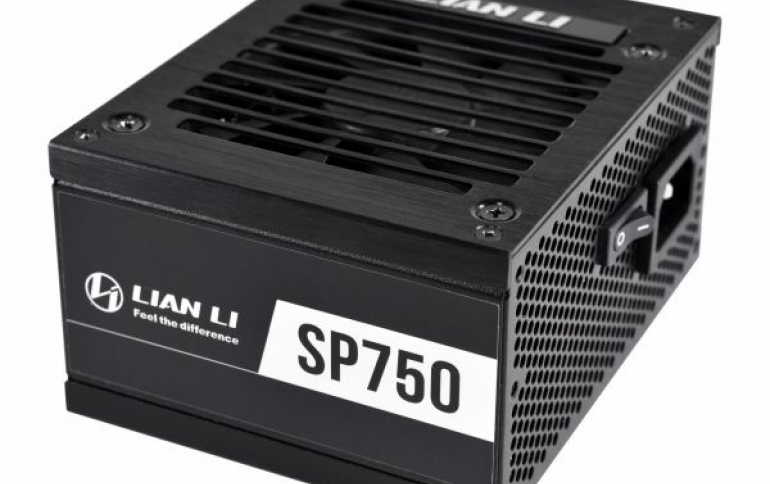 LIAN LI Launches Fully Modular 750W SFX PSU - SP750
LIAN LI Industrial Co. Ltd., a leading manufacturer of aluminum chassis and PC accessories, announces the SP750, a fully modular SFX size PSU. Perfect for power-hungry small form factor builds, the new 750 watt PSU features reliable Japanese capacitors, an 80 PLUS Gold certification, and a 5-year warranty. Built in a sleek and classic brushed aluminum housing with braided cables, the SP750 also runs quietly with its ZERO RPM mode under 40% load.
Classic look with style
LIAN LI features an elegant and classic-looking SFX PSU with a brushed aluminum finish and braided modular cables, giving users the flexibility to utilize only the necessary cables to power their PC components, the flexible and braided motherboard, CPU, and PCIe cables enhance the system's aesthetics.
Efficient and durable
Designed to deliver stable power with high efficiency, the SP750 has an 80 PLUS GOLD rating to deliver 87% and more of the drawn power at 20% to 100% load. The high-efficiency rating means less power is converted to heat, which is why the SP750 operates silently with a fan profile of zero RPM while under 40% load. In addition, the SP750 uses Japanese Electrolytic capacitors, which have a reputation for high-grade electrolyte, great manufacturing quality, and performance capability under high temperatures, preventing any leaks, overheating, or unwanted evaporation that can damage other PC components.
Available in black, the SP750 opens for pre-order starting June 25th, 2021, at MSRP 129.99 (global), USD 139.99 (USA). The O11D MINI bundled with non-braided cables version of the SP750 is expected to be available for pre-orders on Newegg and Caseking in mid-July at a discounted price of USD 189.99. For more information, visit the official product page: https://lian-li.com/product/sp750/