LG's ThinQ OLED Super Ultra HD TVs Get the Power of AI, Alpha Image processor
LG Electronics will introduce at CES 2018 new televisions equipped with the DeepThinQ artificial intelligence (AI) platform, and LG's newest α (Alpha) 9 image processor.
The company will unveil the 2018 editions of premium TVs, including the OLED TV ThinQ and the Super Ultra HD TV ThinQ.
The new TVs will be equipped both with the DeepThinQ, as well as Google's AI program, the Google Assistant, to provide users with various features, such as operating TVs with only voices or connecting to other home appliances powered by Internet-of-Things (IoT) technologies.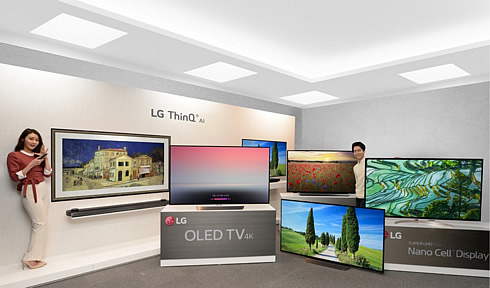 DeepThinQ allows the implementation of voice requests utilizing the company's own open smart platform as well as third-party AI services.
Users can make commands, such as "Please find my photos taken in Las Vegas last year from my Google account" or "Find movies starring Scarlett Johansson." LG said viewers can also ask questions, such as "Who is the main character of this drama I am watching?"
LG's ThinQ TVs also function as smart home hubs, offering access to other smart home products such as robotic vacuum cleaners, air conditioners, smart speakers and many other devices that can connect to the TV via Wi-Fi or Bluetooth.

And with LG's newest α (Alpha) 9 processor powering the company's premium OLED TVs, viewers will experience further improvements in picture quality. A core innovative element of the Alpha 9 is the four-step process of noise reduction, which boasts twice as many steps compared to conventional techniques. The processor also improves color performance, thanks to the advanced mapping capabilities make colors look closer than ever to the original content. The improved color correction algorithm allows for more natural colors by expanding the reference color coordinates seven-fold compared to before. α (Alpha) 9 is designed to support high frame rate (HFR) for producing smoother motion images at 120 frames per second.
Besides OLED TVs, LG Nano Cell SUPER UHD TVs employ Full-Array Local Dimming (FALD) backlighting to provide deeper blacks and enhanced colors, as well as nuanced shadow details for life-like images. LG's 2018 SUPER UHD TV are powered by the α (Alpha) 7 processor. This year's SUPER UHD TV with FALD allows for denser backlighting zones throughout the display, contrary to edge-lighting where backlights are positioned on the edges behind the TV panel. LG says that its technology improves black levels and picture dimensions by independent control of LED light zones, improving shadow details and reducing light bleeding resulting in enhanced contrast.
2018 OLED and SUPER UHD TVs from LG feature 4K Cinema HDR. LG's 2018 OLED and SUPER UHD TVs add support for Advanced HDR by Technicolor, building on a legacy of supporting most major HDR formats, from the viewing experience of Dolby Vision to HDR10 and HLG (Hybrid Log-Gamma). Both 2018 OLED TVs and SUPER UHD TVs also come with Dolby Atmos object-based surround sound.
Red-color V30 Coming at CES 2018
LG Electronics will showcase a red edition of its flagship V30 smartphone at next week's technology fair in Las Vegas.
The South Korean tech giant said it plans to add a "raspberry rose" model to its lineup of V30 smartphones, currently available in blue, silver, black and violet.
The new V30 will hit shelves in South Korea later this month and gradually expand to other countries.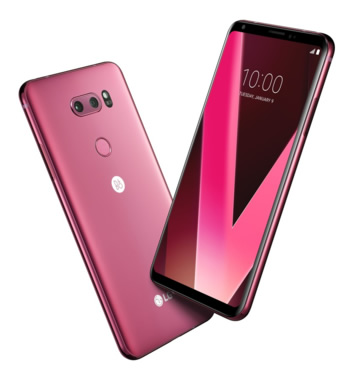 The LG V30 is the company's latest premium smartphone, and boasts a top-notch camera and audio capabilities.
One of the key features of the V30 is the dual-lens rear camera, with one of the lenses adopting the smartphone industry's top aperture of F1.6.
In the third quarter of 2017, LG posted losses in its smartphone business for the 10th consecutive quarter.
LG Electronics' market share for 2017 is estimated at 3.6 percent in terms of shipments, according to industry tracker Strategy Analytics.