LG's Quad-core Optimus 4X HD Smartphone Heading To Europe
LG's Optimus 4X HD smartphone, which was first introduced at Mobile World Congress (MWC) in February, will be available next month in key markets starting in Western Europe. Beyond the NVIDIA Tegra 3 processor, LG's latest Android 4.0 device boasts the biggest battery among Quad-Core smartphones at 2,150mAh and a high resolution viewing experience with in the 4.7-inch True HD IPS display. Since MWC, the Optimus 4X HD has been upgraded with new SiO+ battery technology, Quick Memo to enhance productivity and Media Plex for an advanced multimedia experience.
The Optimus 4X HD is fitted with NVIDIA's 4-PLUS-1 Quad-Core mobile processor, the Tegra 3, which utilizes a fifth core for the better power efficiency. For maximum performance, Tegra 3 runs on all four cores but when in standby mode the processor defaults to the fifth, battery-saver core. Besides the power optimizations, in order to cope with the power consumption, LG will introduce Eco-Mode specifically for the Optimus 4X HD in a future future upgrade. This mode will allow users to manually shut down any of the Tegra 3's cores.
One of the new UX features in the Optimus 4X HD is Quick Memo, which first appeared in the Optimus Vu:. Quick Memo is not an app but is integrated into the operating system of the Optimus 4X HD so that it can be activated within any application, including games or video players. It gives one the ability to jot memos or notes over a screen image for saving or sharing with others. The version of Quick Memo found on the Optimus 4X HD is a newer version that allows URLs imbedded in memos to directly connect to web pages.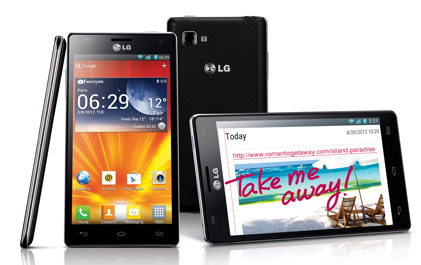 Media Plex is the newest addition to the Optimus 4X HD. This is a collection of software features include:
- Fingertip Seek that shows a preview of any video frame simply by touching the progress bar;
- Live Zooming which allows viewers to zoom in and out by pinching during video playback;
- Video Speed Control for precise control of the playback speed of a video;
- Thumbnail List Play which enables users to view thumbnails of videos playing while watching another video full screen.
The 8.0MP BSI (backside illumination) sensor camera of the Optimus 4X HD comes with a new feature that allows users to select and save the best shot among the images taken just before pressing the shutter button.
And with MHL (Mobile High Definition Link) and DLNA (Digital Living Network Alliance), there are multiple ways to connect the phone to TVs and other devices in the home.
The Optimus 4X HD will be rolled out in Europe followed by countries in Asia, CIS, South and Central America in the coming months.