LG Unveils Ultra-light 14-inch Laptop
LG Electronics will begin rolling out the lightest 14-inch Ultra PC (Model 14Z950) and the world's first 21:9 curved all-in-one (AIO) PC (Model 29V950) in key markets including South Korea and countries in South America. The 14-inch Ultra PC features a 14-inch Full HD IPS panel display and weighs a scant 980g. Currently the lightest 14-inch laptop on the market, the PC has a premium metal finish and embossed illuminated graphic on the lid and measures only 13.4 mm at its thickest point. It has a long-lasting 10.5 hours of battery life, packs an Intel's fifth-generation Core CPU and the HiFi Wolfson chip delivers high quality sound.
The 13.3-inch LG Ultra PC (Model 13Z940) also tips the scale at only 980g. Both Ultra PCs are available in several colors and feature Reader Mode that closely simulates the feel of actual books and newspapers on the laptop's display.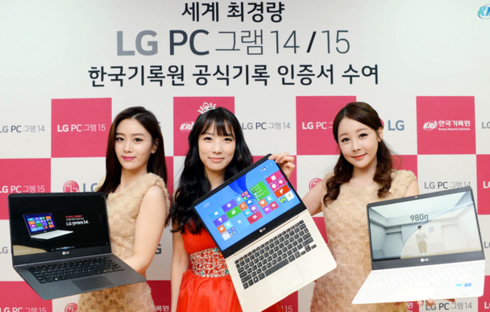 LG's new AIO PC (Model 29V950) is the first 21:9 Curved All-In-One PC. It has a 29-inch, 21:9 UltraWide curved screen and employs Intel's latest fifth-generation Core Processor.
The LG AIO PC can be accessed outside of home through the HOMEDRIVE. Now anything stored on the computer can be accessed on a mobile device from any location. Files can also be transferred to HOMEDRIVE from tablets or smartphones. What?s more, the PC also functions as a TV and can switch between modes without needing to reboot.