LG Unveils New CINEMA 3D TV
LG Electronics today announced the Korean release of its new CINEMA 3D TV, which boasts the first third-party endorsed "flicker free" 3D images, along with more comfortable glasses, a brighter picture and a wider viewing angle. "Having used our expertise in 3D to address consumer concerns about 3D, such as the sometime flickery picture and unwieldy glasses, today we're ready to unveil a real breakthrough in 3D with LG CINEMA 3D TV," said Havis Kwon, President and CEO of LG Electronics Home Entertainment Company. "LG CINEMA 3D TV will be a real game changer in 3D TV, pushing 3D viewing to new heights of excitement and taking 3D technology firmly into the mainstream of home entertainment worldwide."
CINEMA 3D TV's feature the Film Patterned Retarder (FPR) technology, which is said to optimize the separation of images for the left and right eye. Those images are then matched up with CINEMA 3D glasses specially designed to receive each image, creating a smooth 3D picture.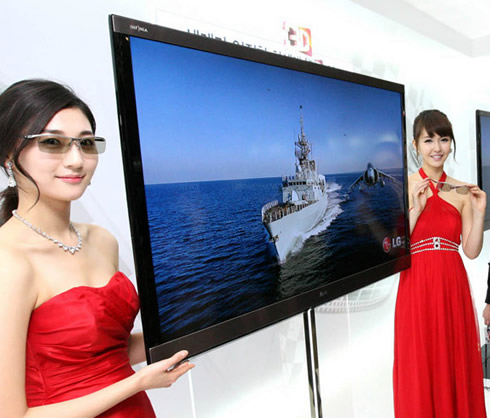 The resulting picture has earned CINEMA 3D TV "flicker free" certification from Intertek and TUV, two certification agencies based in Europe.
LG is promoting light, inexpensive 3D spectacles, without batteries, which are required by Samsung's. The Cinema 3D TVcomes with lightweight 3D glasses. Tipping the scales at just 16 grams, the glasses have no electrical parts, so they are free of electromagnetic waves and never need to be recharged. And because the CINEMA 3D TV's glasses don't need to be synced or shuttered, they ensure CINEMA 3D stays free of onscreen flicker.
Further ramping up the picture quality is LG's 3D Light Boost, a thin film covering the CINEMA 3D TV's screen that ensures 3D images are shown at full brightness. By counteracting any dimness that can sometimes occur with 3D content, 3D Light Boost creates brighter images.
Thanks to its wider viewing angle and flexible viewing positions, CINEMA 3D TV is ideal for watching 3D with big groups of friends or family, while sitting or lying down in practically any spot in front of the TV.
CINEMA 3D TV also boasts all the advantages of LG?s Smart TV technology. With its simple Home Dashboard and Magic Motion Remote Control, LG CINEMA 3D TV makes it easy to access an array of content via top global providers, locally sourced shows, and the growing range of LG Apps designed specifically for use on its Smart TVs.
"LG wants to become the leader in 3D TVs. Bigger retailers from China to the United States are asking us to supply more," the top executive told reporters at its R&D center in downtown Seoul, Wednesday.
Following its Korean release, LG CINEMA 3D TV will be rolled out globally from March. Kwon said China will be the first market LG will go after, followed by the United States and Europe. He said six leading Chinese firms including Skyworth and Hisense will introduce LG's advanced televisions.
LG, which targets to sell 40 million flat-screens this year, aims to sell between 34 million and 35 million LCD TVs that use light-emitting diode (LED) light-bulbs, the top executive said.
It is unclear whether LG's rival Samsung Electronics will also release its newer 3D models equipped with film-based 3D technology.
Samsung and Sony are pushing shutter glass (SG) 3D technology.
LW5700 Specifications:
- Light and Comfortable Glasses
- 3D Light Boost
- Wide Viewing Angle
- Smart TV
- DLNA/WiFi/DVR ready
- 2D to 3D conversion
- LED Plus
- Local Dimming
- TruMotion 120 (100)Hz
- DivX Plus/HD
- Smart Energy Saving Plus