LG Launching App Store In South Korea
LG Electronics
announced today plans to open an online store for mobile phone applications (http://www.lgapplication.com) with an initial focus on Asia and aspirations for a more global reach by year-end. The company claims that the new store will offer more than 1400 applications soptimized and tested for LG mobile phones. LG added that about 100 of these applications will be available for free.
The service will first be offered in Asia-Pacific countries such as Singapore, Malaysia and Australia and will reach Europe and the South America by the end of this year, with the number of applications to be offered to increase to more than 2,000 by then, LG said.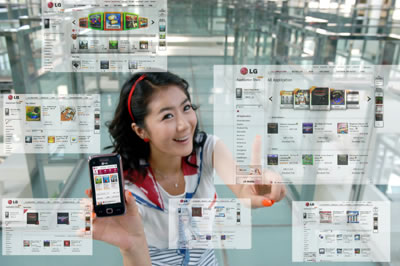 Associated with the LG Application Store is the LG Mobile Developer Network (http://developer.lgmobile.com), a website specifically designed for third party software developers of LG mobile phones. At the website, developers can develop and share widgets and test their applications through Virtual Developer Lab (VDL) and Over-The-Air (OTA) downloads. Currently the website supports Java SDK and for widgets, it will support VDL, OTA downloads by the end of the year.
The LG Application Store?s beta launch coincides with the introduction of the LG-GM730, the newest LG smartphone which has been showcased during CommunicAsia in Singapore last month. To access the LG Application Store, users can either visit www.lgapplication.com and download applications to a computer or directly access the shop from LG-GM730 by flicking horizontally on the "Quick Key Box" at the bottom of the home screen and tapping the App icon. More feature phones from LG will be able to access the LG Application Store in the future.
Phone makers and mobile firms worldwide are in a race to match the success of Apple's App Store, creating their own virtual stores where users can download software and content.
LG has not set any firm plan to launch the marketplace in the United States.