LG Display Expands In 3D Technology With New Technology
LG Display unveiled its FPR (film-type patterned retarder, polarized glasses) 3D panel at a launch ceremony held on December 15 in Beijing, China. Held under the theme of "opening a new 3D era that protects the eyes," the FPR 3D panel launch ceremony brought together about 250 people, along with representatives from LCD TV companies, officials from industry association, state-run research institutes and the retail industry.
LG Display CEO Mr. Young Soo Kwon noted in his welcoming speech, "It is a pleasure for LG Display to announce the opening of the 'FPR 3D era' in China which is emerging as the center of the worldwide TV market. LG Display will focus on FPR 3D products as we believe that FPR is superior in all aspects and represents genuine 3D technology better suited to consumers."
Today's 3D glasses come in two main categories ― shuttered-glass (SG) and pattern-retarded (PR).
Glasses with PR technology are commonly seen in the cinema as they use polarized lenses to filter what each eye sees, while glasses with SG tech are powered and blank out one eye after the other rapidly, making each eye of the viewer see a different image.
Most 3D TVs rely on glasses with SG tech, which run on batteries and flash on and off as the TV alternates between displaying the picture for the left and right eye.
But these are bulky and expensive not to mention that the glasses are incompatible between different brands of TVs.
The highly-lucrative market is also improving business conditions for manufacturers of flat-screens such as LG Display but not with Samsung-driven SG-based technology.
The Chinese and global LCD TV makers plan to offer a full lineup of 3D LCD TV sets featuring FPR panels from the beginning of 2011. The product promises to deliver full HD picture quality free of flicker and crosstalk, which are problems associated with SG (shutter glasses) 3D displays. It also resolves the issue of high costs linked to the existing PR (patterned retarder) type panel by using film instead of glass substrate.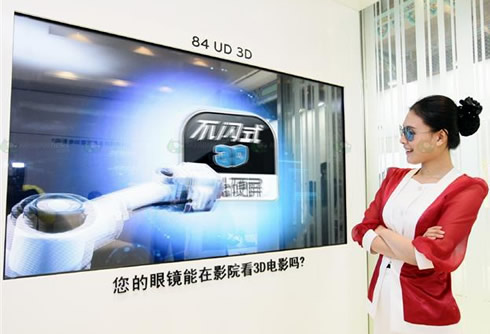 Moreover, lightweight polarized glasses that emit no electromagnetic waves allow consumers to enjoy long hours of viewing without any discomfort in their homes.
Organized by LG Display and sponsored by China Video Industry Association / China Electronic News and China 3D Industry Association, the FPR 3D panel launch ceremony included a presentation given by Research Institute of TV and Electro-Acoustics under Ministry of Industry and Information Technology of China and Beijing Ophthalmology Research Institute that acknowledged the superiority of FPR technology. An analysis of the flicker effect that occurs during 3D viewing showed the FPR panel is less tiring on the eyes compared to the SG type.
Dr. James Sheedy, director of Optometry Research Center at Pacific University in the US, delivered a lecture titled "Vision and 3D Display" at the event. Dr. Sheedy noted, "Problems with the SG type panel included the weight of the glasses, power consumption and reduced brightness. However, LG Display's FPR 3D panel has no flickering, produces minimal cross talk and delivers a bright screen. Also, the glasses can be made with curved lenses, like regular glasses, so it is superior in terms of protecting eyesight."
Among those present at the launch ceremony were top executives from China's six largest LCD TV makers, namely Skyworth, Konka, Hisense, Haier, Changhong and TCL, as well as global LCD TV companies LG Electronics, Vizio and Toshiba. They agreed to cooperate for FPR 3D promotion based on shared recognition of its outstanding features.
Mr.Yang Dong Wen, Vice President of China?s LCD TV market leader Skyworth, said, "The launch of FPR 3D TV products, which are clearly different from the existing 3D TVs, should expand China's 3D LCD market to over 8 million units next year."