Lenovo Unveils new Budget-friendly Laptops
Lenovo on Wednesday unveiled the Lenovo Z41, Lenovo Z51 and ideapad 100 notebooks, which are said to be simple and functional. The new 14-inch Lenovo Z41 and 15-inch Lenovo Z51 laptops are equal parts home-entertainment center and workstation. They are featuring an FHD display, optional AMD discrete graphics and Dolby DS 1.0 Home Theater Surround Sound. The laptops come with 802.11 a/c WiFi technology and they are powered by up to the latest Intel Core i7 processor with up to 1 TB of storage.
The Lenovo Z51 also features an optional Intel RealSense 3D camera that brings the world to life in 3D. Featuring full 1080p color and a depth sensor, the 3D camera allows the new Lenovo Z51 to sense and capture depth like the human eye. Users can 3D scan objects to 3D print, play 3D games or use gestures to control the laptop.
Lenovo Z41/Z51

 

Z41

Z51

Processor

Up to 5th Gen Intel Core i7

Display

14" 1920x1080

15" 1920x1080

Memory

Up to 16GB DDR3L

Storage

Up to 1TB HDD or 1TB SSHD

Optional GPU (base is iGPU)

AMD R7-M360

AMD R9-M375

Connectivity

2xUSB3.0, 1xUSB2.0, HDMI, Card Reader, RJ-45, VGA

Wireless

802.11ac, BT 4.0

Battery

41 Wh, Up to 4 hours

Dimensions

347 x 249 x 24.4mm (13.66 x 9.8 x 0.96 inches)

384 x 265 x 24.6mm (15.12 x 10.43 x 0.97 inches)

Weight

2.1kg (4.63 lbs)

2.3kg (5.07 lbs)

Operating System

Windows 8.1 Update

Price

Starting at $499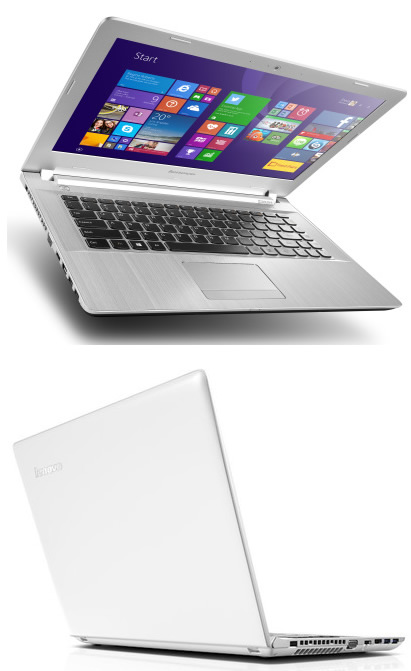 The 14-inch Lenovo Z41 and 15-inch Lenovo Z51 laptops will hit retail shelves starting in June. Pricing for both laptops starts at US $499. The new Lenovo Z51 laptop with optional Intel RealSense 3D camera comes with an Intel Core i5 processor and 8GB memory, starting at US $599.
The entry-level ideapad 100 laptop offers essential features, such as surfing the web, creating content and managing lists. It features up to Intel BayTrail-M N3540 processor, up to 500 GB HDD storage and integrated Intel Graphics. The ideapad 100 runs up to 4 hours without plugging in so users can work, browse online, watch videos and more with minimal interruption. It is measuring at 20.2 mm for the 14-inch and 22.6 mm for the 15-inch laptop.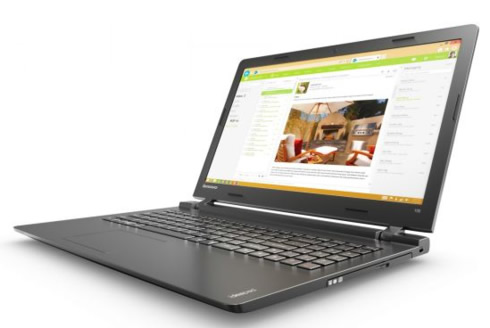 Lenovo ideapad 100

 

14-inch

15-inch

Processor

Up to Pentium N3540 BayTrail-M 4 core 2.16-2.66 GHz

Display

14" 1366x768

15" 1366x768

Memory

Up to 8GB DDR3L

Storage

Up to 500GB HDD or 128GB SSD

Connectivity

1xUSB3.0, 1xUSB2.0, HDMI, Card Reader, RJ-45

Wireless

802.11n 2.4GHz, BT 4.0

Battery

30 Wh, Up to 4 hours

Dimensions

340 x 237.8 x 20.2mm (13.39 x 9.33 x 0.8 inches)

378 x 265 x 22.6mm (14.88 x 10.43 x 0.89 inches)

Weight

1.9kg (4.19lbs)

2.3kg (5.07lbs)

Operating System

Windows 8.1 Update

Price

Starting at $249
Starting at an affordable price of $249, the new ideapad 100 fits in nearly any budget.
Aiming High in server market
In related news, leveraging its recent acquisition of IBM's system X business, Lenovo plans to upsell to existing customers and target large premium enterprises to move from third to first position in the global server market over the next five years.
Currently, based on IDC data, Lenovo is currently the third largest player in the server market.
Kong Meng Koh, vice president of Lenovo APAC enterprise business group, said with the recent acquisition of IBM's x86 server business, the company is now well-positioned to target what it believes is a $100 billion market.
Lenovo is also eyeing the growing cloud market.
"Cloud is something we also want to be focused on, and we're going to do it in a couple of ways whether it is off-premise, or MSP (managed services provider) type of arrangement," he said.
"These guys are going to need hardware, and we want to be able to provide the right kind of hardware in terms of storage and servers to meet those needs. We believe we're very well positioned to do that right now."
Mobility plans
Lenovo has also outlined for fiscal year 2016 it plans to continue to grow its mobility market share between its two smartphone brands, Lenovo and Motorola, each targeting different segments of the market.
Lenovo plans to launch two new products under its mobility portfolio twice a year, and release quarterly refreshes of its e-commerce stores as a way to grow market share between the Lenovo and Motorola brands.
Dillon Ye, Lenovo rest of world sales lead, outlined the strength of Motorola is in the premium range of smartphones, targeting mature markets such as Australia, New Zealand, North America, and Europe, while Lenovo has been strategically placed to provide entry-level products for emerging markets, such as India, Thailand, and Indonesia. At the same time, Ye said there are also plans to enter new markets, such as Bangladesh and Myanmar.
The company will also expand its Moto Maker customisation service, which was initially launched in the US three years ago, plus focusing on taking its e-commerce platform to more markets.
Additionally, there are plans to partner with local carriers to aggressively target users that are migrating from 3G to 4G networks.