Kingston Predator HyperX 512GB Review
3. Benchmarks
We ran some benchmarks with the Kingston Predator HyperX 512GB USB3.0 drive using the following setup:
Intel i5-2500K with default cooler
Gigabyte Z77X-D3H with the latest available bios
4x2GB Kingston 2133MHz HyperX rated memories
Seagate 7200.12 500GB 7200rpm
Windows 7 x64 SP1 with all latest updated installed
Windows recognized the USB flash drive and below you see it had been pre-formatted to FAT32 and it offered 478GB of free space.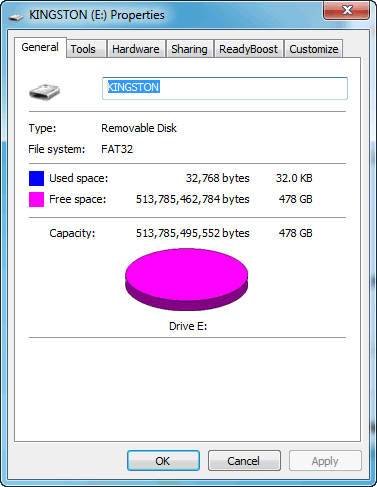 We used the latest CrystalDiskMark 3.0.2 in order to get an idea of the product's performance. The specs rate this drive at 240MB/sec reading, 160MB/sec writing. The CrystalDiskMark reported higher speeds with both compressible and incompressible files.
The 512K/4K/4K QD32 writing results are somewhat low. This is what we generally find when we test USB flash drives, but we did expect more from a € 700+ storage device:
The 0fill test showed an overall lower performance:
The AS SSD Benchmark returned the reading/writing speeds quoted by Kingston. Again, the 4K/4K-64Thrd write scores were very low, meaning you will have to wait further to load small files into the flash drive: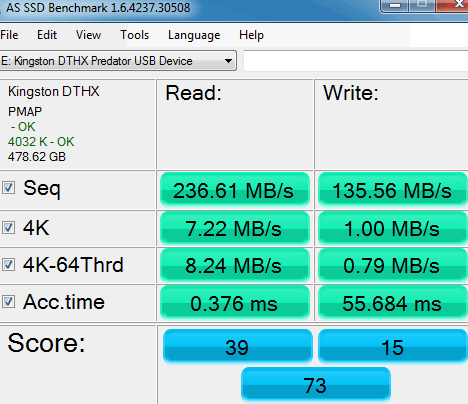 The graph below shows the read and write speeds of the drive when it is dealing with files with fully or partially compressible.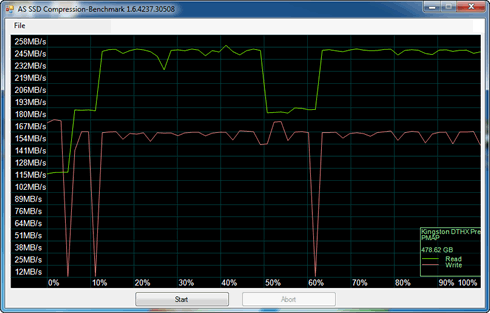 Last but not least, we used the ATTO Disk Benchmark. For a QD4, for files sizes ranging from 64 KB ~8MB, you should expect writing speed of 65~73 MB/s, and a reading speed of 200~238MB/s. Again writing of small files was very low: