Kindle Paperwhite Begins Shipping Today
Amazon.com today announced that the new Kindle Paperwhite and Kindle Paperwhite 3G begin shipping today. The lightweight Kindle Paperwhite e-reader offers a battery life of up to eight weeks and is equipped with a built-in front light for reading in all lighting conditions.
Kindle Paperwhite WiFi + 3G offers the same new design and features of Kindle Paperwhite, with the added convenience of free 3G wireless.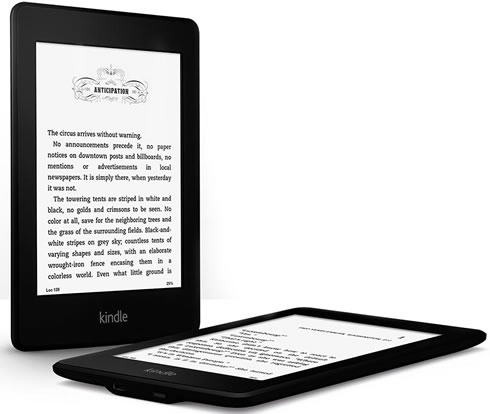 Kindle Paperwhite comes with new hand-tuned fonts tailored to the high resolution Paperwhite display, an all-new user interface, the new Time to Read feature that helps readers know the amount of time it will take them to finish a chapter or book, X-Ray to explore the "Bones of a Book," plus all the features found in Kindles, including Whispersync, cloud storage and a massive selection of millions of books including over 200,000 exclusive books. Prime members also have access to Kindle Owners' Lending Library, with more than 210,000 books to borrow for free as frequently as a book a month, with no waiting and no due dates, including over 100 current and former New York Times best sellers and all 7 Harry Potter books. Kindle Paperwhite WiFi + 3G offers the same new design and features as Kindle Paperwhite with the added convenience of free 3G. Amazon pays for the 3G connection so there?s no monthly fees or annual contracts.
Kindle Paperwhite 3G is available for $119. The 3G vesion costs $179.
Specifications
- Display: Amazon's 6" Paperwhite display with patented built-in light, 212 ppi, optimized font technology, 16-level gray scale
- Size: 6.7" x 4.6" x 0.36" (169 mm x 117 mm x 9.1 mm)
- Weight: 7.5 ounces (213 grams)
- System Requirements: None; fully wireless and doesn't require a computer to download content
- On-Device Storage: 2 GB internal (approximately 1.25 GB available for user content).
- Cloud Storage: Free cloud storage for all Amazon content
- Battery Life: A single charge lasts up to eight weeks, based on a half hour of reading per day with wireless off and the light setting at 10. Battery life will vary based on light and wireless usage
- Charge Time: Fully charges in approximately 4 hours from a computer via USB cable
- Wi-Fi Connectivity: Supports public and private Wi-Fi networks or hotspots that use the 802.11b, 802.11g, or 802.11n standard with support for WEP, WPA and WPA2 security using password authentication or Wi-Fi Protected Setup (WPS)
- Content Formats Supported: Kindle Format 8 (AZW3), Kindle (AZW), TXT, PDF, unprotected MOBI, PRC natively; HTML, DOC, DOCX, JPEG, GIF, PNG, BMP through conversion
- Warranty and Service: 1-year limited warranty and service included. Optional 2-year Extended Warranty available in the U.S.