Japan Display To Produce 7-inch, 4K Display For tablets
Japan Display will start mass production of 7-inch display for tablets, featuring a 3,840 x 2, 160 pixels resolution and the company's Pixel Eye technology, which does not require an external touch panel.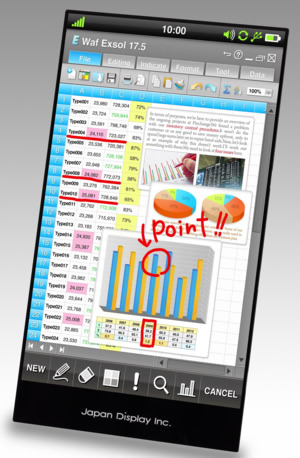 According to JDI, "Pixel Eyes" contributes to high productivity because the touch functionality is formed with fewer process steps compared to conventional touch choices.
"Pixel Eyes" detects touch through changes in capacitance between electrodes on the TFT substrate and on the color filter substrate.
The integration of the touch functionality into the LCD eliminates the need for an external touch panel. The configuration reduces module thickness versus conventional modules with external touch panels, and versus recently popular modules which adopt a touch sensor function on the cover lens.
JDI is planning to start mass production of "Pixel Eyes" products at the new G6 production line in Mobara, Japan, in fall 2014. The new line, using the world's largest mother glass (1500mm x 1850mm) for LTPS technology.