Intel Reveals 22nm "Avoton" SoC for Micro Servers
Intel provided an update on it's roadmap for microservers including new generations of Intel Xeon processors and Intel Atom architecture based 22nm SoC chips codenamed "Avoton", both scheduled for 2013. During the Structure Conference in San Francisco on Wednesday, Jason Waxman, GM of the Cloud Infrastructure Group outlined Intel's vision and roadmap for microservers and discussed how they best suited to handle emerging "scale-out" applications.
According to Waxman, Intel's roadmap for microservers include both high-performance Xeon processors and lower-performance but more energy efficient Atom Atom based 22nm SoC chips codenamed "Avoton", both scheduled for 2013.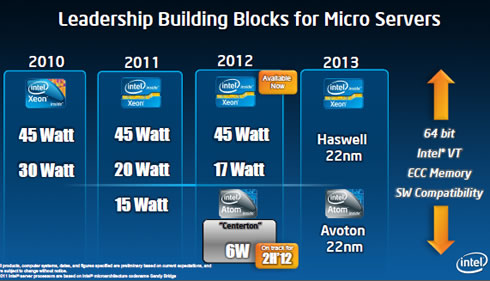 Intel's roadmap supports 'brawny' core Xeon processors ranging from 45W down to 'wimpy' dual-core 17W processors for those applications that will benefit from more thread-level performance.
Centerton, Intel's first Atom-based SoC for servers, is also on track for production in the second half of this year and a follow on Atom-based SoC, based on the 3D Tri-Gate 22nm transistor technology, codenamed Avoton, is coming in 2013.
Intel also ran the first "Centerton" live demo. With little optimization or tuning, a sub-9W power consumption for the node was repoprted while serving web pages. The node consisted of Centerton SoC, 4GB memory, a SATA controller, a GbE controller, VRs and BMC.
In addition,
HP unveiled
their first production Moonshot server, Gemini, and chose Centerton to lead in the platform. By the end of this year, users will be able to put Atom based servers into production environments and try out data center class 'wimpy' servers (based on processor cores that trade off performance for lower power consumption) while leveraging the features and range of performance and density configurations that Gemini will provide.
According to Intel, it is the application that will decide which core - Intel Atom or Xeon - will be the optimal solution for each server. In cases where more CPU performance is needed, using Xeon processors seems like a good bet and where you may be IO constrained, Atom processors might be a good choice.
As an example, Hadoop is often cited as a framework that would lend itself well to 'wimpy' cores. Because Hadoop is used for many types of problems, it isn't simple to generalize the right infrastructure - simple sort operations may be less CPU intensive while large sort or word count usage requires more CPU performance. But even then, it's not that simple, use of 1Gb networking may artificially constrain CPU scaling or the size of the problem may require larger nodes just for scalability.
According to Waxman, the industry needs infrastructure that allows them to deploy servers in an efficient manner and have different versions that meet their requirements. Not only do the servers have to adapt to a range of requirements, but they should have the full set of features that customers require: 64-bit pointers and arithmetic, ECC, virtualization support, software compatibility and offer it across both 'brawny' and 'wimpy' cores.