Intel introduces Atom E3900 processors For IoT
Intel on Tuesday officially unveiled its Atom Processor E3900 Series, designed to support the complex and rapidly-developing Internet of Things (IoT). The Intel Atom processor E3900 Series delivers performance and a set of features for the edge in segments such as industrial, automotive, video, manufacturing, retail, and more.
Intel is also offering an automotive grade processor specifically to address in -vehicle experiences called the Intel Atom processor A3900 series.
The processors were announced during Intel vice president Jonathan Ballon's keynote at the IoT Solutions World Congress in Barcelona.
The Intel Atom processor E3900 series delivers 1.7 times more computing power compared to the previous generation (Atom E3825) at the edge of IoT operations, for faster memory speeds and memory bandwidth. It is built into a compact flip chip ball grid array (FCBGA) and featuring Intel's latest 14 nanometer silicon technology.
The series also features Intel's ninth-generation graphics engine, which improves 3D graphics performance by 2.9 times over the E3800 series and supports as many as three independent displays. Additionally, the E3900 series has four vector image processing units, resulting in better visibility, quality video in low light, noise reduction, and color and detail preservation.

Intel TCC Technology synchronizes peripherals and networks of connected devices, achieving determinism. It also resolves latency issues in applications, such as robotics manufacturing, by enabling 1 microsecond timing accuracy across the network.
Meanwhile, the series has several enhanced and multiple new security features. For instance, the dedicated security coprocessor, the Trusted Execution Engine 3.0, effectively prevents malware or unauthorized software from tampering on low-level devices. It uses signing technology to make sure that with any software code change, the device won't boot. It also allows for monitoring of physical tampering of a platform. Meanwhile, Intel's Platform Trust Techcnology allows customers to store hardware secrets and keys in a more protected way.
The series also includes a wide range of features around securing and recovering an in-device system -- features that could stop denial-of-service attacks that occur due to mistakes like failing to change default passwords on network cameras.
The Intel Atom processor E3900 series will include the following SKUs:
Intel Atom x5-E3930 processor
Intel Atom x5-E3940 processor
Intel Atom x7-E3950 processor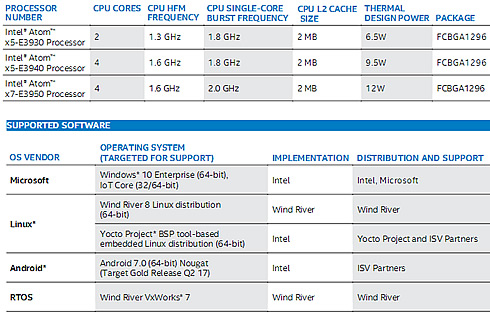 Devices will come to market utilizing the new processor series starting around Q2 2017.