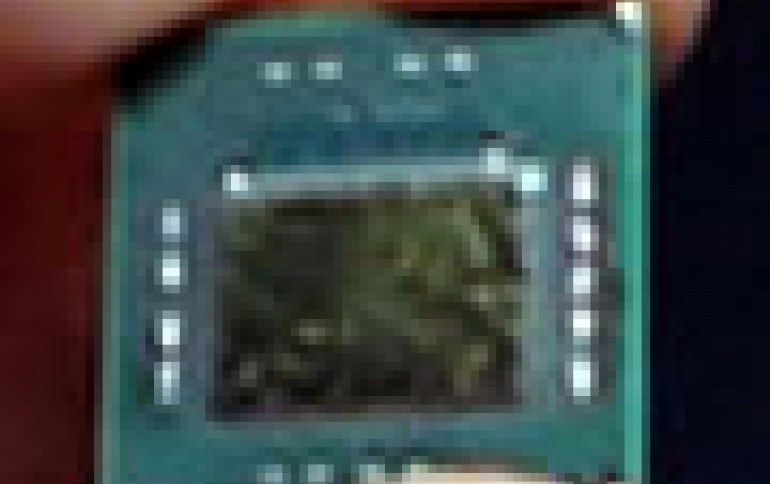 Intel Details Tunnel Creek Atom-based SoC For Embedded
Intel provided details about the Tunnel Creek at IDF2010, the company's future System on Chip (SoC) that integrates CPU core, a memory controller, a PCI Express controller, audio, and LPC into the single chip. The Tunnel Creek SoC will be adopted in Intel's upcoming 'Queens Bay' platform. The SoC integrates an Atom CPU, a memory controller, a graphics controller, audio and LPC of the Atom base. Intel said that the Tunnel Creek will include 45nm Atom CPU cores clocked at 600MHz, 1.1GHz, and 1.3GHz. The SoC's memory controller will support DDR2 SDRAM clocked at 667MHz or 800MHz.
Compared to Intel's current Menlow platform where the CPU core was connected to the chipset using an FSB architecture, the Tunnel Creek SoC tightly integrates the CPU core into the chip.
Tunnel Creek is an SoC that can be connected with any PCIexpress-compliant device, resulting in lower development costs and enabling developers to implement Intel Atom processors in smaller form factor designs than ever before, such as IP media phones and in-vehicle-infotainment systems.
The I/O flexibility for Tunnel Creek makes the processor ideal for applications that require standard interconnects, such as USB for IP Cameras; applications with diverse I/O requirements, such as programmable logic controllers for industrial automation applications; applications with existing proprietary I/O requirements, such as print imaging appliances; and applications that would benefit from customized I/O solutions, such as in-vehicle infotainment devices.
Tunnel Creek also features enhanced graphics capabilities for devices in the car and the home. For example, with in-vehicle infotainment systems, the front-seat display could have 3D mapping while the back-seat simultaneously displays improved gaming graphics.
Compared to the previous solutions based on the Atom Z5xx CPUs, Tunnel Creek will offer significantly higher performance and better 3D graphics by 50%, according to Intel.
The company will also introduce Splash with the release of the Intel Embedded Graphics Driver v10.2. The driver is expected to accelerate the activation of the graphics engine at the BIOS stage and before the OS boot up. The result is a RESET#display performance of less than 500ms in a current Atom Z5xx environment, according to CPU. Splash is available on Intel Atom processor Z5xx series.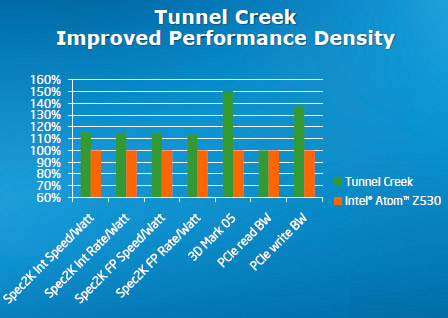 Tunnel Creek is expected to be released in the fourth quarter of 2010.