10. Conclusion
INcoder TS24C-C1 portable CD-RW/DVD drive- Page 10
Conclusion
Positive (+)

Negative (-)

- 24/10/24/8X portable combo drive
- Attractive and stylish design
- Dual USB/IEEE1394 supported interface
- Complete retail package
- Good DVD ripping speed
- High performance in DAE error correction test
- Supports DVD-R/RW, +R/RW, DVD-ROM formats
- Low seek times for CD/DVD format
- Creates working SafeDisc v2 backups
- Supports reading of SubChannel data
- Supports CD-Text (reading/writing)

- Limited media list for writing at maximum speed
- Writing problems with Plasmon based media
- Low DAE speed (10X)
- DVD error correction needs improvement
- Slow CloneCD reader
- Does not fully support audio protected discs
- Bad DAE quality with dusted/scratched CDR media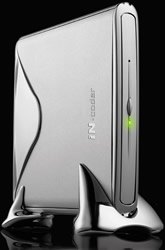 The INcoder TS24C-C1 offers nothing less than its specifications state. Besides the very stylish and robust metal design, the drive comes in a complete retail package with all the essentials for easy usage, among with some extra goodies such as the foot-stands and a pad for horizontal operation. The metal material of the drive is there to reduce the noise & vibration during operation..
The drive also can operate in a vertical position, for saving space in the working environment of users.
The built-in dual interface allows user to select the connection type between the USB1.0/2.0 and Firewire, according to the available hardware support of his notebook or PC.
The INcoder TS24C-C1 supports the 24X Z-CLV maximum recording speed for the CD-R format. Our tests showed that the current implementation of the Z-CLV technology does not offer the drive the lowest writing times for the 24X category, and also the drive refused to write at maximum speed with some media. However, the writing stability also needs some tweaking, since we experienced a coaster with Plasmon-based media. Despite this, the C1/ C2 measurements on the recorded media showed a high writing quality.
In the reading part, the drive is fast and the reading speed reached the supported 24X with pressed and CD-R media. The seek times for both CD/DVD formats are low, and the reading accuracy seems to be high, as well as the ability to correct possible faulty bits on defected and scratched media. (Almedio Abex). However, it seems that our aged physically defected audio disc was very hard for the drive to read, since it gave a read error by the end of the ripping process.
The supported DAE speed is 10X but it could be higher. The drive also can handle Cactus Data Shield 200 protected audio discs but have does not read accurately the tracks of a Key2Audio disc. The reading /writing of CD-Text on audio discs is also supported.
The CloneCD users will be satisfied from the drive's abilities to create working backups of SafeDisc v.2 protected titles, but the reading speed is generally low.
As for DVD format, the drive supports reading of DVD-ROM (single layer) at 8X CAV, and also supports reading of DVD-R/RW and DVD+R/RW discs. However, the DVD error correction tests with ABEX test media showed that the drive had some problems with heavily scratched DVD-ROM discs, producing some read errors.
The INcoder TS24C-C1 left us a with positive overall impression. It could be safely considered as an alternative solution for your daily burning and reading needs, connected to your notebook or desktop PC. The drive is priced at Euro 360 (excluding V.A.T) and INcoder offers users 1 year warranty for the drive.