HTC Showcases New Desire S, Wildfire S, Incredible S Smartphones And The Flyer Tablet at MWC 2011
HTC today unveiled three new versions of its smartphones - HTC Desire S, HTC Wildfire S and HTC Incredible S. The company also showacsed the Android-based Flyer tablet. Each phone includes HTC Sense, HTC's customer-focused user experience that puts people at the center by making phones work in a more simple and natural way.
As a successor to the popular HTC Desire, the new HTC Desire S blends great design with power and speed. Inspired by the HTC Legend smartphone's aluminium design, the HTC Desire S is sculpted out of a single block of aluminum. The phone is powered by Qualcomm's new 1GHz 8255 Snapdragon processor (single-core), tt offers dual front and back cameras, High-Definition video recording and the 3.7-inch WVGA display.
The HTC Wildfire S smartphone is an affordable, compact and playful device. It enables people to maintain and build connections and friendships through popular sites like Facebook, as well as through voice and text messaging. You can instantly tag your friends in photos before posting them on Facebook, or share your latest discoveries from the Android Market at the touch of a button.
HTC Wildfire S is one of HTC's smallest phones ever - measuring just 10.13cm long and 5.94cm wide - and boasts a distinctive 3.2 inch, HVGA display.
The phone's home screen is fully customizable with your favorite apps, widgets and content, it has a 5-megapixel color camera with auto focus, expandable microSD memory and supports a variety of audio and video formats.
The HTC Incredible S smartphone supports capturing and viewing video in High-Definition and has a 4-inch WVGA Super LCD display and stereo surround sound.
HTC Incredible S also takes high quality pictures with its 8-megapixel camera with dual flash, and it easily enables videos, photos and music to be shared from the handset direct to a TV using DLNA technology.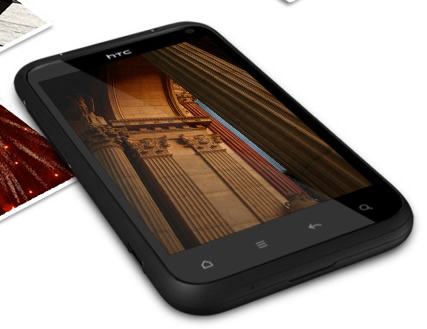 The HTC Desire S, HTC Wildfire S and HTC Incredible S smartphones, will be broadly available in major European and Asian markets during Q2 2011.
HTC also today announced its first tablet, the HTC Flyer. HTC Flyer blends HTC's trademark design language with an all-new HTC Sense user experience that has been reimagined for the tablets. It combines natural touch and pen interaction. HTC also announced HTC Watch, a new connected video service that will debut on HTC Flyer tablet, and will collaborate with OnLive, Inc. to launch the first cloud-based mobile gaming service on a tablet.
Encased in an aluminum unibody, the lightweight (420 grams) HTC Flyer tablet is compact enough to fit in a jacket pocket only. It has a seven-inch display, 1.5Ghz processor and high-speed HSPA+ wireless capabilities.
HTC Flyer's tablet-focused HTC Sense experience focuses on delighting people with its 3D home screen. A carousel of widgets puts a user's most important content and information at the visual center of the experience. The HTC Flyer tablet also offers Web browsing with Flash 10 and HTML 5.
The new HTC Scribe Technology introduces a wave of integrated digital ink innovations that make it easy and natural to take notes, sign contracts, draw pictures, or even write on a web page or photo. A feature called Timemark enables you to capture the audio of a meeting in line with your written notes, so tapping on a word in your notes instantly takes you to that exact place in time in the audio recording of the meeting. Notes are also integrated with the calendar so when there is an appointment reminder you are automatically prompted with an opportunity to begin a new note or in the case of recurring meetings, to continue where the last meeting left off. In an industry first, the HTC Flyer tablet also features built-in synchronization with Evernote notes application and service.
The HTC Flyer tablet premieres HTC Watch, HTC?s new video download service. The HTC Watch service enables low-cost on-demand progressive downloading of High-Definition movies from major studios.
The HTC Flyer is also the first mobile device in the world to integrate OnLive Inc.'s cloud-based gaming service. OnLive is letting people play top video games on their televisions and computers without the need to buy expensive gaming hardware or software. When integrated fully, the OnLive service will enable customers to pipe the OnLive service through the HTC Flyer tablet's broadband wireless to their television sets, or let them play directly on the tablet.
HTC Flyer will be available globally during Q2 2011.
HTC Flyer specifications
Size: 122mm (4.8") x 13.2mm (0.52") x 195.4mm (7.7")
Weight: 420 grams (14.82 ounces) with battery
Display: 7 inch touch-sensitive screen with 1024 X 600 resolution
CPU speed: 1.5 GHz
Memory
Internal storage: 32 GB
RAM: 1 GB
Expansion slot: microSD memory card (SD 2.0 compatible)
Connectors
* 3.5 mm stereo audio jack
* Standard micro-USB (12-pin micro-USB 2.0)
Battery type: Rechargeable battery
Capacity: 4000 mAh
Standby time:
* Up to 820 ~1470 hours
Video Playback:
* Up to 4 hours
HSPA/WCDMA:
* Europe/Asia: 900/AWS/2100 MHz
Quad-band GSM/GPRS/EDGE:
* 850/900/1800/1900 MHz
Platform: Android 2.1 with HTC Sense
Camera
* 5 megapixel color camera with auto focus
* 1.3 megapixel front camera
Sensors
* Ambient light sensor
* G-Sensor
* Digital compass
Audio supported formats:
* Playback:.aac, .amr, .ogg, .m4a, .mid, .mp3, .wav, .wma (Windows Media Audio 9)
* Recording:.amr, .aac
Video supported formats:
* Playback:.3gp, .3g2, .mp4, .wmv (Windows Media Video 9), .avi (MP4 ASP and MP3), .xvid (MP4 ASP and MP3)
* Recording:.3gp
Wi-Fi: IEEE 802.11 b/g/n
Bluetooth 3.0 with A2DP for wireless stereo headsets
GPS: Internal GPS antenna