HP Launches ARM-based Moonshot Servers
HP is expanding its Moonshot range of microserver offerings with the release of the first 64-bit, ARM-based machines. The firm is launching two ARM-based microservers into the low-energy server family.
The first of the two new ARM-based servers is the HP ProLiant m400 servers based on Applied Micro's X-Gene system-on-a-chip and running the Ubuntu operating system. The server is designed to save on power, cooling and space, with HP claiming up to 35 percent reduction in total cost of ownership compared to rack servers.
Suggested scale-out workloads for the new servers include web caching, high performance computing and big data analytics, according to HP.
The second new server is the HP ProLiant m800, a 32-bit ARM-based machine. The server has the KeyStone architecture-based 66AK2Hx SoCs from Texas Instruments, featuring four ARM Cortex-A15 cores and integrated digital signal processor (DSPs), and HP 2D Torus Mesh Fabric in combination with Serial Rapid I/O, which together HP claims delivers three times more bandwidth and 90 percent low latency data throughput.
The m800 is optimized for real-time data processing of high volume, complex data, such as pattern analysis and PayPal is using the HP ProLiant m800 in their Systems Intelligence project.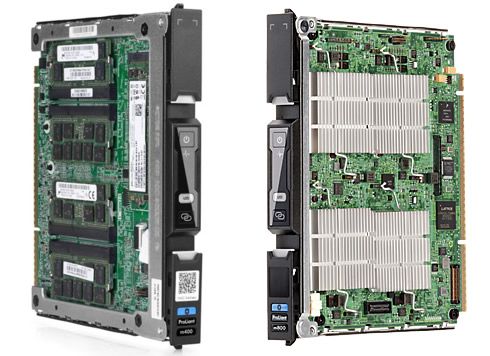 HP is also combining the HP ProLiant m800 server with Enea Telco Development Platform and eInfochips Multimedia Transcode Engine to provide a unified development platform for accelerated development of network functions for telco customers.
The server maker also announced the HP ProLiant Moonshot ARM-64 Developer Program, part of the HP AllianceOne program, will enable developers to test and port code stacks and solutions to the ARM architecture. Through this program, developers can design software on an ARM-based 64-bit system by remotely accessing the HP ProLiant Moonshot Discovery Lab.
The new ARM-based Moonshot servers are available from today.


HP Proliant m400
Compute: AppliedMicro X-Gene 2.4GHz (1), ARMv8 64-bit cores (8), SOC

Memory: 64GB of DDR3 PC3L-12800 (1600 MHz) SODIMM Low Voltage Memory

Storage: Optional 120GB, 240GB, or 480GB of M.2 solid state storage per cartridge

Networking: Mellanox Connect-X3 Dual 10GbE NIC per CPU. Supports RDMA over Converged Ethernet (RoCE)
10GbE port switch
QSFP+ ports (4x40GbE or 16x10GbE supported) uplinks
Enclosure: Moonshot 1500 Chassis
Workload: Web Caching
Warranty: 3-years

HP Proliant m800
Compute: Texas Instruments KeyStone II based 66AK2H System on Chip (SoC), 1.0Ghz; Quad Cortex-A15 processors with Eight C66x DSP cores (per SoC)

Memory: HP 8GB (1x8GB) PC3L-12800 (DDR3-1600) SODIMM Low Voltage Memory; Four (4) SODIMM Slots; 32GB (4x8GB)
Storage: 32 or 64 GB Solid State Device per server
Networking: (Internal) dual port 1GbE per CPU; HP Moonshot-180G Switch Module; HP Moonshot-4QSFP+ Uplink Module
Enclosure: Moonshot 1500 Chassis

Warranty: 3-years