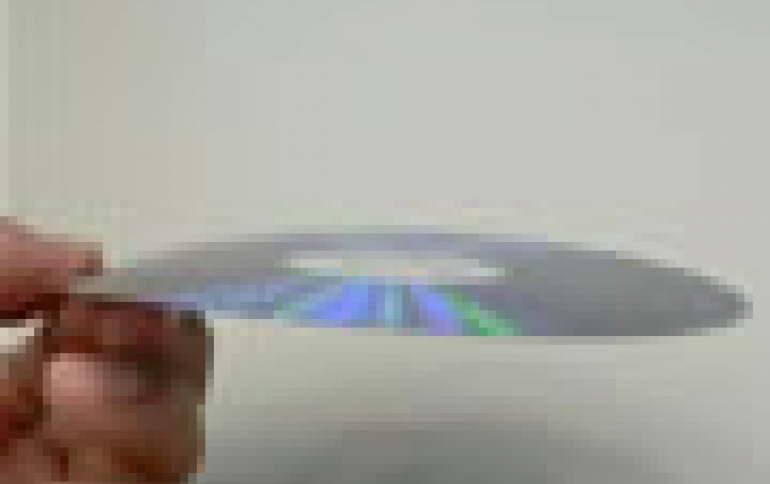 Hitachi-Maxell Details Flexible Terabyte Storage Technology
Details of Hitachi Maxell's technology that promises to deliver terabyte storage from super-thin DVDs have been published in patent documents filed in Japan. The patents were filed in 2004/2005 under the title "Recording and reproducing apparatus of thin optical disc". An English language version is currently available in the
US Patent Office
website.
Hitachi Maxell has developed a way of providing terabyte-level storage capacity using multiple ultra-thin layer DVDs. By using nanoimprint technology, the company has reduced the thickness of a DVD to 0.092mm ? 1/13th the thickness of regular DVDs ? while maintaining the standard capacity of 4.7GB. Disc diameter is 12cm, the same as a regular DVD.
The system features what the company calls Stacked Volumetric Optical Disc (SVOD) technology, which consists of 200 of the ultra-thin DVDs. The 200-disc cartridge offers up to near-terabyte level with 940GB of storage.
The patent documents describes the way the new discs are manuafactured. The ultra-thin discs are stamped from a PET (polyethylene terephthalate) plastic sheet, which is just 100 microns thick. Fourty-nine Ni stampers are heated to 180 deegrees C and pressed onto the PET sheet for five seconds. Next, the disc is either coated with a pigment for write once recording or sputtered wit a phase-change Al alloy. The next step is to apply the aluminium reflective layer and a 15-micron layer of protective resin, which is hardened (cured) with UV light. The imprinted zones are then punched into DVD-sized discs, and 200 of them stacked in a slim cartridge.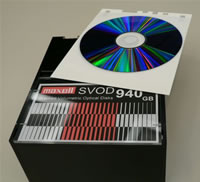 According to Hitachi-Maxell, the challenge for in the design of a read/write system for these discs was to keep the ultra-thin media stable while spinning. The goal is to make these filmy discs readable with standard optical head and driver LSI included in typical DVD systems. The answer was to clamp the disc on a transparent turntable made from glass with the same thickness and optical characteristics as the 0.6mm acrylic substrate used for DVDs, and then read the disc by using a laser under the turntable. The laser shines up through the glass/PET sandwich and reflects back down onto a sensor.
The individual discs are picked from the cartridge by an automated finger, slid onto the glass turntable and clamped with a magnetic chuck. Aerodynamic forces hold the disc flat and close to the turntable surface as it spins. Optical markers are used to align the disc and chuck with the turntable centre.
Because it takes around 10 seconds to change discs, the cartridge has onboard memory that buffers the data at around 100Mbps.
Hitachi Maxell claims that blue-laser HD DVD technology could boost cartridge capacity to 10TB (50GB for each double-sided disc).