HGST Launches the 1.5TB Mobile Hard Drive
HGST is now offering the highest storage density (MB/mm3) of any hard disk drive (HDD) today with the introduction of the new Travelstar 5K1500 9.5mm, 1.5TB mobile hard drive. The Travelstar 5K1500 delivers high shock protection, low power and solid performance to meet the demands for a variety of market segments, including notebooks, external hard drives, gaming consoles and all-in-one desktop PCs.
The HGST three-platter Travelstar 5K1500 offers 50 percent more capacity than currently shipping 1TB 2.5-inch 9.5mm HDDs and 200 percent more capacity than single-disk 500GB 7mm or 5mm 2.5-inch HDDs. With better PCMark Vantage and PCMark 7 performance than currently shipping two-platter HGST 5,400RPM models, all Travelstar 5K1500 drives ship with a 32MB cache buffer and 6Gbps SATA interface.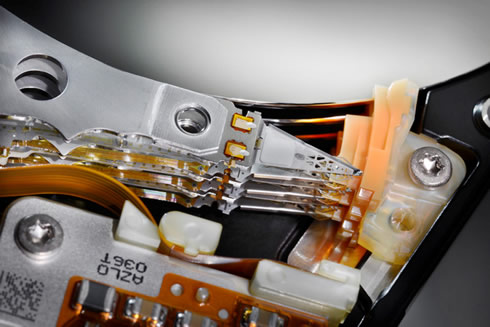 Smaller than current 15mm or 12.5mm 2.5-inch HDDs, the Travelstar 5K1500 drive features a standard 9.5mm form factor for simple integration into many traditional system designs. This allows OEMs and system integrators to take advantage of its capacity, 0.5 watt low power idle and 5,400RPM performance to deliver new power-efficient systems for longer battery life in notebooks and other unplugged applications. With only 2.5 bels idle, the 1.5TB Travelstar 5K1500 drive is also whisper quiet. The new Travelstar 5K1500 family offers an operating shock at 400G/2ms and non-operating shock at 1000G/1ms to protect against bumps and rough handling in mobile environments. A dual stage actuator is included for track miss registration improvements for greater data integrity and reliability.
"Contrary to popular belief, the mobile hard drive market is not being replaced by SSDs. We continue to invest in and serve both the traditional 9.5mm and 7mm thin and light HDD mobile markets as they offer the best cost-per-GB, performance and proven product reliability for high-capacity, mainstream, Ultrabook and A/V content creation notebook markets," said Brendan Collins, vice president of product marketing at HGST.
The new 1.5TB Travelstar 5K1500 is also available in an Enhanced Availability (EA) model, which brings together a host of features such as high capacity, durability and low power for blade servers, network routers, video surveillance and other systems needing 24x7 access to data.
Travelstar 5K1500 drives are expected to ship in June. The EA model, and the optional self-encrypting Travelstar 5K1500 model, which is designed to meet the Trusted Computer Group (TCG) Opal Storage Security specification, are expected to be available in 3Q 2013.