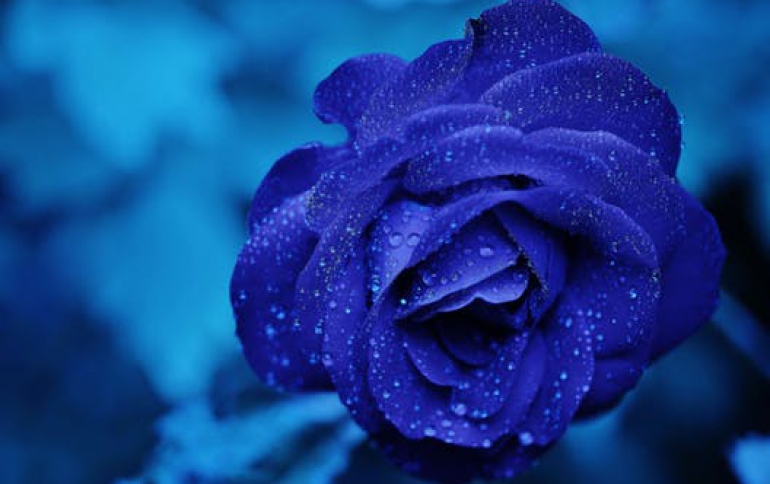 Gigabyte Showcases The U21MD 3-In-1 Mobile Device
Gigabyte has on display at CES the 11.6" U21MD, a 3-in-1 laptop. The company also launched the BRIX Pro featuring Intel Iris Pro graphics. The U21MD has a swivel hinge that allows it to be converted into a tablet or a laptop. It also comes with a docking station (D21) thus allowing it to be transformed into a desktop. It comes with the latest 4th Gen. Intel Core i5 processor, multiple connectivity ports, dual storage system, and Dolby Home Theater v4 technology.
The U21MD has a 1366x768 display with multi-touch capability, a dual storage system of SSD + HDD and features Dolby Home Theater Sound Quality Optimization Technology.
The thin device (20 mm) is weighing 3 1.39 Kg with a m-SSD installed or 1.49 kg when a HDD is on board.
Switching from tablet mode to a laptop is a snap. All you need to do is swivel and close.
To turn the U21MD into a desktop, simply slot the laptop into the docking station (D21) and connect peripheral devices, including a monitor, keyboard and mouse. The D21 also provides connectivity options such as HDMI, USB, and internet.
Gigabyte also announced at CES the next generation GIGABYTE BRIX Pro, a compact DIY PC kit.
The BRIX Pro is adding an Intel Core i7/i5 processor featuring Intel Iris Pro graphics 5200, which use an on-package 128M eDRAM cache that negates memory pipeline issues, boosting overall performance in 3D applications.
Available in black and red, with a choice Intel Core i7 4770R or Core i5 4570R processors respectively, the BRIX Pro is a DIY PC kit, shipping with a Wi-Fi Mini PCIe module pre-installed, plus power adapter and cable.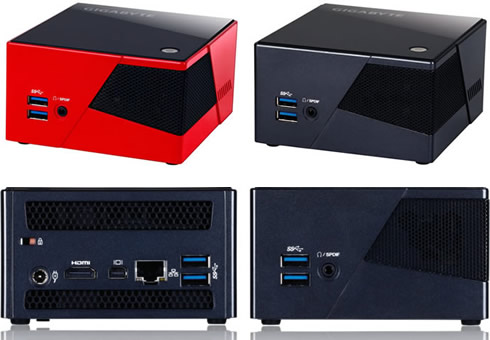 The BRIX Pro gives users the flexibility to independently choose integrated storage and system memory sizes, with two SO-DIMM DD3L slots plus support for both mSATA SSD and standard 2.5" SSD installation.
The GIGABYTE BRIX Pro features both Mini DisplayPort and HDMI ports on the rear panel, enabling support for simultaneous dual display connectivity. It also supports the latest 4K displays via HDMI. Audio connectivity includes SPDIF audio via a front panel connector, useful in Home Theater scenarios that use an A/V receiver.
The GIGABYTE BRIX Pro also provides four USB 3.0 ports (2x front plus 2x rear), a Gigabit Ethernet port and a Mini PCIe module offering 802.11 b/g/n/ac Wi-Fi and the latest Bluetooth 4.0, .
Bundled with a VESA bracket, the BRIX Pro can be mounted behind a monitor or HDTV making it discreetly hidden from view.
U21MD Key Features and Specs:
- 4th Gen. Intel Core i5-4200U Processor / Pentium 3558U Processor
- 11.6" Capacitive Multi-touch Panel 1366x768 LCD
- Storage Capacity up to: 256 GB mSATA SSD + 1 TB HDD
- USB (3.0), USB (2.0), D-sub, HDMI, RJ45, Mic-in, Earphone-out, SD card reader, Docking Port
- Dolby Home Theater Sound Quality Optimization Technology
- Backlit Keyboard (optional)
- Dimensions: 298 (W) x 226.4 (D) x 20 (H) mm
- Weight: ~1.39 kg (w/ Battery and m-SSD) / ~1.49 kg (w/ Battery, m-SSD, and HDD)
D21 Key Features:
- I/O Port: USB (3.0), USB (2.0), HDMI1.4a, RJ45, Audio Jack (Mic & Headphone out), Docking Connector
- Dimensions: 144 (W) x 102 (D) x 65 (H) mm
- Weight: 265 g