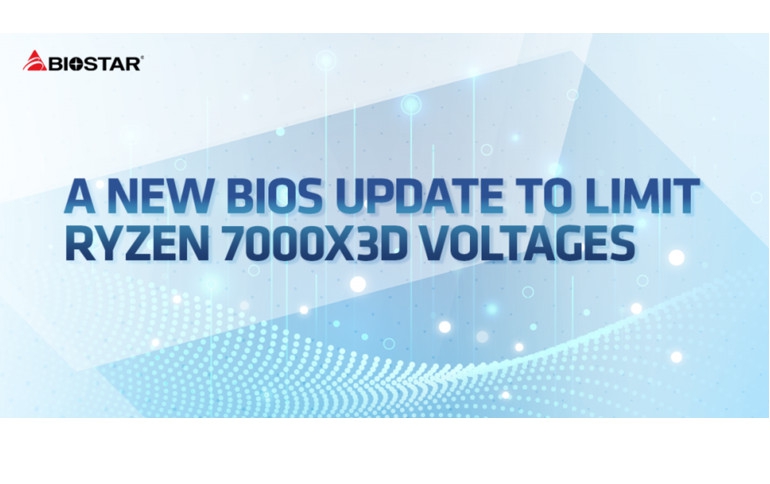 Gigabyte, Biostar, MSI, Asus & ASRock releases new firmware updates for AMD 7XXX3D processors
Since the highly-expected AMD Ryzen 7000X3D-series CPUs launched by AMD, GIGABYTE has provided the best quality AM5 motherboards to unleash the performance of these best gaming processors. GIGABYTE always work closely with AMD to ensure our motherboard design within AMD's guidelines and provide supreme performance with reliability from all aspect. To consistently deliver the most remarkable and solid platform, GIGABYTE release the new beta BIOS regarding to the recent concerns of potential motherboard damaged issues with Ryzen 7000X3D-series CPUs. The latest beta BIOS provides a more secure range of SOC voltage settings to reduce the risk of CPU damage due to over-voltage settings. Meanwhile, through the GIGABYTE exclusive Performance Bung in the BIOS option, users can easily optimize the tuning process of CPU voltage setting, while obtain the optimal CPU voltage by AMD PBO2 option, which both help to unleash the foremost performance of Ryzen 7000 X3D CPUs. The latest beta BIOS is available now, please visit the GIGABYTE website to download for the optimal performance https://www.gigabyte.com/Motherboard/All-Series?fid=2736
BIOSTAR has released a new BIOS update for its X670E VALKYRIE, RACING B650EGTQ, and B650M-SILVER motherboards. This update aims to limit the voltages of AMD Ryzen 7000X3D processors, ensuring improved CPU security. Recent reports suggest that AMD Ryzen 7000X3D processors are prone to physical damage when overclocked with voltage assistance. This has prompted motherboard vendors to rush BIOS updates with voltage limiters, and BIOSTAR is no exception. The new BIOS update from BIOSTAR restricts direct voltage to CPU Vcore Voltage, CPU SOC Voltage, and CPU MISC Voltage, preventing over-voltage and reducing the risk of damage to the 7000X3D series CPUs. Additionally, BIOSTAR also has PBO (Precision Boot Overdrive, Default: Auto) function to provide the best performance for 7000X3D series CPUs even under Voltage restrictions.
Supported models and BIOS list below:
X670E VALKYRIE X67AE413.BST
RACING B650EGTQ B65AQ413.BST
B650M-SILVER B65BQ413.BST
More information at https://www.biostar.com.tw/app/en/news/news.php?S_ID=559
For MSI/ASUS motherboards please visit the support page of your motherboard to get new updated BIOS as well.
The recent escalating AMD Ryzen 7000X3D Series CPU issue has come to our attention, ASRock treats this type of incident seriously and would like to offer the most updated BIOS across our entire range of AM5 motherboards. ASRock has released new BIOS as well as A-Tuning utility for following AM5 chipset motherboards which limit CPU voltage on certain power rails. We encourage users to update to the new BIOS with the appropriate voltage settings urgently to ensure system stability and durability. Apart from bringing rock-solid hardware products to PC users, ASRock is also keen on working with AMD and integrating the most up to date technologies into its products. If you're unsure about the risk of using old BIOS version, please seek professional support from ASRock customer service. More information at https://www.asrock.com/news/index.asp?iD=5182