Garmin-ASUS Unveil nüvifone M20
Garmin and ASUS today announced the Garmin-Asus nüvifone M20, a Smartphone with a Windows Mobile operating system and offered a more detail about the previously announced
nüvifone G60
. Both products will be officially presented next week at the Mobile World Congress in Barcelona.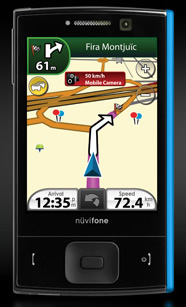 The nüvifone M20 is powered by Windows Mobile 6.1 Professional and combines a dual-band 3.5G/tri-band GSM phone with Wi-Fi connectivity (802.11 b/g) and Bluetooth. It has a 2.8 inch display with VGA (640x480) resolution, built-in microphone and speakers, built-in 4G/8G My Storage, and ActiveSync for Outlook, Microsoft Office, and multi-media synchronization.
The nüvifone M20?s full QWERTY soft keyboard makes it easy to send and receive SMS, MMS and emails (HSDPA).
The phone is also designed with location based services (LBS). Navigation functions are linked to frequently used applications such as calendar, contacts, email, internet applications and more.
It has the navigation capability of a premium Garmin n?vi sat nav, and comes with preloaded maps and points of interest (POIs) ? hotels, restaurants, stores, fuel stations and more ? for North America, Eastern and Western Europe, or other regions. Selecting a destination is straightforward and requires limited input from the user. For example, users can search for a destination by typing in the specific name or address of an establishment, search by category, or navigate to addresses in the n?vifone M20?s contact database or on the web. The device then gives turn-by-turn voice-prompted directions and automatically recalculates if a turn is missed along the way.
The nüvifone M20 takes GPS navigation one step further via Connected Services, a suite of online applications and data from Garmin-Asus that adds location intelligence to navigation, phone and browser functions. The of applications includes content like real-time traffic information, Google Local search, White Pages, weather, flight status and movie times.
The nüvifone product line also includes Ciao!, an LBS application that helps users stay up to date on their friends? whereabouts and status by linking location-centric social networks. Through Ciao!, n?vifone users will see their friends? location on a map and then be able to navigate to that location with ease. nüvifone users can also choose to have the n?vifone automatically update their social network location information. The launch partners for Ciao! are Buddy Beacon and GyPSii, and it is scalable for additional social networks.
Garmin-Asus expects to announce the nüvifone M20?s pricing and availability information in the first half of 2009.
Asus second nüvifone model, the G60, has a 3.55 inch display, 3.5G and Wi-Fi connectivity, a built-in accelerometer and is running on an unspecified operating system (expected to be Linux). Garmin-Asus expects to announce the n?vifone G60?s pricing and availability in the first half of 2009.