Freecom Traveller Premium CD-RW
1. First Impressions
Freecom Traveller Pre mium - Page 1
Most of us have wished that sometime in their burning carrier to had a portable CDR-W in order to burn CDs away from their main system. Following that desire we tested the FreeCom Traveller Premium 4/4/24 CDR-W drive. How can this drive perform? Can it replace your main CDR-W drive? Read our review to get all the answers...
First Impressions – Look and "feel"
We received four boxes straight from Freecom. You might wonder why… Three of them contained the necessary cables for the connection of the drive to the PC. That's right, there's no cable included in the CD-RW package itself. The customer is asked to buy the cable (or cables) that suits his needs. Of course, someone might already posses a Freecom cable from another Freecom drive (from the Portable or Traveller series), which also works with this Traveller Premium that we tested. The cables we had the option to test were:
PCMCIA Cable:
Interface: PCMCIA type II
Data transfer rate: up to 3.000 kB/s
Supports: Win95/NT4.x, Win98/2000
Including Enhanced Prefetch Technology- enables 50% higher data transfer rate and top quality DVD film and multi media playback.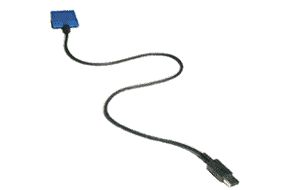 USB Cable:
- Only this cable allows you to burn your CD's on 4x speed on USB ports
- Interface: USB-I
- Data transfer rate: up to 1.000 kB/s
- Supports: Win98/2000
- Length: 100 cm
- Colour: Berlin blue transparent which complements the latest trends in PC and MAC design.
- Plug and Play, hot swapping
Parallel Cable:
- Interface: Parallel Printer Port
- Data transfer rate: up to 1.200 kB/s
- Supports: DOS/Win3.x, Win95/NT4.x, Win98/2000
- Only this cable allows you to burn your CD's on 4x!
- Including printer pass through connector
Shortly, we will add the results from the test of the FireWire (1394) Cable as well…;)
Let's stick on to the drive itself, which you might easily characterize as eye-catching. It's made of this transparent, iMAC-like plastic that we are used to see on many devices that have come out this year.
The blue and white coloring is pleasing to the eye and favors the drives with personality. The second thing you notice while looking at it is its thinness. The drive measures only 1.9 cm height. It's footprint is also tiny, and measures 17,3 x 13,6 cm, while it's weight barely reaches 600g with the battery included. Yes, you heard right, maybe the only portable CD-RW that can be powered from a battery pack. It's a 1500mAh Ni-MH battery pack (although we would like to see it with a Li-Ion battery) that gives the drive extra functionality.
Fiddling with the drive a little more, you can easily spot the special connector that you're supposed to attach one of the Freecom Cables, the 5V DC Input (the power supply is included and is also of very little dimensions), the Line out connect and a little switch that let's you select the power source among DC/Battery or PC, but we'll talk about that a little further on. Finally, on the top there is this little 3-colored led (red, orange, green) that informs you about the drive's status.
The drive itself opens up like a typical portable CD-ROM, as the ones you usually see mounted on laptops. There is no mechanism for the tray, the Eject button just unlocks it and pops it out. You then have to open in by hand, place the CD inside and then close it by hand. This part can get a little tricky, because in order for the drive to shut properly, you have to hold it with both hands while closing it, or find the proper spot that you have to press in order for the drive to shut using one hand only. Can be a little tricky at the beginning, but we can assure you that very quickly you'll get used to it and it won't bother at all…
Freecom Traveller Premium Specs:
Dimensions: 17,3 x 1,9 x 13,6 cm
Weight: 450 g without battery-pack 600 g with battery-pack
Write 4X, Rewrite 4X, Read 20X: (re)Read speed: 4X (600 kB/s) / 20X speed (3000 kB/s)
Access time: 120 ms
Media: writes CD-R and CD-RW, rewrites CD-RW media, reads all CD-Formats incl. CD-R and CD-RW
Full speed, even when in battery mode! - up to 2 hours (access dependent)
Package includes:
Ultraspeed CD-RW 4x4x20x drive: 600 kB/s (re)write and, 3000 kB/s read, buffer 2MB, access time 120 ms. with integrated battery pack, user manual in 7 languages (US, D, F, NL, I, E, T), AC Adapter, Adaptec Easy CD Creator, Adaptec Direct CD, CD-R disk, CD marker pen.