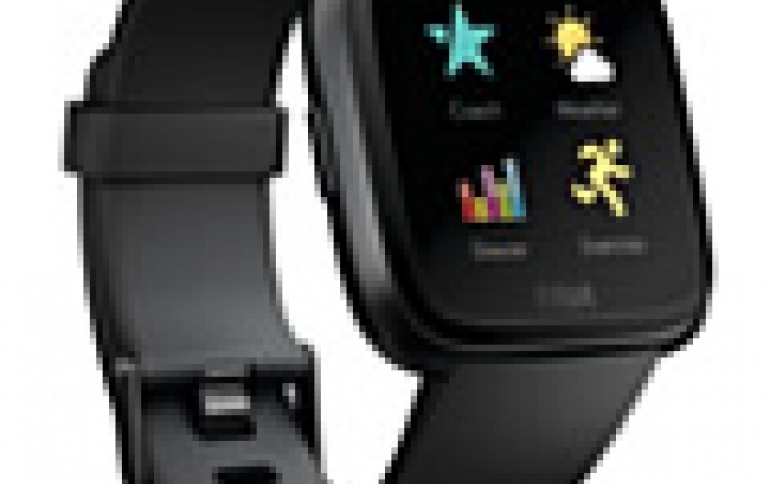 Fitbit Releases New Devices for Women, Parents, and Kids
Fitbit welcomes more health-and fitness-conscious consumers into the fold with the introduction of three very devices - a new health and fitness smartwatch, a tracker for kids, a special edition Fitbit Ionic, and the addition of female health tracking to Fitbit's app and smartwatches.
Fitbit Versa
Fitbit is determined to wrestle the smartwatch market away from Apple. Available for presale March 13, the new $199 Versa smartwatch easily undercuts the more costly Apple Watch, which starts at $249 for the older Series 1 model and jumps to $329 for the current Series 3.
This lightweight, swimproof smartwatch offers 24/7 heart rate tracking, sleep tracking, phone-free music, apps, notifications and quick replies, 4+ day battery life, guided workouts from Fitbit Coach, 15+ exercise modes, connected GPS, Cardio Fitness Level, swim tracking, Sleep Stages and Sleep Insights, Relax guided breathing, and Reminders to Move.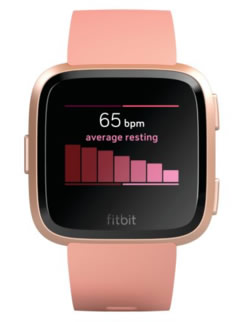 Versa Special Edition offers two looks in one with woven bands inspired by athleisure trends in lavender with a rose gold aluminum case or charcoal with a graphite aluminum case, as well as a black Classic accessory band in box. In the Americas, the Special Edition devices also include an NFC chip to use Fitbit Pay.
Additional accessories (sold separately) in the following materials round out your options: elastomer (peach, gray, black, periwinkle, white), Horween leather (cognac brown, midnight blue, lavender, saddle stitch), stainless steel links (black, silver, tapered silver), and stainless steel mesh (black, silver).
Versa is compatible across Android, iOS, and Windows devices, so you can use almost any smartphone.
Fitbit Versa is available for presale today on fitbit.com and online retailers tomorrow for $199.95 in black with a black aluminum case, gray with a silver aluminum case, or peach with a rose gold aluminum case.
Accessories range from $29.95 / $99.95, with the following being sold exclusively on fitbit.com: lavender leather, saddle stitch leather, black metal link, silver metal link, silver tapered link, silver metal mesh, periwinkle elastomer.
The Fitbit Versa Special Edition, including Fitbit Pay in the Americas, is available for $229.95.
Versa will be available in stores worldwide beginning April 2018, including North American retailers Amazon, Best Buy, Kohl's, Macy's, Target, Verizon and Walmart.
Fitbit Ace
Designed for kids ages 8 and up, Fitbit Ace is showerproof wristband that tracks steps, active minutes, and sleep to help get your kids moving and reward them for their hitting goals. Parents control who their kids connect with and what information they see in the app.
Ace comes in two interchangeable wristband colors - Electric Blue and Power Purple - that are sized smaller than normal Fitbit accessories and can quickly be adjusted.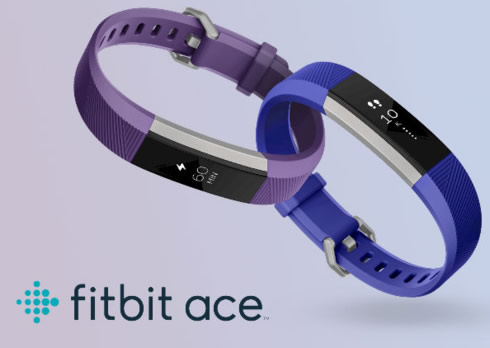 Multiple Clock Faces. Kids can pick a clock face. There are 10 to choose from in the Fitbit app that display date, time, goal progress, and more.
Activity Tracking. Your kid can see how much they move each day by tracking steps, active minutes, and sleep stats. On Ace, the active-minutes goal is 60 minutes by default-which is the minimum amount of physical activity the CDC recommends kids get daily-but both this, the step goal, and a sleep goal can be customized.
Group Challenges. Kids can compete against their family in daily and weekend Challenges or via Family Faceoff, a brand new 5-day step challenge that allows members in a family account to compete against each other (coming soon). Winner gets a fun virtual trophy. Keep the motivation stoked by cheering and direct messaging each other within the app. Soon, kids will also be able to add their friends to do the same, but with control over who your kids connect with on the platform, you can feel confident knowing that they are only connecting with people you approve.
Rewards for a Job Well Done. Ace will buzz with celebratory messages each time your child achieves a goal and reward them with fun, collectible badges. Kids can see their stats, badges, and progress toward their goals and more in the Fitbit app on their (or your) phone.
Ace can last up to 5 days on a single charge.
Your kid doesn't need a smartphone. Parents can set up Fitbit Ace for their kids using their phone or tablet. Ace automatically syncs to Android and iOS devices (Windows coming soon). But if they have one, they won't miss your calls. Fitbit Ace displays call notifications when your kid's connected smartphone is nearby.
Reminders to Move is available. Turn on this feature in the Fitbit app to help motivate your kid to take at least 250 steps each hour. If they haven't hit that mark by 10 minutes to the hour, Ace will nudge them with a gentle buzz to get off the couch.
Ace automatically tracks sleep. With Ace, besides being able to see how many minutes your kid spends asleep (and awake) each night, you'll also be able to establish a sleep goal, schedule Bedtime Reminders, and set a silent, vibrating alarm to help them form healthy sleep habits.
Some stats are restricted. Certain health and fitness metrics-like body fat and calories burned-that are available to adults will not be shown to kids.
Fitbit Ace is available for preorder today on Fitbit.com for $99.95 in Power Purple and Electric Blue. It will be available in stores worldwide in the second quarter of 2018, including major North American retailers Amazon, Best Buy, Kohl's, and Target.
Fitbit female health tracking symptoms
Female health tracking will be available in the Fitbit app and on Versa and Ionic in Spring 2018. Log your period, record symptoms, gauge your estimated fertile window, get predictions on future periods, and more.
According to Fitbit, the feature provides women with the means to see how their periods impact different aspects of their lives, ranging from the quality of their sleep to their overall activity levels.
The feature will allow women to log data on their periods into the Fitbit app and record the various symptoms they experience including headaches, cramps and acne. As you log more information, the app and Fitbit's proprietary cycle algorithm will be able to help you more accurately predict when you can expect your next period.
Users will be able to log their symptoms during their periods, which will eventually help them better understand what activities impact them more or help alleviate their pain points.
But a woman's cycle isn't a simple on-off affair. Different things like exercise, overall lifestyle and the like can drastically impact a woman's period. By using data from the female health tracking feature, users will be able to determine when they experience their worst symptoms, monitor their sleep, exercise and overall health, and then be able to adjust their behavior to decrease the impact their period has on them.
Adidas edition Fitbit Ionic
The pre-order window is closing soon, which means this performance-driving special edition Fitbit Ionic is almost ready to ship.
More Music, Apps & Clock Faces Arrive With Fitbit OS 2.O
Another update to Fitbit OS, Fitbit's proprietary operating system (currently available on Versa and Ionic), begins rolling out this month, and it's packed with goodies. Here's what you can expect:
Fitbit Today: Fitbit has redesigned the interactive health dashboard. Just swipe up from your clock face to find health and fitness stats - including seven day's worth of step and resting-heart-rate data, activity and exercise summaries, motivational messages, tips and tricks, and daily guidance.
Female Health Tracking: Versa and Ionic users who have opted into female health tracking will also be able to discreetly check the Fitbit Today dashboard on their device to see where they are in their cycle.
Quick Replies: Coming soon, Android phone users will be able to send pre-populated quick replies to text messages and messenger apps like WhatsApp and Facebook Messenger. Fitbit is exploring ways to support iOS quick reply messages in the future, but is currently limited by iOS' closed notification system.
More Music Options: Starting this month, in addition to Pandora (Fitbit smartwatch owners can sign up for a Pandora Plus subscription and get one month free), Versa and Ionic users can also listen to their favorite music phone free with Deezer. The Deezer app for Fitbit OS lets you hear new song recommendations mixed in with tunes from your library via FLOW, your personalized continuous soundtrack. Choose a playlist, skip forward, or go back to a previous song right from your wrist. A Deezer paid subscription is required, which is available free to Fitbit smartwatch users for three months.
New Parent App: Launched last year, Fitbit Labs is a research and development initiative. This spring, the team introduces New Parent, an app that lets postpartum parents easily log their mood and track their baby's feedings, diaper changes, and sleep relative to the goals they set for them. Compare your baby's activity to your personal health stats-like sleep (or lack thereof), activity levels, and mood-at Fitbit.com/labs to see trends over time and build a healthy routine for you and your baby.