Facebook Announces Paper News App For iOS
Facebook is introducing
Paper
, a new app that aims to turn Facebook into a magazine-style experience. Paper promises a "full-screen" distraction-free layout, with the app separating out your own Facebook News feed.
Paper is made of stories and themed sections, so you can follow your favorite interests. The first section in Paper is the Facebook News Feed, where there are new designs for photos, videos, and longer written posts. You can customize Paper with a choice of other sections about various themes and topics. Each section includes a mix of content from emerging voices and well-known publications.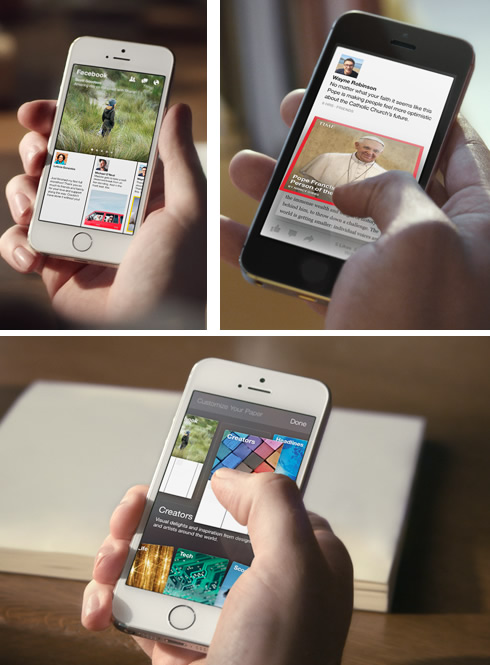 Everything on the app responds to your touch so you can pick up through stories with natural movements. You can tilt your phone to explore high-resolution panoramic photos from corner to corner. Fullscreen autoplay videos come to life and covers make it easy to spot articles from publishers. The articles also unfold in the app and appear fullscreen. And when you're ready to tell your own story, you know what your post or photo will look like because you see a live preview before you share it.
Paper will be available for the iPhone in the US on February 3rd.
Following the release of Paper, Facebook plans to develop a range of new standalone apps for interacting and sharing content.
The company's CEO Mark Zuckerberg discussed the plans during a fourth-quarter earnings call on Wednesday. He said the project would address the various ways people take to the Internet today to share content -- whether it be photos, events, locations or games -- and interact with each other.
"If you think about the overall space of sharing and communicating, there's not just one thing people are doing," Zuckerberg said. "People want to share any type of content with any audience."
The strategy could help Facebook keep people inside its ecosystem, attract new users, and allow marketers to serve up ever more targeted ads.