2. Package
For our testing purposes, Polstar Technologies sent us the retail package which includes:
The BT-R900 GPS receiver
An AC power adaptor (with USB output)
A cigarette lighter adaptor (with USB output)
A mini USB cable (for charging with PC)
A Li-Ion battery
A CD with manual and test software
The current price for the product is around US$120.00, as found around the net.
The BT-R900 is very similar to the Globalsat BT-338.
On the front, there is a large LED indicator used for on/off function, and two leds indicating GPS status. At the bottom there is a mini USB port, mainly used for charging.
Removing the battery cover on the back, reveals some general information about the product: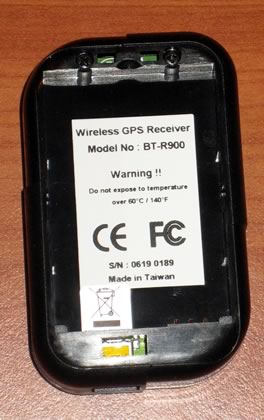 The Li-Ion battery is rated at 1000mAh 3.7V, typical for this category:
The external dimensions are 73x 45x 20mm with a weight of 60gr. The three LEDs indicate the following status conditions: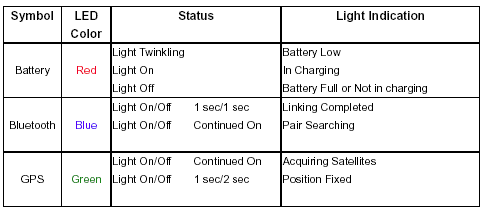 Also included is an anti-slide rubber mat. You can place the mat on the dashboard of your car to help keep the device from sliding about. However, from our tests in a BWM 320, the device had better stability without the rubber mat. It probably depends upon where you plan keeping it and the type of surface.