DOCOMO Shares Its Vision For a 6G Communication System
NTT DOCOMO has released a white paper on the topic of 6G, the sixth-generation mobile communications system that the company aims to launch on a commercial basis by 2030.
The white paper incorporates DOCOMO's views in the field of 5G evolution and 6G communications technology, areas that the company has been researching since 2018. The white paper summarizes the related technical concepts and the expected diverse use cases of evolving 5G and new 6G communication technologies, as well as the technology components and performance targets.
DOCOMO commenced its research into the commercial launch of 5G in 2010. In 2018, the company conducted successful radio wave propagation experiments at frequencies of up to 150 GHz, levels which are expected to enable the much faster and larger-capacity communications that 6G will require.
DOCOMO will continue its research into and development of 5G evolution and 6G technology, aiming to realize technological advances including:
the achievement of a combination of advances in connectivity, including ultra-high-speed, large capacity and low latency
the pioneering of new frequency bands, including terahertz frequencies
the expansion of communication coverage in the sky, at sea and in space
the provision of ultra-low-energy and ultra-low-cost communications
the ensuring of highly reliable communications
the capability of massive device-connectivity and sensing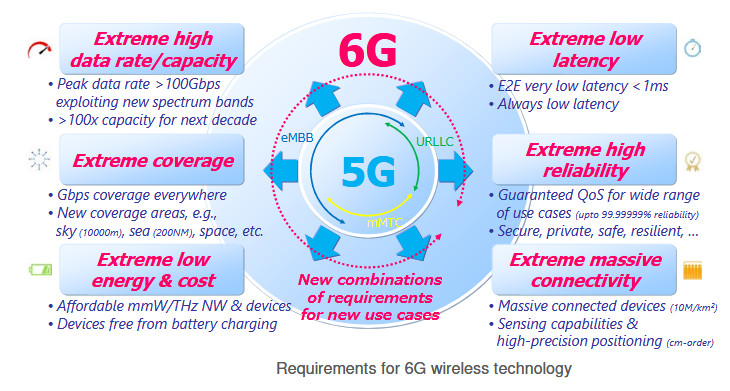 DOCOMO says that the popularization of solutions and more advanced correspondence in the 2030s will require complete problem solving and development. "The world is expected to become a place in which all people, information, and goods can be accessed anywhere in an ultra-real experience, and the constraints of working place and time are completely eliminated. This will dramatically eliminate social and cultural disparities between rural and urban areas, avoid urban concentration of people, and promote local development. It can also make people's lives more stress-free," according to DOCOMO.
The company expects advanced functions of wearable devices including XR (VR, AR, MR) devices, high definition images and holograms exceeding 8K, and new five sense communications including tactile sense to proliferate, and communications between humans and between humans and things to become "ultra-real and rich." As a result, innovative entertainment services and enterprise services for games, watching sports, etc. will be provided without time and place restrictions. "High speed and low latency performance that far exceed the human ability will be required for communications because large data processing including high-definition images and control of equipment with ultra-low latency will be carried out by machines," DOCOMO added.
In the 6G era, users will not need to be aware of communication settings and the communication service area. "A communication environment will be required in all places with the expansion of the activity area of people and things. High-rise buildings, drones, flying cars, airplanes, and even space will be natural activity areas," DOCOMO says.
Many services utilizing cyber-physical fusion will be required in the 2030s. By transmitting and processing a large amount of information between cyberspace and physical space without delay, tighter cooperation between both spaces will be achieved, and ultimately, fusion without a gap between the spaces will be actualized. "For humans, it will become possible for cyberspace to support human thought and action in real time through wearable devices and micro- devices mounted on the human body. All kinds of things such as transportation equipment including cars, construction machinery, machine tools, monitoring cameras, and various sensors will be linked in cyberspace. They will support safety and security, solutions to social problems, and a rich life for people," DOCOMO believes.
The white paper also describes some technological requirements for 6G. Since 4G, radio access technology (RAT) used a combination of multiple new technologies based on orthogonal frequency-division multiplexing (OFDM), and in 6G, technical fields are thought to become more diversified. This is because the communications quality close to the Shannon limit has already been achieved by technology based on OFDM. For 6G, DOCOMO says that high-level requirements will be satisfied through a combination of many technologies. Additionally, the definition of 6G RAT also needs to be clarified. The technical fields considered as candidates for 5G evolution and 6G are outlined below:
New network topology: a network topology that is distributed in the space domain is required. In the previous generation, it was considered ideal to construct a cellular network with hexagonal cells so that the cells do not interfere with each other; however, in order to increase the path selection, a topology of spatially non-orthogonal distributed networks will be pursued by abandoning the concept of cells. But still, inter-cell interference occurs and many redundant antennas are installed. DOCOMO says that interference can be technically avoided by beam control and path selection. The solution will will not use conventional base station antennas. There are various investigations such as using glass antennas, reflectors, integration of sensors and communication antennas, cooperation between terminals , terminal-like base stations, a new optical fiber distribution and optical transmission technology that enables the distributed network topology, extension of front-haul and back-haul technology including integrated access and backhaul (IAB), and an uplink-only-receiving node. Topology management and control technology using AI, etc. will be an important element.
Coverage extension including non-terrestrial network: Coverage extension technology is required in order to provide services for drones, flying cars, ships, and space stations, since their service areas such as the sky, sea, and space are not fully covered by conventional cellular networks. New network topologies should be examined three-dimensionally including the vertical direction. In addition, a technology that achieves long distance wireless transmission over several tens of kilometers is considered to be necessary mainly on the assumption of the wireless backhaul and IAB application. In super coverage extension, by considering the utilization of geostationary satellites (GEO), low earth orbit satellites (LEO), and high altitude pseudo satellites (HAPS), it becomes possible tocover mountainous and remote areas, sea, and space, and to provide communication services to new areas. n particular, HAPS has attracted attention again recently because it can be stationed at a fixed location at an altitude of approximately 20 km, and can form a wide coverage area with a cell radius of greater than 50 km on land.
Frequency extension and improved spectrum utilization: In 5G NR, frequency bands up to 52.6 GHz are supported, and extension to approximately 100 GHz is examined for future release. In addition, the U.S. FCC recommends that frequencies higher than 5G, such as 95 GHz to 3 THz, be considered for 6G. At present, we assume that radio waves up to approximately 300 GHz are considered in the examination range for 6G. However, "terahertz waves" have the problem in that the radio wave rectilinear property is higher than that for the millimeter wave and do not propagate far. Technological examination such as advance in Radio Frequency (RF) device technology and utilization based on the above-mentioned new network topology is necessary. New concepts of wireless access technology take into account the development of such high-frequency bands and the coverage extension including the sky, sea, and space. Although these are different directions of development, there are common technical problems in the sense that coverage and power efficiency become more important than the spectrum efficiency. As for radio technology, the signal waveform of a single carrier becomes dominant compared with OFDM, and as the application area for radio technology is expanded including IAB in the future, the importance of radio technology such as in terms of a power efficient single carrier may increase. In addition, when new frequency bands such as the millimeter wave and terahertz wave bands are added to the existing frequency band, very wide frequency bands will be utilized in comparison to the past.
Further advancement of wireless transmission technologies: In 5G, massive MIMO (mMIMO) technology using multiple antenna elements was one of the keys, especially as a technology to utilize millimeter waves effectively. In 5G evolution and 6G, further advancement is expected such as mMIMO with more antenna elements, more layers for spatial multiplexing, and distributed antenna arrangement combined with new network topology. In regard to the radio access technology almost reaching the Shannon limit in the OFDM-based technology, faster-than-Nyquist (FTN) signaling, which compresses and transmits signals non-orthogonally using a sampling rate faster than the frequency bandwidth in the time domain, is studied. It is difficult to exceed the Shannon limit even by using FTN when considering a certain propagation path within a given bandwidth, but when considering other factors such as the peak-to-average power ratio (PAPR), FTN may provide benefits. Furthermore, virtual massive (VM)-MIMO technology has been proposed as a technology for achieving a spatial multiplexing gain equivalent to mMIMO with a single antenna. In the VM-MIMO technique, as in FTN, the received sampling rate is faster than the frequency bandwidth. The antenna characteristics are varied at a very high speed and periodically to generate a large number of virtual antennas and to increase the number of layers for spatial multiplexing.
Visitors to DOCOMO Open House 2020 will be able to view conceptual displays incorporating DOCOMO's vision of the evolution of 5G technologies into 6G. The event takes place in the Tokyo Big Sight exhibition complex in Tokyo on January 23 and 24.