CPU Coolers Roundup June 2008
1. Akasa AK-965BL
June is the perfect month to present another roundup with various cpu coolers. Today we will have in our hands the latest offering from from Akasa, Evercool, Nexus, Scythe an Titan. All products will be tested with exactly the same environmental conditions and of course same testing methodology.
In the first pages of this article you can read information about each cooler, as well as an evaluation of their design, quality of structure and retail package. Comparison and benchmark results follow in the last pages.
But first, let's meet the coolers.
- Akasa AK-965BL
| | |
| --- | --- |
| Manufacturer | Akasa |
| Model | |
| Price | $25 |
| Category | Entry Level |
We have already tested the Akasa AK-965BL that won a Best Buy Award. The new Akasa AK-965BL is essentially the same cpu cooler with different color (blue) for the rotating fan.
The AK-965BL utilizes the "U-shape heatpipe technology" for rapid and even heat transfer. A copper base is used for maximum heat absorption, three embedded copper heatpipes ensure fast heat transfer and 45 aluminum fins contribute to better heat dissipation.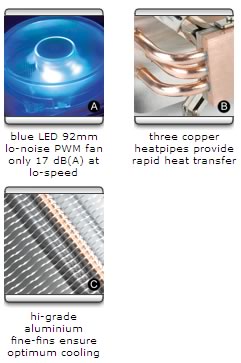 An Intel approved power management (PWM) 92mm round frame fan is available for efficient and quiet cooling. Intel's reference push-pin retention is used for safe and easy attachment. The specific fan positioning enhances the VRM cooling (VRM - CPU Voltage Regulator Modules located on the motherboard).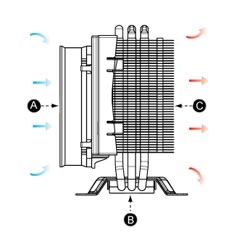 Thermal compound is pre-applied.
The AK-965BL can be assembled horizontally or vertically as the heatpipes work independently of installation direction.
- Features
92mm blue-LED fan with crystal clear fan frame and opaque blue fan blades
PWM controls fan RPM in line with CPU usage ensuring lo-noise cooling
Three U-shape heatpipes give rapid heat dissipation
Copper base for maximum heat absorption
Intel reference push pins for safe and easy retention
Thermal compound pre-applied
- Full Specifications
| | |
| --- | --- |
| Socket type | Intel LGA 775 |
| Heatsink dimension | 132 x 105 x 56.5mm |
| Heatsink material | Aluminium fins, copper heatpipes and base |
| Cooler dimension | 139.5 x 111.6 x 89.5mm |
| Fan dimension | 92 x 25mm (on 80mm fan fitting) |
| Fan speed | 600 - 2500 R.P.M. |
| Fan connector | 4-pin (PWM enabled) |
| Fan airflow | 10.56 - 47.68 CFM |
| Fan air pressure | 0.18 - 2.56 mm H20 |
| Fan life expectancy | 45000/hrs |
| Bearing type | Ball Bearing |
| Voltage rating | 12V |
| Noise level | 17 - 30 dB(A) |
| Product code | AK-965BL |
- Retail package
The retail package of Akasa AK-965BL includes just the basics.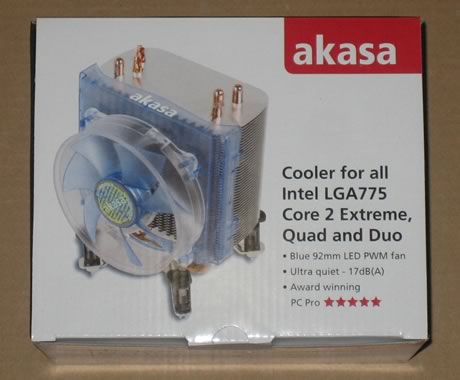 The cooler is more or less the same as the akasa AK-965 we tested some time ago. The 92mm fan on the front keeps the aluminium fins cool, while the three U-shaped heatpipes that absorb the heat from the base. The middle-sized cooler has a height of just11cm. As you can see the thermal compound is pre-applied.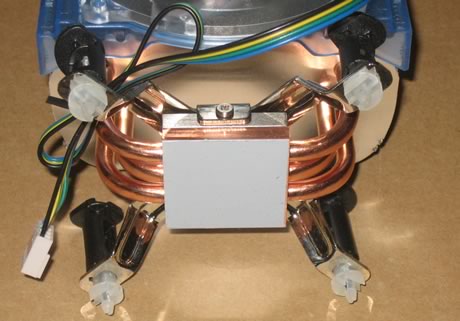 - Installation
The installation procedure is very simple, since the design follows Intel's standard procedure. No much to explain here, this cooler can be installed in less than 1 minute.
The motherboard's copper heatpipes around the CPU area did not obstruct the installation.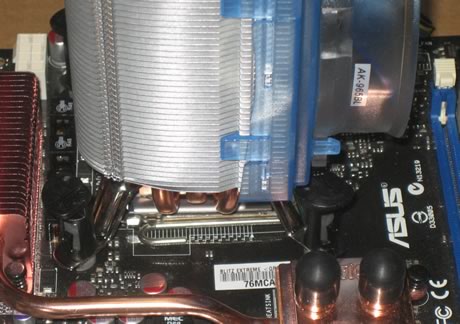 - Ratings (before benchmarks)
| | |
| --- | --- |
| Retail package | |
| Design | |
| Motherboard compatibility | |
| Installation time | |
| Copper Base quality | |