Computex: Qualcomm Debuts The Snapdragon Wear 1100 Processor for Wearables
Qualcomm today announced at COMPUTEX 2016 the new Qualcomm Snapdragon Wear 1100 processor for the targeted-purpose wearables segments such as connected kid and elderly watches, fitness trackers, smart headsets, and wearable accessories. The Snapdragon Wear 1100 processor complements the Snapdragon Wear 2100 processor, which is designed for multi-purpose wearables, and joins the Snapdragon Wear product family.
According to Qualcomm, the new Snapdragon Wear 1100 processor features four Cortex-A7 cores and offers low power features such as Power Save Mode (PSM), compact packages, and next gen Cat 1 modem with LTE/3G global band support. The Snapdragon Wear 1100 also features an integrated applications processor for Linux-based applications and scales to support voice, Wi-Fi, and Bluetooth.
Additionally, the Snapdragon Wear 1100 incorporates the Qualcomm iZat integrated location engine to offer accuracy and power optimization through such features as multi-GNSS, cell-ID positioning, and ability to support applications that utilize geo-fencing for safety monitoring. Integrated in the chipset are the hardware cryptographic engine, HW random number generator, and TrustZone, which supports a highly secure environment for consumers.
Snapdragon Wear 1100 is commercially available and shipping today. The processor joins thepreviously announced Snapdragon Wear 2100 processor, which will also begin shipping today.The Wear 1100 chip has been designed for targetedpurpose wearbles, while the Snapdragon Wear 2100 will power future general purpose wearbles.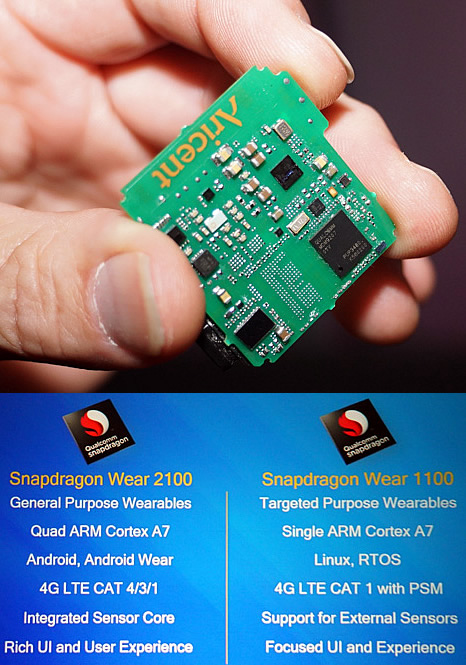 Qualcomm also announced a series of collaborations with Aricent, Borqs, Infomark, and SurfaceInk who showcased reference platforms based on Snapdragon Wear 2100 and Snapdragon Wear 1100. These platforms represent reference implementations targeting the kid and elderly watch segment.
In addition, Anda Technologies announced plans to launch its kid watch, based on the Borqs reference design, for the Latin America region.
inWatch also announced two kid watch SKUs, one for boys and another for girls, based on the Borqs reference design, specifically for the China region.
WeBandz showed off its smart tracking modular device, based on the SurfaceInk design, which can be customized for the kid, elderly, and pet segments in the U.S.