Computex: New Asus Eee PC and the CULV Notebooks
Asus Chairman Jonney Shih today drew the attention of media with his exposition of the company's new corporate slogan "Inspiring Innovation - Persistent Perfection" during an international press conference at COMPUTEX 2009. He also outlined his strategy for delivering upon the company's promise of innovation and quality across ASUS' product portfolio, citing the ASUS UX30 notebook, Eee PC Seashell and the ultra-slim MS Series.
The company showcased the ASUS UX30 notebook, the Eee PC Seashell and the ultra-slim MS Series display.
The Eee PC Seashell features a tiny, custom-designed PCB, making it the most compact and portable 10" ultra-mobile Internet device on the market. The ultra-slim MS Series display boasts a new design with a slim 19mm profile. The uniquely designed ring stand with Ergo-Fit Technology enables easy angle adjustment with just a single finger while maintaining perfect stability. The MS Series display features a power efficient LCD panel that yields greater power savings and utilizes less mercury.
Asus Eee PC Seashell line includes the Eee PC 1005HA with a 10.1-inch display and a battery life of up to 10.5 hours, and the Eee PC 1101HA, which features an 11.6-inch high definition widescreen LED-backlit display. The Eee PC 1101HA is equipped with an Intel Atom Z530 or Z520 CPU. Its 11.6" display supports a resolution of 1,366 x 768 pixels. The device's weight is 1.38kg.
The Eee PC 1005HA will be powered by an Intel Atom N270 or N280 CPU. It can display at 1,024 x 600 pixels and its weight is 1.27kg with a three-cell battery installed.
Both models are using a 160GB HDD and run Windows XP Home Edition. Wireless LAN (IEEE 802.11n) and Bluetooth are available, as well as USB and card reader. A 1.3 megapixel built-in webcam and digital microphone allow users to communicate through audio and video. The Eee PC Seashell Series also feature ASUS' exclusive Super Hybrid Engine, which intelligently monitors the prevailing usage of the user at any given moment and actively deploys just the right amount of energy required. Users can also choose from three preset power profiles, to better cater to individual usage requirements. A multi-touch touchpad allows users to scroll through websites, as well as view and manipulate images.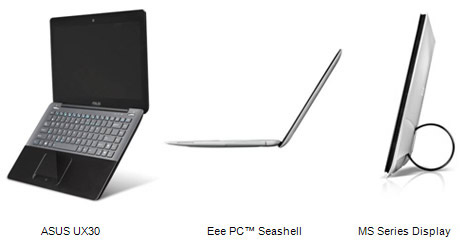 The ASUS UX30, which is based on Intel's consumer ultra low voltage (CULV) processor, offers a balance of thinness, light weight and power. It is a 13.1" notebook with CPU options to include the Intel Core 2 Duo SU9400, Core 2 Solo SU3500, and the Pentium SU2700, together with the and Intel GS45 chipset. The device is equipped with a 2.5 inches HDD with a maximum capacity of 500GB and its weight is 1.6kg. Asus gives a 4hr continuous battery operation for the device.
Asus also showcased the 15.6" UX50 model that uses Nvidia's GeForce G 105M as a discrete GPU in addition to the Intel Core 2 Duo SU9600/9400, Core 2 Solo SU3500/3300, Pentium SU2700, and Intel GS45 chipset (CULV version). The device comes equipped with a super-multi DVD drive.
The Asus U20 model has a 12.1" LCD dispay and uses one of the he Intel Core 2 Duo SU9400/ Core 2 Solo SU3500 CPUs as well as the and Intel GS45 chipset. The netbook tales adnantage of nine battery cells to offer a continuous operation of 12 hours, according to Asus.
EeeTop PC ET20/22 Series: An All-in-one Multimedia PC
The EeeTop PC ET20/22 Series is an all-in-one PC boasting features such as EeeCam, which allows users to take pictures of themselves or conduct video conferencing with their family or friends. Eee Memo allows users to leave digital notes for their friends and family members via handwriting recognition or conventional keyboard input. It also allows users to email and print notes, as well as record voice and video messages. FotoFun allows users to create personal albums in minutes, simply by arranging and previewing their photographs in the folder. What's more, they can also upload the photos to their blog in just a few simple clicks. Embedded speakers, augmented by SRS Premium Sound, provide high fidelity audio reproduction, while a flushed full high definition display enhanced by Eee Splendid Video Intelligence Technology and a discrete graphics solution provide immersive visual entertainment. Blu-ray Disc playback capabilities, HDMI connectivity and S/PDIF connectivity are listed in the specifications of the device.
Eee Videophone Touch
The Eee Videophone Touch AiGuru SV1T was developed to provide users with the convenience of conducting video conferences without the hassle of complicated operating procedures. As a standalone communications device equipped with 7-inch touchscreen and an easy-to-use icon-based interface, it allows users to make unlimited Skype video calls to other users through a built-in webcam, speaker and microphone.
Asus also had on display a dual-GPU graphics card, based on two GeForce GTX 285 cores. The prototype card dubbed "MARS GTX295/2DI/4GD3" takes advantage of two GPUs clocked at 648MHz, shaders running at 1,476MHz, and 4GB of memory reaching the 2.4GHz.
The dual-GPU card was driving a massive display with a resolution of 3840x2160?four times as many pixels as standard 1080p. Asus claims the GeForce GTX 295 Mars is 23% faster in its synthetic testing than stock GTX 295s. You can expect to see it hit stores in late July.
Asus also unveiled its Formula Series graphics cards which are equipped with double cooling solutions. With an aerodynamic design, the Formula deries deliver up to 7% more airflow for superior cooling. Additionally, its heatsink with Micro Surface Treatment Technology improves heat dissipation by up to 14%. The Formula Series graphics card cooling fan has been also made dust-proof, extending the cards' lifespan by up to 10,000 hours. The ASUS Formula Series includes the ASUS EAH4890 Formula and ASUS EAH4770 Formula.
Finally Asus showcased its upcoming motherboards based on the Intel P5x platform (Lynnfield).
The models inlcuded the high-end "P7P57 PRO" powered by the Intel P57 (Brainwood) chipset, the "P7P55" and the "P7P55 LE" that use the Intel'sP55 solution. All models had two PCI Express x16 slots supporting CrossFire and SLI configurations.
Motherboards based on AMD's AMD 785G, the successor of the AMD 780G, were also on display. Here we have the "M4A785-M EVO" (AMD 785G+SB710), the "M4A785-V PRO" (AMD 785G+SB710) available in the ATX form factor as well as the "M4A785G HTPC" model for HTPC that uses the AMD 785G+SB710.
In addition, the new Asus "P6X58 Premium" motherboard was available at Asus' booth powered by the Intel X58+ICH10R chips and offering 6Gbps Serial ATA ports (the current standard has a top speed of 3Gbps).