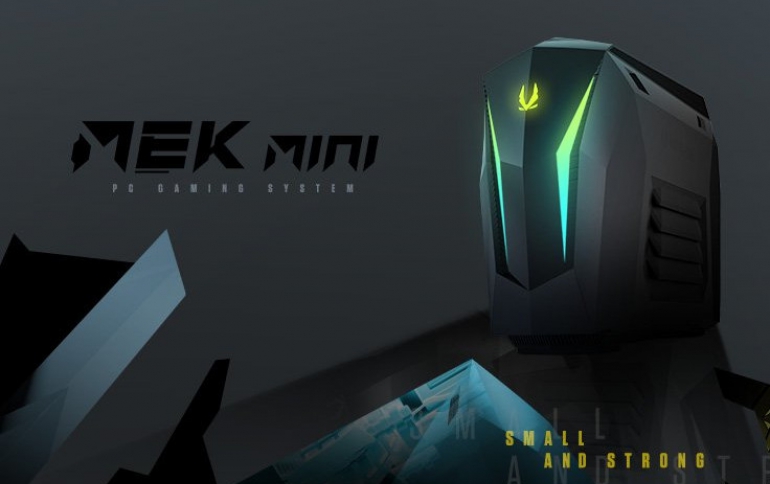 CES2019: New Zotac ZEK Mini and GeForce RTX Liquid-cooling Graphics Card
ZOTAC Technology presented exclusive unveilings at CES 2019, including the first ZOTAC GAMING GeForce RTX liquid-cooling ready graphics card, a line-up of next-gen ZBOX Mini PCs, the MEK MINI Gaming PC, and much more.
The MEK MINI challenges to be one of the world's smallest desktop gaming system with desktop-class performance. It boasts an ultra-compact 9.18L design and comes armed with a six-core Intel Core i7 processor and a discrete ZOTAC GAMING GeForce RTX 20-series mini graphics card.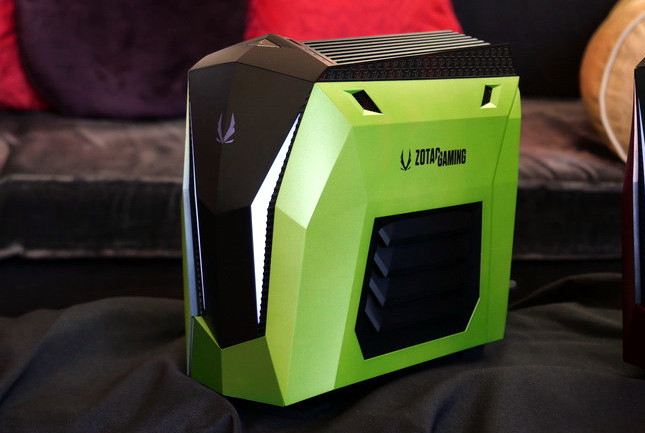 MEK MINI is optimized for speed with an NVMe M.2 SSD as the primary drive and is backed up by 16GB of fast DDR4 memory. There is headroom for gamers to install games to the 2TB large capacity hard drive. The mini PC also uses Killer Gigabit Ethernet and Killer Wireless technology.
Here is an overview of the specs:
Zotac Gaming/Nvidia GeForce RTX 2070 with 8GB of GDDR6 RAM
Six-core Intel Core i7-8700
16GB of DDR4 RAM (overclockable)
240GB NVMe M.2 SSD and 2TB SATA HDD
Killer AC 1550 Wi-Fi and dual Gigabit Ethernet, Bluetooth 5

HDMI 2.0b, 2x DisplayPort 1.4, DVI, USB Type-C, 2x USB 3.0, 4x USB 3.1
Programmable lights via Zotac's Spectra Lighting System software
Available Q1 2019 for $1,500
Liquid-cooled Geforce RTX graphics card
The ZOTAC GAMING GeForce RTX 2080 Ti ArcticStorm maed its first appearance. Full throttle performance powered by the Geforce RTX 2080 Ti GPU combined with fearless cooling, the new liquid-cooled ArcticStorm gets refined with a refreshed design utilizing laser etching to direct lighting so that it shines sharply with addressable LEDs introduced by the SPECTRA 2.0 lighting system.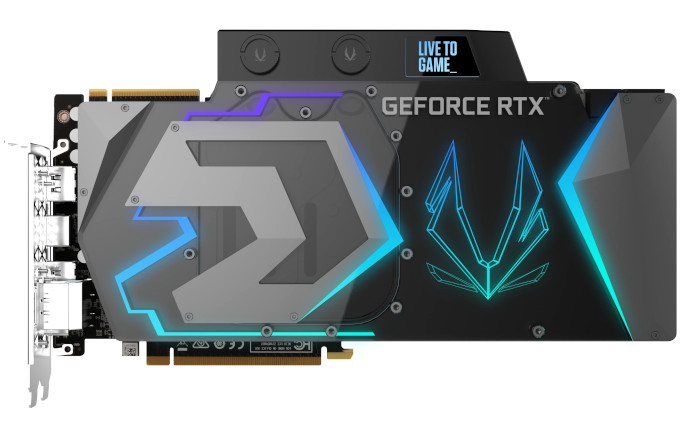 Built on a full-coverage waterblock and a 16+4 power phase design, ArcticStorm features stability, power efficiency and the strongest cooling ever in the RTX series.
ZOTAC GAMING GeForce RTX 2060
ZOTAC had also on display the ZOTAC GAMING GeForce RTX 2060 series with GDDR6 memory. The card will be available in two models: AMP and Twin Fan.
Powered by the new NVIDIA Turing GPU architecture and the NVIDIA RTX platform, the new graphics cards bring together real-time ray tracing, artificial intelligence, and programmable shading.
The ZOTAC GAMING GeForce RTX 2060 series also feature IceStorm 2.0,cooling hardware featuring a full coverage aluminum array heatsink with dual 90mm static optimized fans. The ZOTAC GAMING GeForce RTX 2060 AMP model features a 1800 MHz Boost factory overclock and support with LED lighting aesthetics. Both cards measure at a super compact 210mm or 8.3 inches enabling them to fit in 99% of systems available.
ZBOX Mini PCS
ZOTAC also incorporates future technologies into the new ZBOX Mini PCs.

The company gave an exclusive look at the new model from MAGNUS EC Series. MAGNUS is based on the latest GeForce RTX desktop graphics, an 8th gen Intel Core i5 processing power, Killer Wireless and Killer LAN connectivity.
The new ZBOX Q series Mini PC also introduces faster productivity performance with the workstation-class Xeon processor, the NVIDIA Quadro P5000 enterprise desktop graphics card and 2.5Gps Killer Ethernet.
The most powerful P series Mini PC making also debuted featuring an Intel Core i7 processor for the first time, and the first ZBOX Mini PC dedicated for live-streaming. Powered by Intel Core i5 processor and preloaded with Streamlabs OBS, the streaming Mini PC comes integrated with an Avermedia capture card capable of 4K @ 30Hz.