CES: Intel Launches Most Powerful NUC, 8th Gen Intel Core Processors with Radeon RX Vega M Graphics
Intel at CES 2018 is introducing the 8th Gen Intel Core processor with Radeon RX Vega M Graphics, along with latest and most powerful Intel NUC to date, based on the new chips.
For the first time, Intel is adding an AMD Radeon Graphics core in a CPU. The new 8th Gen Intel Core processor with Radeon RX Vega M Graphics is packed with features and performance crafted for gamers, content creators and fans of virtual and mixed reality.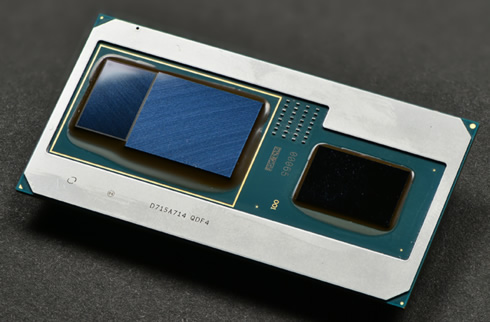 Among the devices launching with this processor: new thin and lightweight 2 in 1s from Dell and HP as well as the most powerful NUC Intel has ever introduced, as we will see later.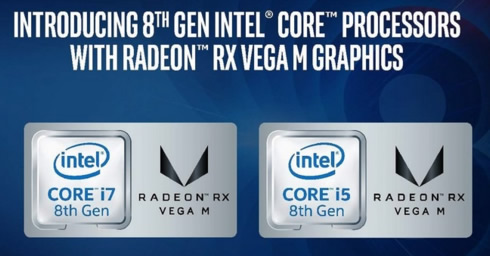 The new 8th Gen Intel Core processor will come in two configurations:
8th Gen Intel Core processor with Radeon RX Vega M GL Graphics (65W total package power)
8th Gen Intel Core processor with Radeon RX Vega M GH Graphics (100W total package power), which features an unlocked configuration

Each of the new parts is a quad-core design using HyperThreading, with Intel's HD 630 GT2 graphics as the traditional integrated low power graphics (iGPU) for video playback and QuickSync. This is connected via eight PCIe 3.0 lanes to the package graphics (pGPU) chip, the Radeon RX Vega M, leaving 8 PCIe 3.0 lanes from the CPU to use for other functionality (GPU, FPGA, RAID controller, Thunderbolt 3, 10 Gigabit Ethernet).
On the Radeon RX Vega M graphics, there is one version of the silicon for which there will be two variants: the 'GH' will be the highest part (H for high) with 24 compute units (1536 streaming processors), 64 pixels per clock, running at a base frequency of 1063 MHz and can boost up to 1190 MHz. The second variant is the GL part (L for low), with 20 compute units (1280 streaming processors), 32 pixels per clock, running at a base frequency of 931 MHz and can boost up to 1011 MHz.
Both pGPU Radeon variants will have access to 4GB of HBM2 as an immediate graphics memory. With one stack of HBM2, this means a 1024-bit bus width, which for the GH parts runs at 800 MHz for 208.6 GB/s bandwidth, or for the GL parts runs at 700 MHz for 179.6 GB/s bandwidth.
The Core i7-8809G, the highest placed processor, will offer overclocking. Intel has defined this chip as able to overclock the processor core, the integrated graphics frequency, the package graphics frequency, and the high bandwidth memory frequency (as well as system level DRAM).
This new addition to the 8th Gen Intel Core processor family brings together the Intel quad-core CPU, Radeon RX Vega M graphics and 4GB of dedicated HBM2 using Intel's Embedded Multi-Die Interconnect Bridge (EMIB) technology. EMIB acts as a high-speed intelligent information bridge between the GPU and HBM2 and reduces the usual silicon footprint to less than half that of discrete components implemented separately.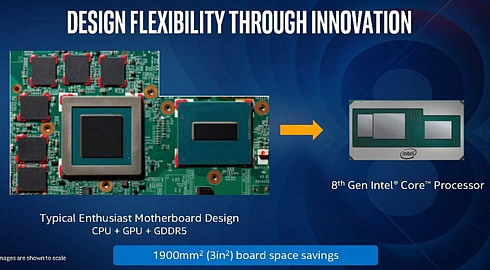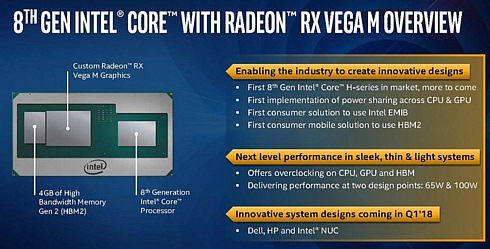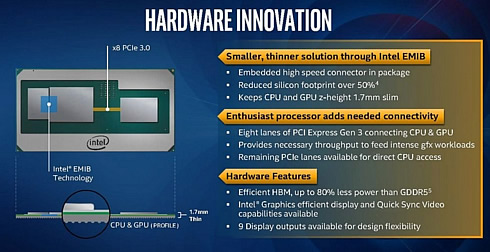 Despite these chips being 65W and 100W, we are going to see them being used in 15-inch and 17-inch high-end devices. For doing relatively simple tasks, such as video decoding or using eDP, firing up a big bulky graphics core with HBM2 is going to drain the batteries a lot faster. By remaining on the Intel HD graphics, users can still have access to those low power situations while the Radeon graphics and HBM2 are switched off. There is also the case for Intel's QuickSync, which can be used in preference of AMD encoders in a power-restricted scenario.
The Radeon graphics in this case offers power-gating at the compute-unit level, allowing the system to adjust power as needed or is available. It provides an additional six displays up to 4K with the Intel HD graphics that has three, giving a total of nine outputs. The Radeon Graphics supports DisplayPort 1.4 with HDR and HDMI 2.0b with HDR10 support, along with FreeSync/FreeSync2. As a result, when the graphics output changes from Intel HD Graphics to Radeon graphics, users will have access to FreeSync, as well as enough displays to shake a stick at.
OEMs that used separate CPUs and GPUs in a mobile device would design around a System Design Point (SDP) rather than a combined Thermal Design Power (TDP). OEMs would have to manage how that power was distributed - they would have to decide that if the GPU was on 100% and the SDP was reached, how the CPU and GPU would react if the CPU requested more performance.
Intel's new feature, Intel Dynamic Tuning, leverages the fact that Intel can now control the power delivery mechanism of both the combined package, and distribute power to the CPU and pGPU as required. This leverages how Intel approached the CPU in response to outside factors - by using system information, the power management can be shared to maintain minimum performance levels and ultimately save power.
Intel said that a design aiming at 62.5W SDP could have Intel Dynamic Tuning enabled and be considered a 45W device, and by managing the power they could also increase gaming efficiency up to 18% more frames per watt.
With this space savings, OEMs have more freedom and flexibility to create thin and light devices. For example, many 3-year-old systems weigh nearly 7 pounds, last a mere four hours and are more than 32 mm thick. With this new processor, enthusiast devices are slimmed to under 17 mm and can run up to eight hours on a single charge, while still delivering high performance. This is combined with the new real-time power sharing framework and software drivers.
According to Intel, the new 8th Gen Intel Core processor with Radeon RX Vega M graphics delivers up to three times the frames per second on thinner, lighter and smaller devices compared with similar systems from three years ago and up to 40 percent compared with current discrete graphics.
Intel promises that gamers can play the latest titles like "Vermintide 2" in high resolution on the go or in their living room with smooth motion and vivid colors.
In addition to the Intel NUC and new Dell and HP devices, this new 8th Gen Intel Core processor will enable a gaming cloud solution brought on by Artesyn and Gamestream.
Later this year, expect to see more from Intel on the high-end performance notebook segment, the Intel Core H-series, Intel Optane memory coming to 8th Gen Intel Core mobile devices for the first time and more details on 8th Gen Intel Core vPro platform for businesses.
The new Intel NUC (formerly code-named Hades Canyon) brings this new processor and graphics solution into a tiny 1.20-liter system. Designef for VR enthusiasts and workload-heavy content creators, it will be Intel's smallest premium VR-capable system in the market.
The new NUC will come in two versions: NUC8i7HVK and NUC8i7HNK.
The NUC8i7HVK is based on the unlocked version of the new 8th Gen Intel Core processor with the Radeon RX Vega M GH graphics, giving overclockers the ability to take the system to higher levels.
The NUC8i7HNK uses the 8th Gen Intel Core processor with the Radeon RX Vega M GL graphics.
To support all of this processing and graphics horsepower, both NUCs offer connectivity options including dual Thunderbolt 3 ports and dual Gigabit Ethernet ports. The system can drive six independent monitors simultaneously, and one of the HDMI ports is on the unit's front, making it easy to plug in a VR headset.
These NUCs will be sold as bare-bones kits, targeted to DIYers who are looking for small and powerful mini PCs. The units will be available starting this spring.