CES: Dell Releases New PCs, Dell Mobile Connect Will Sync Messages, With iPhone and Android
At the annual Consumer Electronics Show (CES), Dell is unveiling a suite of PC roducts as well as new monitors and Dell Cinema.
Dell PC and smartphone integration with Dell Mobile Connect Software
Dell, seeking to appeal to consumers who live most of their days on their smartphones, has created a tool that will allow text messages, calls, and apps from those devices to appear on its latest PCs.
The service, called Dell Mobile Connect, is being announced Tuesday at CES, the consumer electronics show in Las Vegas. The system works with the latest versions of Apple's iOS and Android to make smartphone notifications from third-party apps, calls, and text messages appear in the corner of a Dell PC screen so that a person can handle messages without actually picking up their phone,. It's similar to how an iPhone can be synchronized with other Apple devices like Macs and iPads to send notifications.
The feature can also mirror apps from Android smartphones so that they can be used on a Dell computer screen with the trackpad and keyboard. Android users will be able to share files between their phone and compatible Dell PCs with the Mobile Connect software, the company said.
People don't just have a mouse and keyboard in their hands when using a computer, they now also have a smartphone. To increase convenience and productivity, Dell is the first PC maker to introduce a software solution that enables complete wireless integration between Dell PCs and smartphones (iOS and Android). Pre-installed on all new Dell consumer PCs, Dell Mobile Connect empowers users to make calls, send texts, get notifications and even fully mirror their phones to interact with all their favorite mobile apps.
Dell Mobile Connect will be available for download starting Jan. 1 and come pre-installed on all Dell consumer systems starting Jan. 27
XPS 15 2-in-1
Balancing high performance with a sleek design, the first XPS 15 2-in-1 delivers the CPU and graphics horsepower to run content creation apps, process huge files and play AAA games while featuring touch, pen, a maglev keyboard and the screen real estate that creators crave. Expert premium materials and finishes including machined aluminum, carbon fiber and Corning Gorilla Glass 4 make this a functional, futuristic design.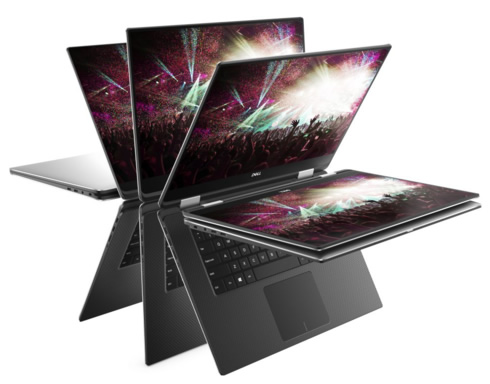 Features of the XPS 15 2-in-1 include:
Built with Windows 10, it arrives equipped with the Xbox app, support for DirectX12, and enables gamers to stream their gameplay using Mixer, without any added hardware or software
New 8th Gen Intel Core processor combines a high-performance Intel CPU and discrete Radeon RX Vega M graphics in a single package
InfinityEdge 4K Ultra HD display
The Dell XPS 15 2-in-1 will be available in the U.S. on Dell.com in April starting at $1,299.99.
XPS 13
Dell also announced the XPS 13 earlier this week at CES - a device powered by Windows 10, featuring a Rose Gold exterior and Alpine White woven glass fiber interior as an option to traditional silver and black, with narrower borders, higher 4K Ultra HD resolution and GORE Thermal
The Dell XPS 13 is available on Dell.com, Microsoft.com and your local Microsoft Store starting at $999 with an 8th Gen Intel Core i5 processor.
VR-ready Dell Inspiron Gaming Desktop
Dell also unveiled today new VR-ready Dell Inspiron Gaming Desktop starting at just $799. Engineered for PC gamers, the new Inspiron Gaming Desktop features 8th Gen Intel quad- and hex-core processors and graphics; Windows 10; solid-state drive options.
Dell's Latitude portfolio
Designed for the mobile workforce, Dell's Latitude portfolio of secure and manageable commercial notebooks and 2-in-1s has been fully refreshed with the latest 15W dual-core and quad-core 8th Gen Intel Core vPro processors.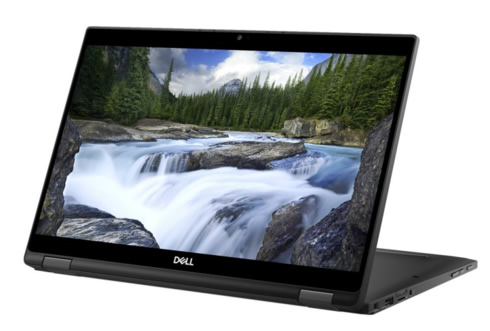 The Latitude product line also has been updated with several new hidden features. For example, the Latitude 7490 notebook features an exclusive active steering antenna that delivers better WiFi range, and a new Full HD super low power display that reduces power consumption by up to 50 percent, resulting in several hours of additional battery life.
Pricing and availability:
Dell Latitude 7490 Notebook is available on Dell.com starting at $1,049
Dell Latitude 5490 Notebook is available on Dell.com starting at $779
Dell Latitude 7390 2-in-1 is available on Dell.com starting at $1,149
Dell Latitude 5290 2-in-1 is available on Dell.com starting at $899
Dell also introduced Thunderbolt 3 storage device and portable drives Dell Portable Thunderbolt SSD 1000 (1TB) and SSD 500 (500GB).
The SSD in 500GB ($439) and 1TB ($799) will be available globally from February 28 on Dell.com. The drives are covered by a 3-year warranty.
Dell says these are the world's most compact Thunderbolt 3 storage devices. They measure in at 3.9" long, 1.9" wide, and just 0.8" thick (9.9 cm x 4.8 cm x 2 cm). Dell boasts that the drives can hit a 2650 MB/s sequential transfer speed over the drive's Thunderbolt 3 connection.
Dell 27 Ultrathin Monitor
With the new Dell 27 Ultrathin Monitor (S2719DM) and Dell 24 Ultrathin Monitor (S2419HM), pictures come to life in vivid color and both monitors support HDR-content playback for a CinemaColor experience, producing beautiful color depth, clarity and contrast in a virtually borderless InfinityEdge display. With a profile at only 5.5mm at its thinnest, both monitors deliver peak brightness of 600 nits.
Pricing and availability:
Dell 27 Ultrathin Monitor (S2719DM) will be available globally Jan. 30 on Dell.com starting at $499.99.
Dell 24 Ultrathin Monitor (S2419HM) will be available globally Jan. 30 on Dell.com starting at $299.99.
Dell Portable Thunderbolt 3 SSD in 500GB ($439) and 1TB ($799) will be available globally Feb. 28 on Dell.com.
Dell Cinema
Now more than ever, people watch movies and TV shows on their PCs. That experience is now available on XPS and select Inspiron PCs through Dell Cinema.
CinemaColor: Powered by Windows HD Color, decodes and displays high dynamic range (HDR) streamed content with enhanced detail, more vivid hues, sharper brightness and a wider color gamut
CinemaSound: A Dell exclusive audio technology powered by Waves MaxxAudio Pro that delivers clearer highs, enhanced bass and higher volume
CinemaStream: powered by Killer and SmartByte, a software-based that optimizes online streaming and interactive video resulting in less buffering, more bandwidth and better resolution

New Alienware Software Command Center and eSports Training Centers
Dell debuts the new Alienware Command Center that merges system settings, content and other functions into a simpleinterface. Alienware Command Center helps novice to experienced gamers optimize and tune PCs and peripherals to their gaming needs. Now a gamer can access her or his game library from all sources on a PC, easily create custom profiles for each game and squeeze out more performance with power management and overclocking tools.
Concurrently hitting the market is AlienFX 2.0, the second generation of Alienware's proprietary in-game lighting system that works across Alienware PCs, mice and keyboards. The Alienware Command Center provides even more customization of individual keys and key groups with more than 16.8 million colors in each lighting zone.
Dell also announced the launch of the new Alienware eSports Training Facility for Team Liquid setting a new standard for a dedicated eSports training center. The new 8,000 square foot facility in Los Angeles will serve as Team Liquid headquarters, supporting multiple competitive teams with an in-office chef, sports psychologists, nutritionists, dedicated coach and analyst and training spaces' with everything powered by the newest Dell and Alienware technology. Athletes will be training for high stakes competition while design teams, video crews and coaching staff make use of monitors, touch screen displays and more to break down the action and create content for fans.
Dell makes VR a reality
Alienware is collaborating with NVIDIA and Oculus to create a new category of virtual reality (VR) eSports that combines physical and mental competitive gaming and brings it to the masses. During the last two months, more than 200 participants across 14 different cities competed on Alienware systems to get the fastest time on Survios' latest VR game, "Sprint Vector." The finale will take place in Las Vegas today with the top eight players battling it out for the Alienware VR Cup National Champion title and $10,000 in prizes.