1. Introduction
CDROM Roundup Vo1 - Page 1
Introduction
CD-ROM drives still hold their position in the market, although some of us may think that the CD-RW drives have pushed them aside. The need of reliability and fast data reading exists and three manufacturers offered their CD-ROM drive proposals for testing. The drives come from Cyberdrive, Mitsumi and Samsung, and support 52x maximum reading speed and 54X for the Mitsumi drive.
Packages
The package contains the CyberDrive 52x drive, a brief multilingual installation guide, an audio cable and mounting screws.
In the front panel of the drive there is the "52x" logo, the eject and stop/forward buttons, an operation led, the volume selector and the headphone jack.
The rear panel of the drive is almost the same for all the three drives. You can see the analog and the digital out, the IDE interface connector, the DC input and the Master/Slave/CS selection pins.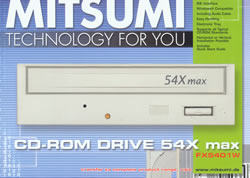 In the Mitsumi box there are the 54x drive, a quick start guide, a Mitsumi product catalogue, an audio cable, mounting screws, and an installation floppy disc.
The front of the drive has the "54x max" logo, an operation led, and the eject button.

The Samsung package contains the drive, the user's guide, mounting screws and audio cables.
The "Samsung" and "52x" logos are found in the front of the Samsung drive. The eject button is next to the led and they both light during operation. On the left there are the headphone jack and the volume selector.

Installation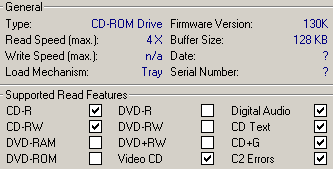 CyberDrive 52x was identified as "ATAPI CDROM.52X" . Nero Info tool v1.01 states that the drive supports only 4x read speed, which is definitely wrong as the maximum read speed is 52x. The firmware version installed was v130K, and the buffer size of the drive is 128K. The read features supported are CD-R, CD-RW, Video CD, CD-Text, CD-G.
Windows identified the Mitsumi drive as "Mitsumi FX5401W1A". The maximum read speed is 54X and the firmware version installed is v.U01F. The drive supports CD-R/RW/Video-CD read features and CD-text. Ultra DMA and multisession discs are also included in the features.
Samsung "SC-152L" v.C100 offers a 52X maximum read speed, has a 128KB cache buffer and reads fro, CD-R/RW/Video-CD. Nero Infotool reports that the drive does not support CD-text, however, our tests showed the opposite.