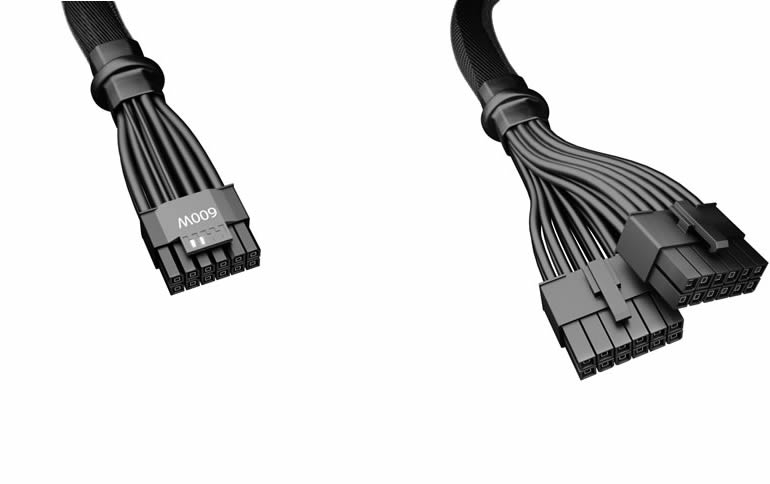 be quiet! introduces 12VHPWR adapter cable for RTX 4090 and RTX 4080 graphics cards
be quiet!, the German manufacturer for premium PC components, is today releasing its 12VHPWR 12+4-pin adapter cable for ATX 2.X-compliant be quiet! power supplies. This cable offers an alternative to bulky and short standard adapters that come with next-generation graphics cards like Nvidia's GeForce RTX 4090 and 4080 models. It features an elegant black sleeve and connects two be quiet! PCI-Express 12-pin sockets on compatible be quiet! power supplies for a maximum power throughput of up to 600 watts.
While the 12VHPWR adapter cable works with all current, modular be quiet! power supplies that have at least two be quiet! PCI-Express sockets, users are still advised to check power recommendations of the graphics card manufacturer. A general recommendation for the new Founders Edition cards from Nvidia can be found below.
RTX 40 Series Compatibility Table
GPU Dark Power Pro 12 Dark Power 12 Straight Power 11 Pure Power 11 FM
RTX 4090 All ≥ 850W ≥ 850W ≥ 850W
RTX 4080 All ≥ 750W ≥ 750W ≥ 750W
To prepare for future GPU launches, be quiet! is also working on ATX 3.0 compatible power supplies. Dark Power 13 is scheduled for launch in early 2023, with Dark Power Pro 13 following a bit later. Other power supply series in the be quiet! portfolio will be reworked for ATX 3.0 compatibility in the near future as well.
The 12VHPWR cable is as of today available for purchase at a recommended retail price of € 19.90 / $ 16.90 / £ 16.99.