Asus Xonar HDAV1.3: First Graphics/Sound Combo Board With HDMI
Asus unveiled at Computex the Xonar HDAV1.3, the world's first HDMI 1.3a compliant audio/video combo card. The board is capable of outputting uncompressed multichannel high definition audio from Blu-ray movies, while it also enhances video with an onboard Splendid HD processor.
This means that users of desktop systems that don't have a discrete graphics card or a high-end CPU can enjoy Blu-ray movies and high definition sound by installing one card into their computers.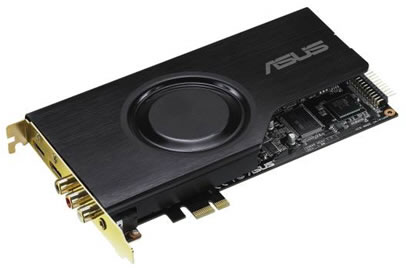 The Xonar HDAV 1.3 features Protected Audio Playback Systems (PAPS) and full Advanced Access Content System (AACS) certification. Without both of these certifications, typical PCs will need to downsample Blu-ray audio to DVD quality (48K/16bit). By working with ArcSoft's Total Media Theater, ASUS' Xonar HDAV1.3 is capable of decoding Blu-ray movies and takes full advantage of lossless digital audio formats such as Dolby TrueHD and DTS-HD Master Audio for high-fidelity sounds at 24bit, 96-192Khz. The PCI Express based Xonar HDAV1.3 is designed from the ground up for next generation home theater PCs (HTPC); and is equipped with the proprietary AV200 audio processor and HDMI1.3a certified Splendid HD video processor ? making it capable of delivering the highest quality 7.1 channel 192K linear pulse code modulation (LPCM) audio and high definition video through the HDMI port.
The ASUS Xonar HDAV1.3 also reigns in analog audio quality thanks to a HyperGrounding circuit design. With HyperGrounding, Xonar sound cards further reduce EMI noise inside modern PCs, providing clean 120 dB SNR and peerless 0.0004% low distortion. Unlike generic audio cards in the market that provide the highest SNR to only the front stereo outputs, the Xonar D2X is able to deliver 120 dB quality audio for all 7.1 channels.
The Splendid HD Video Processor increases color performance and enhances edges for crisper high definition image without impacting the CPU load.
At the heart of the Xonar is an ASUS AV200 codec chip, which routes and interprets high quality signals to audio components. These materials include oversampling digital to analog converters (Burr-Frown PCM1796, 123 dB SNR), National Semiconductor LM4562 operational amplifiers (opamp), and analog-to-digital (Cirrus Logic CS5381, 120 dB SNR) converter. The Xonar HDAV1.3 is the first in the Xonar family to utilize opamp sockets to allow simple, solder-less modifications for user-customized sound.
The Xonar HDAV1.3 also comes with the DS3D GX 2.0, which revives EAX 5.0 and 3D gaming audio in Vista. DS3D GX 2.0 automatically enables the latest EAX and DirectSound HW after installation, with no additional driver patches, game modifications, or OpenAL required. DS3D GX2.0 also extends MMOG EAX to online chat, allowing you to place your voice into the game's environment.
ASUS did not comment on pricing and availability for the HDAV1.3. However, it is expected to cost more than $100.
Specifications