10. Final words

The Asus Rampage represents Asus's most advanced motherboard you can buy. It is based on Intel's X48 chipset and promises to break any other overclocking frontier you have seen. Asus website lists tons of features for the motherboard that we have already discussed in previous pages. So getting to the points, does this motherboard live up to its expectations? The answer is YES. We really enjoyed working with the Rampage Extreme, either using an Intel C2D or C2Q processor. We have already analyzed our findings and for sure getting an 615MHz FSB with an Intel E8600 on air is impressive. Again, we should remind you that getting the motherboard work with Quad processors requires the latest possible BIOS installed and of course manual tweaking from your side.
The mainboard's overall board design is very good. We cannot have any complains here except from the fact that you may experience some problems installing lengthy cards like the ATI 4870x2, since the SATA ports on the board could limit the available free space.
The motherboard also supports Asus's EPU energy saving function in case you need it. In addition, the mainboard offers tons of pin headers to add rotating fans and the TweakIT functions are fun to work with although we prefer using the BIOS interface for out tweaks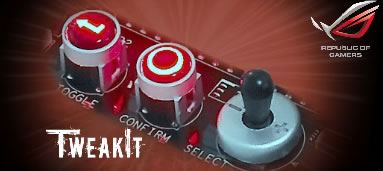 Since the motherboard supports 2x 16x PCI-e v2.0 lanes, you can fully perform CrossFireX with a latest graphics card by AMD.
The Asus Rampage retails for $390 and this is probably the only "negative" point we should mention. But for sure this motherboard will keep you happy for a long time. Without any second thoughts we highly suggest this product to anyone who wish to obtain the highest possible overclocking speeds and at the same time have a rock solid system. Good work Asus.
- The Positive
Perfect stability under overclocking
Perfect Design for Air or Liquid cooling
Comprehensive Features and Accessories
Very High Quality and Attention to Detail
Excellent Design Layout
Big sized coolers can fit without any problems
Lighted back panel add points
Dual Bios
- The Negative
Quad core overclocking requires manual settings
Price is a bit high (~$390)