4. Energy Process Unit (EPU)
Asus has updated its EPU function to the EPU-6, which offers more power savings compared to the previous generation of the system. As we mentioned in the previous pages, the EPU can be enabled/disabled in the BIOS.
In order to have a better idea of how the EPU works, you will have to download the Asus EPU-6 software.
Note that EPU-6 doesn't work under manual overclocking.
After installing the software, a brief calibration procedure begins:

The Six Engine software can adjust the operation characteristics of six basic components of the system. You can choose to tweak the CPU, VGA, chipset, memory, HDD or CPU fan in order to have power saving gains.
All the available settings are simplified and in most cases, changing a parameter is easy and it is given in a user-friendly way. So don't expect to see actual numbers when you change your CPU's Vcore for example. Remember that this is not an overclocking tool, it just downgrades specific characteristics of your system in order to consume less power.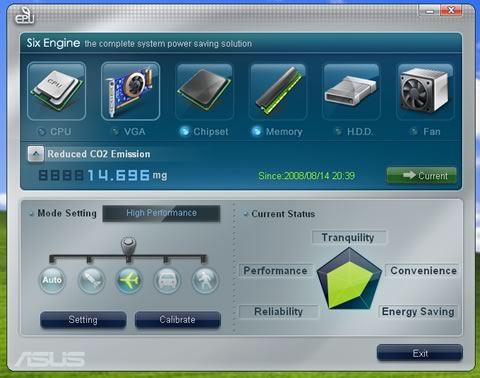 Pressing the CPU power, we can see the power our CPU currently consumes and the energy saving we have for a specific power setting.
In order to also fine tune your VGA you have to use a supported VGA card
Looking at each mode, we can tune several settings. For example, we can increase the CPU frequency:
or decrease CPU frequency
.
Asus offers four different performance modes for each component. These modes offer pre-selected options, which can also be changed by the user.
If you leave everything to "Auto", the Six Engine will auto-tune the system for optimum energy saving according to your CPU load.