1. Introduction
There is not much that we can say about Asus that hasn't already been said. Asus has been in the industry for a long time, manufacturing quality products. In 2003, Asus sold 5,000,000 motherboards which means one out of every 5 desktop computers was built using an Asus motherboard. In the VGA arena, Asus is known for two things: its quality and its slightly pricier products.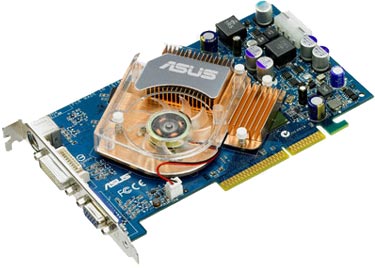 It's time to put the Asus N6600GT AGP on our testbed. You can tell an AGP 6600GT from the PCI-Express version from the distinguishing features: the 45-degrees rotated GPU core and the extra heatsink below the GPU. Underneath the heatsink, you'll find NVidia's High Speed Interconnect (HSI) bridge, responsible for translating between the native PCI-Express NV43 chipset and the AGP.
- Packaging/Bundle
The N6600GT AGP package is identical to the PCI-E version "Extreme 6600GT" from Asus. What stands out is the TOP sticker found on the upper right on the package. TOP is a recursive name standing for Top Overclocking Performance and indicates the already increased clock speeds of the N6600GT, plus the ability to further overclock the memory.
Asus N6600GT AGP
Inside the package, you'll find a set of CD-ROMs with the following software:
Software Bundle:
- Joint Operations : Typhoon rising (full version)
- Xpand Rally (full version)
- Medi@Show SE 2.0
- Asus CD manual
- Asus VGA driver CD
Notice something missing? There's no Asus CD Suite included with the Asus N6600GT. The package is still designed with a round-shaped place holder for CD Suite, but that space is now empty. At first we thought that there had been a mistake, but apparently Asus has decided to exclude it from the AGP version of its N6600GT, perhaps to cut down on the overall cost of the card.
Apart from the software accompanying the Asus N6600GT, a DVI-to-VGA adaptor and an S-video cable are also included inside the box.
Warranty:
All Asus graphics cards are covered by a 3-year warranty.