14. Conclusion
Are you a hardcore gamer? Do you want to have a Hi-End card? Well, if you are also an ATI fan, then the ASUS EAX1800XT TOP is for you. The retail package is huge, bundled with just about everything you could require, cables, games etc. In fact, it also includes a USB GamePad and an external Power supply so you don't need to worry if your current PSU doesn't have the juice to power this demanding 'beast'.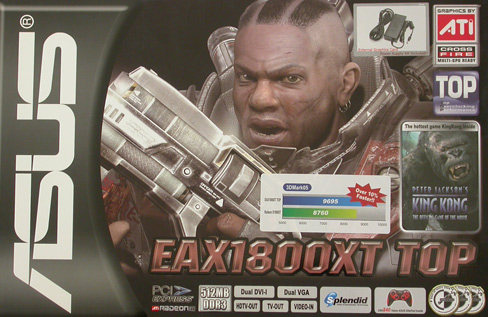 This card performed excellently in all benchmarks, except for Codecreatures II, which prefers nVidia based cards. Unfortunately, we couldn't test the card with Aquamark 3 which produced errors and black screens, but after all, it is an old benchmarking software and it is no longer supported. In games, the performances we got were fluctuated a bit, especially when AA and AF were disabled. In Quake4, NFS Most Wanted and F.E.A.R. without AA and AF, the nVidia cards were slightly better. But with AA and AF enabled, the ASUS RADEON X1800XT showed us it's true power, producing higher fps than the other cards. In Half Life 2 and Ground Control II, the leader is nVidia at all resolutions, with or without AA and AF, although the performance from the ATI cards might improve with a future release of ATI Catalyst.
Overclocking? Well, this card is already stock overclocked and even though we managed to nudge it a tad further, all we got was lower performance in 3D Mark05 and no difference in fps with F.E.A.R. So, it's probably best to leave the card at it's default frequencies.
At the time of this review, the ASUS EAX1800XT TOP was priced at US$510 from newegg.com, which is reasonable for a Hi-End card and for the excellent bundle included.
Pros:
- Good performance in almost all tests
- Quiet operation
- Excellent retail package (King Kong game, GamePad)
- External Power Supply
- Low gaming temperatures
Cons:
- No Overclocking
| | |
| --- | --- |
| Performance: | |
| Overclocking: | |
| Bundle: | |
| Value for money: | |