1. Introduction
This review is for all the hardcore gamers out there, because today we will be looking at ASUS' latest VGA card, the EAX1800XT TOP/2DHTV/512M, which uses the powerful RADEON X1800XT chipset.
-Features and specs according to ASUS
Model

EAX1800XT TOP/2DHTV/512M

Graphics Engine

RADEON X1800XT

Video Memory

512MB DDR3

Engine Clock

700MHz

Memory Clock

1.6GHz (800MHz DDR3)

Memory Interface

256-bit

Max. Resolution

2048 X 1536

Bus Standard

16 lanes PCI Express

VGA Output

Standard 15-pin VGA (per DVI To VGA Adapter)

HDTV Output

S-Video to HDTV

TV Output

S-Video to Composite

Video Input

S-Video to Composite

DVI Output

DVI-I

Dual DVI Output

Yes

Dual VGA Output

Yes

ASUS Cooling technology

Yes

Adaptor/Cable Bundled

DVI to VGA adapter
9 Pin S-Video to HDTV cable
9 Pin VIVO cable
Svideo Cable
RCA COMPOSITE CABLE
ATX POWER CABLE
AC POWER CORD
ADAPTER 80W

Software Bundled

KING KONG FULL VERSION DVD
ASUS XitePad
GamePack-(Second Sight, Chaos League, POWERDROME)
SNOWBLIND
Joint Operations
Xpand Rally
ASUS DVD XP
Power Director 3
Media Show
ASUS Utilities & Driver
The EAX1800XT TOP/2DHTV/512M is the highest stock overclocked RADEON X1800XT currently on the market. The default core speed for the ATI X1800XT is 625 for core and 750 for Memory, but ASUS has successfully overclocked the X1800XT by using the best cooler on the market, which couldn't be any other than an Arctic Cooling cooler.
- Packaging/Bundle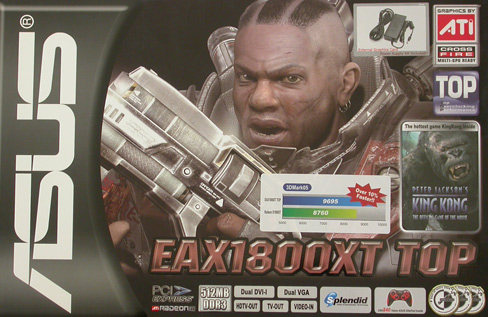 ASUS surprised us in this package. It not only offers a great variety of games, but it also offers an external Power Supply and a USB GamePad! :-). So you don't need to worry, if your PSU is incapable of providing the required horsepower, and with the gamepad you can turn your PC into a Console.

Games that are included:
ASUS Bonus GAMEPACK

CHAOS LEAGUE
SECOND SIGHT
POWERDROME RACE OF CHAMPIONS

SNOWBLIND
XPAND RALLY
JOINT OPERATIONS
PETER JACKSON'S KING KONG
Software:
ASUS DVD XP
Power Director
Media Show
ASUS drivers and Utilities
Manuals...
CD Leather Wallet with the ASUS logo...
external power supply (US plug)...
2 x DVI-I-VGA adaptors, S-Video extender cable, RGB component output cable, PCI Express power adaptor, VIVO cable (S-Video and composite I/O), and a composite video extender cable....
Now that we've covered the card's features, let's move on the second page in order to have a closer look at this 'work of art'... :P