Asus Demos 4 Graphics Processors in SLI
After the successful introduction of Nvidia's SLI technology, sources indicate that Asus is experimenting on configurations where four GPUs are used simultaneously under the SLI mode with potential to offer tremendous performance. The Chinese website
PCPOP
has unveiled some pictures showing two Nvidia GeForce 7800GT graphics cards operating in parallel under the company's multi-GPU technology dubbed Scalable Link Interface (SLI).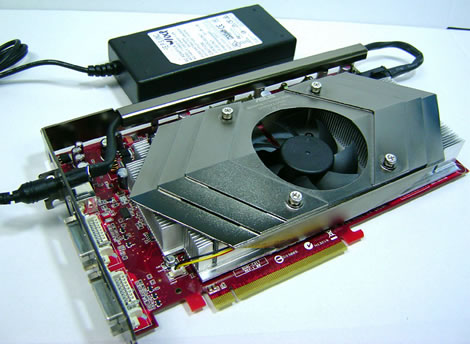 Asus GeForce 7800GT graphics cards had been announced a couple of months ago and feature two GPUs on a single PCB. This allows each single card to perform at the same levels as an SLI dual-GPU configuration. Theoretically, connecting two GeForce 7800GTs in parallel would boost performance by almost four times. The pictures are claimed to be provided by Asus' research & development laboratory in Taiwan.
According to the pictures, two ASUS EN7800 GT Dual graphics cards each equipped with a pair of NVIDIA GeForce 7800 GT graphics chips and 512MB (256MB per GPU) of GDDR3 memory where attached on a an ASUS A8N32-SLI Deluxe Revision 2.0 motherboard. The interesting part, however, is that the graphics cards were not connected using MIO connector required for typical multi-GPU systems developed by NVIDIA. As you can see in the screenshot below, the OS recognized four graphic cards, possibly due to the use of some special drivers. Nvidia will possibly release its new drivers early 2006 and they could possibly add such capabilities.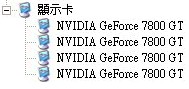 According to the article, the system worked in Futuremark's 3DMark05 benchmark, without however mentioning the results.
Using a 4-GPU solution could be a dream for end users, who are seeking for pure performance. However, considering that a single GeForce 7800GT card costs almost $1000, you realize that the cost for a 4-GPU SLI configuration would boost to approximately $2000. In addition, the power requirements for this configuration would further increase its cost, making it an alternative graphics solution for professionals only.