Apple Unveils New iOS 9, OS X El Capitan, Watch OS 2 And Apple Music Service
Apple on Monday outlined some of the features of the upcoming OS X 'El Capitan', the iOS 9 operating systems for its computer and portable devices. The company is also having a new SDK for Watch OS, brings new features for the Apple Watch and announced the highly-expected Apple Music service.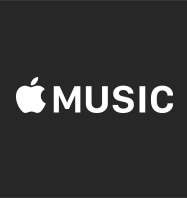 Apple Music
Apple Music is streaming music service, a worldwide live radio station from Apple broadcasting 24 hours a day and a new way for music fans to connect with artists. It combines a diverse collection of music on the planet with the expertise of music experts who have programmed playlists for your iPhone, iPad, iPod touch, Mac, PC, Apple TV and Android phones.
Starting with the music you already know - whether from the iTunes Store or ripped CDs - your music now lives in one place alongside the Apple Music catalog with over 30 million songs. You can stream any song, album or playlist you choose - or let Apple Music do the work for you.
Apple has created playlists based on your preferences, and they become better curators the more you listen. The "For You" section of Apple Music provides a fresh mix of albums, new releases and playlists, personalized just for you.
In addition to human curation, Siri is oaer of Apple Music. Ask Siri to, "Play me the best songs from 1994," "Play the best FKA twigs song," or "What was the number one song in February 2011?" Siri is also smart enough to recognize the song from a movie. So, "play a song from Selma" will play that song.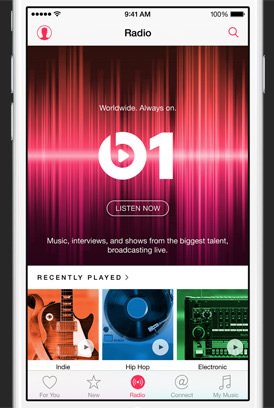 Beats 1, Apple's first live radio station, will broadcast live to over 100 countries. It is is a 24-hour listening experience led by influential DJs Zane Lowe in Los Angeles, Ebro Darden in New York and Julie Adenuga in London. Listeners around the globe will hear the same great programming at the same time. Programs on Beats 1 will offer exclusive interviews, guest hosts and the what?s going on in the world of music.
Apple Music Radio gives you stations created by famous radio DJs. The new stations range in genres from indie rock to classical and folk to funk, with each one curated. With membership, you can skip as many songs as you like, so you can change the tune without changing the dial.
Artists and fans now have a way to connect with one another directly in Apple Music with Connect. Through Connect, artists can share lyrics, backstage photos, videos or even release their latest song directly to fans directly from their iPhone. Fans can comment on or like anything an artist has posted, and share it via Messages, Facebook, Twitter and email. And when you comment, the artist can respond directly to you.
Starting on June 30, music fans around the world are invited to a 3-month free membership, after which a $9.99/month subscription fee will apply. There will also be a family plan providing service for up to six family members available for $14.99/month. Apple Music will be coming to Apple TV and Android phones this fall. And even if you?re not a member, you can still use Apple Music to follow artists and listen to Beats 1 for free.
iOS 9 Preview
Apple also unveiled iOS 9, giving a preview of new iPhone, iPad and iPod touch software that will be available this fall. In this upcoming release, iOS devices become more intelligent and proactive with search and improved Siri features.
New multitasking features designed specifically for iPad allow you to work with two apps simultaneously, side-by-side or with the new Picture-in-Picture feature, to keep watching a video while browsing the web, composing email or using any other app. Built-in apps become more powerful in iOS 9 with detailed transit information in Maps, a redesigned Notes app with new ways to capture ideas, and an all-new News app for the best news reading experience on any mobile device.
Siri features an all-new design in iOS 9, contextual reminders and new ways to search photos and videos. Proactive assistance presents relevant information and suggests actions at a particular moment automatically suggesting apps to launch or people to contact based on usage patterns, and notifying you when you need to leave for appointments, taking into account traffic conditions. iOS 9 can even learn what you typically listen to in a certain location or at a particular time of day, so when you plug in headphones at the gym or hop in the car before work, it can automatically display playback controls for your preferred app. Typed search queries deliver more relevant results from more categories, including sports scores and schedules, videos and simple math calculations.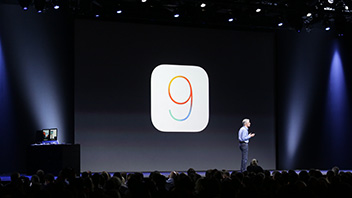 iOS 9 will offer some new features to the iPad Air 2. With a simple swipe, the new Slide Over feature lets you simultaneously work in a second app without leaving the first. And with a tap, you can access the new Split View feature so you can work in two apps at the same time, side-by-side. Picture-in-Picture lets you continue a FaceTime call or video while using your favorite apps. These new multitasking features are supported by built-in Apple apps, and APIs make it easy for third-party developers to add support into their own apps. Typing is faster and easier with an all-new Shortcut Bar that displays actions tailored for the app you are in, and new Multi-Touch gestures make it easier to select and edit text.
In iOS 9, Maps adds support for metropolitan transit systems and schedules, and subway station entrances and exits are mapped. When you plan your trip, Maps can offer a combination of trains, subways, buses and walking, and with the new Nearby feature, see what's around by searching for food, drinks, shopping and more.
New features of the redesigned Notes app include the ability to draw a quick sketch using your finger, easily create checklists to keep track of your to-dos, or snap a photo directly in a note. Easily save important items to your notes directly from other apps, and keep them in sync across all your enabled devices with iCloud.
The News app delivers the design of a print magazine with the interactivity of digital media. News can learn your interests and suggest relevant content that?s easily shareable with friends or saved for later. News collects all the stories you want to read in one place, in a customized newsfeed called For You. Readers can see the publisher channels and topics they?re following in Favorites, and to discover new content, Explore makes suggestions based on what you've already read. News delivers articles from a variety of publishers and over one million topics. News is powered by the new Apple News Format, a digital publishing format supporting custom typography, galleries, audio, video and interactive animations, allowing publishers like Cond? Nast, ESPN and The New York Times to create editorial layouts for iOS users.
With iOS 9, Apple Pay adds support for Discover, rewards programs from merchants such as Walgreens and Kohl?s Department Stores, and participating store-issued credit and debit cards. Shoppers will be able to manage their cards in the new Wallet app. Apple Pay will also be available to users in the UK starting next month.
iOS 9 also includes refinements in battery optimization that provides a typical user with an additional hour of battery life, and a low-power mode to help further extend battery life. Software updates require less space to install and an Install Later feature can perform updates to your device when it?s not in use. Enhanced security features in iOS 9 keep your devices and Apple ID secure by strengthening the passcode that protects your devices and improving two-factor authentication by building it directly into iOS, making it harder for others to gain For developers, unauthorized access to your Apple ID.
For developers, iOS 9 APIs and tools include:
extensible search that deep links directly to content within third-party apps;
GameplayKit and Model I/O for building better games and ReplayKit for recording gameplay;
new HomeKit profiles for motorized windows and shades, motion sensors and home security systems;
wireless CarPlay and support for auto manufacturers to develop apps within CarPlay; and
new HealthKit data points for reproductive health, UV exposure, water intake and sedentary state.

Swift 2, Apple's programmable language, brings new features and performance improvements. The Swift compiler and standard library will be made available as open source later this year, putting the language in the hands of even more developers.
The iOS 9 beta software and SDK are available immediately for iOS Developer Program members at developer.apple.com, and a public beta program will be available in July at beta.apple.com. iOS 9 will be available this fall as a free software update for iPhone 4s and later, iPod touch 5th generation, iPad 2 and later, iPad mini and later.
OS X El Capitan
Apple's new OS X operating system is the OS X El Capitan. Building on last year's release of OS X Yosemite, El Capitan introduces enhancements to window management, built-in apps and Spotlight search, and makes everyday activities - from launching apps to accessing email - faster. Metal, Apple?s graphics technology, is integrated into El Capitan, delivering system-wide performance gains and enabling games and pro apps to tap into the full power of Mac graphics processors.
OS X El Capitan refinements begin with the new system font, San Francisco. Mission Control, the quickest way to view all open windows and has a cleaner design . When your desktop gets crowded, simply drag a window to the top of your screen to access the new Spaces Bar in Mission Control and create a new Space, OS X's way to group applications. And, the new Split View feature automatically positions two app windows side-by-side in full screen so you can work with both apps without distraction.
Safari now features Pinned Sites to keep your favorite websites open and active in your tab bar and a new mute button to quickly silence browser audio from any tab. Mail introduces Smart Suggestions, which recognizes names or events in a Mail message and prompts you to add them to your contacts or calendar with a click. You can also now swipe to delete messages, just like in iOS, and juggle multiple emails while Mail is in full screen. In Photos, you can add locations to a single image or an entire Moment, and sort albums by date or title. Additionally, you?ll be able to download third-party editing extensions from the Mac App Store and access them directly within the Photos app.
With the new Notes app in El Capitan you can drag and drop photos, PDFs, videos and other files into notes, and add content directly from other apps, such as Safari or Maps, using the Share menu. Checklists help you keep track of important to-do items, and the new Attachments Browser organizes your attachments in one simple view. With iCloud, your notes stay in sync across all your enabled devices.
Spotlight gets even smarter in El Capitan, generating results for even more topics, including weather, stocks, sports, transit and web video. You can now resize the Spotlight window to display more results or move it anywhere on your desktop, and use natural language to find documents and files on your Mac based on when they were created or who you sent them to.
OS X El Capitan also improves system performance across your Mac. Metal, Apple's graphics technology, accelerates Core Animation and Core Graphics to boost system-level rendering by up to 50 percent, and efficiency by up to 40 percent, resulting in faster graphics performance for everyday apps. Metal also takes full advantage of your CPU and GPU, delivering up to 10 times faster draw call performance for a richer, more fluid experience in games and pro apps.
El Capitan also features enhanced international language support, including a new Chinese system font for both Traditional and Simplified, with 50,000 characters on-screen readability. Chinese keyboard input methods now offer regularly updated vocabulary lists and a smarter candidate window. El Capitan makes entering Japanese text faster by automatically transforming Hiragana into written Japanese and reducing the need to individually select and confirm word conversions. You can now also select the perfect font for your documents using four new Japanese typefaces.
The developer preview of OS X El Capitan is available to Mac Developer Program members starting today. The final version is coming this fall.
New Apple Watch Software
Apple today previewed WatchOS 2, the first major software update for Apple Watch, giving developers the tools to build apps running natively on Apple Watch.
Apple says that developers have already created thousands of apps for Apple Watch, and WatchKit now gives them access to key hardware like the Digital Crown, Taptic Engine, heart rate sensor, accelerometer and microphone. New software APIs enable audio and video playback and animation, and with the ClockKit framework, developers can represent their data as complications on the watch face.
These new tools allow developers to make apps more robust. For example, Strava can more accurately track your heart rate while on a ride or run using data from the heart rate sensor and accelerometer; Insteon can give customers more precise controls to dim their lights or control the temperature with the Digital Crown; Volkswagen owners can get haptic feedback when their car door has been locked; WeChat includes audio messaging using the microphone; and Vine can host and play video right in the app.
watchOS 2 lets you turn your favorite photo into a new watch face or view pictures from your favorite photo album with every raise of your wrist with the new Photo and Photo Album watch faces. With the Time-Lapse watch face, choose from a selection of time-lapse videos shot over 24 hours in iconic locations including New York City, London or Shanghai.
A new Time Travel feature lets users scroll with the Digital Crown to explore events in the future (and past) including upcoming meetings or activities, the temperature for the week, and information from third-party apps, such as upcoming flight information.
The latest Apple Watch software provides more creative ways to communicate. With Mail, you can respond using dictation, Smart Replies or emoji. You can create multiple Friends screens, each of which can hold up to twelve friends, and new friends can be added directly on Apple Watch. Digital Touch lets you draw and send sketches with multiple colors on the same canvas, giving you more tools for creative sketches.
Additional watchOS 2 features include:
Nightstand Mode that transforms Apple Watch into a bedside alarm clock, with the Digital Crown and side button serving as snooze and off buttons for the alarm;

the ability to use merchant rewards and store-issued credit and debit cards with Apple Pay, which can be added to Wallet;
support for Transit in Maps
workouts from third-party fitness apps contributing to your all-day Move and Exercise goals;
using Siri to start specific workouts, launch Glances and reply to email; and
Activation Lock, which lets users secure their Apple Watch with their Apple ID, preventing another user from wiping or activating the device if it is lost or stolen.

watchOS 2 will be available this fall as a free update to Apple Watch. Apple Watch requires iPhone 5, iPhone 5c, iPhone 5s, iPhone 6 or iPhone 6 Plus running iOS 8.2 or later. The iOS 9 SDK beta including WatchKit for watchOS 2 is available immediately for iOS Developer Program members.
Apple Pay
Apple Pay is adding support for rewards programs and store-issued credit and debit cards with iOS 9. Apple Pay will also give shoppers more ways to pay in the US, expanding merchant acceptance to over one million locations next month and bringing support for Discover this fall. With this addition, Apple Pay will accept credit and debit cards across all major card networks, issued by popular banks, representing 98 percent of all credit card purchase volume in the US.
With the addition of Apple Pay, the Passbook app in iOS has become much more than simply a place for keeping coupons, gift cards, boarding passes and tickets. Starting this fall with iOS 9, Passbook evolves to become Wallet, bringing additional options at checkout with Apple Pay support for rewards and store-issued credit and debit cards.
To get the most out of purchases, users simply add participating rewards and store-issued cards to the Wallet app and use them at checkout with Apple Pay. This fall, more than 80 million active members of Walgreens Balance Rewards program, will be able to use their rewards with Apple Pay. Additionally, Kohl?s Department Stores will begin rolling out Apple Pay to its 30 million Yes2You Reward program members. Others bringing rewards programs to Apple Pay users include Coca-Cola, Dunkin? Donuts, Panera Bread and Wegmans Food Markets. Favorite store-issued cards available to Apple Pay users will include BJ?s Wholesale Club, Kohl?s Department Stores and JCPenney, with many more to come.
Starting next month, Apple Pay will also be available in the UK. At launch, over 250,000 locations will accept Apple Pay, with support from eight of the UK?s most established banks, across all of the major credit and debit card networks.
Apple Pay will support UK credit and debit cards from American Express, MasterCard and Visa Europe, issued by many of the UK?s most popular banks, including first direct, HSBC, NatWest, Nationwide Building Society, Royal Bank of Scotland, Santander and Ulster Bank. Other major issuing banks will follow by this fall, including Bank of Scotland, Coutts, Halifax, Lloyds Bank, MBNA, M&S Bank and TSB Bank.