Apple Releases Battery Case For iPhone 6s
Apple has launched the first Apple-branded battery case for the iPhone 6s. The $99 iPhone 6s Smart Battery Case doubles the phone thickness but also boosts battery life by 80 percent According to Apple, the integrated battery will increase iPhone talk time up to 25 hours and Internet use up to 18 hours on LTE (an increase of 8 hours). The battery of the Smart Case is displayed in the iOS UI, thanks to the integration between software and hardware.
The case comes in Charcoal Gray or White and is compatible with iPhone 6s or iPhone 6.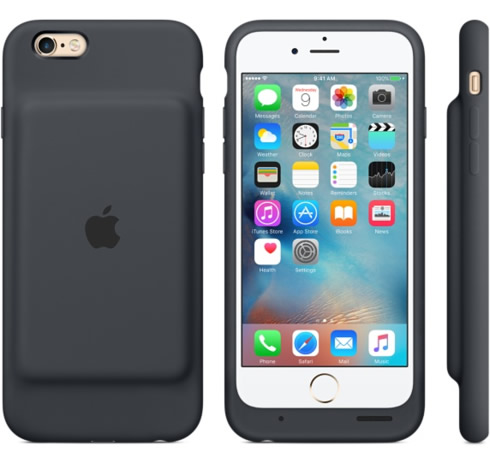 The battery case includes a passthrough so you can still plug in other Lightning accessories whilst the case is in use.
The additional thickness of the iPhone 6s Smart Battery Case appears to add about 7 mm to the 7.1 mm iPhone 6s.
The Apple Smart Battery Case is only available for the 4.7 inch iPhone 6. Apple has not released its own case for the iPhone 6 Plus, presumably because the Plus naturally gets higher battery life due to the larger internal battery.