AMD Releases Triple-core, Quad-core Phenom Processors
AMD on Wednesday officially unveiled the new Phenom family of processors with three (Phenom X3 8000) and four cores (Phenom X4 9000), in a move that could sharpen its competitive edge against rival Intel.
High Performance AMD Phenom X4 Processors
AMD's new high-performance AMD Phenom X4 processors are essentialy what the company calls the "Spider" platform.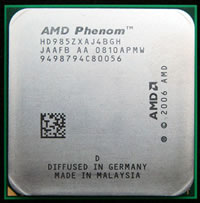 The AMD Phenom X4 9850 Black Edition is the top performer in the new line-up, with Clock Multiplier Control for tunable performance that gives gamers and enthusiasts scalability and customizable performance levels to run multiple processor-intensive applications simultaneously.
"Based on AMD's advanced true quad-core architecture, these processors are loaded with powerful performance features like next-generation HyperTransport 3.0 and energy-efficient innovations like Cool'n'Quiet 2.0 technology," said Mario Rivas, executive vice president, computing solutions group, AMD.
The AMD Phenom quad-core processor commands four natively integrated processor cores promising to break system bandwidth barriers. AMD released the AMD Phenom X4 processors 9550 (2.2GHz) and 9650 (2.3GHz), as well as two higher frequency processors: the AMD Phenom X4 9750 (2.4GHz) and AMD Phenom X4 9850 Black Edition (2.5GHz) processors.
AMD Phenom X4 processors 9550 (2.2GHz), 9650 (2.3GHz), 9750 (2.4GHz) and 9850 (2.5GHz) are now available. The AMD 9850 Black Edition is priced at $235, the 9750 $215 and the 9550 is available for $195, in quantities of 1000 units.
First 65-Watt Quad-Core Desktop Processor
AMD also today announced the availability of the world's first energy-efficient desktop quad-core processor, the AMD Phenom X4 9100e series.
By coupling an AMD Phenom X4 9100e with an AMD 780 series chipset, AMD offers a PC platform that plays Blu-ray movies while it is powerful enough for gamers.
"The AMD Phenom X4 9100e processor is our latest endeavor to help customers reduce energy consumption and environmental impact," said Greg White, corporate vice president and general manager, desktop and embedded division, AMD.
The AMD Phenom X4 9100e processor supports AMD's Cool'n Quiet 2.0 pwer saving technology, AMD CoolCore technology, which helps users achieve more efficient performance by dynamically activating or turning off parts of the processor as needed and AMD's Independent Dynamic Core Technology, which allows an independent frequency control per processor core that can reduce processor energy consumption by adjusting power usage according to core utilization.
In addition, AMD's Dual Dynamic Power Management enables a split power plane design, allowing independent voltage planes for processor and memory controller for greater control over performance based on system demands. AMD Wideband Frequency Control, offers simplified performance state transitions to help reduce power consumption, latency and software overhead of performance states changes; and Multi-Point Thermal Control, multiple sensors across processor silicon designed to reduce speed and heat when temperature exceeds pre-defined limits.
The AMD Phenom X4 9100e processor is expected to be available AMD's from OEMs and System Builders.
The World's First x86 Triple-Core Processors

AMD's Phenom X3 8000 series triple-core processors provide gamers and digital media enthusiasts with high performance at mainstream price points. AMD Phenom X3 processors are designed to improve multi-threaded application performance over dual-core processors at the same clock.
This AMD desktop solution is well suited for gaming and multimedia, providing a full HD experience with support for the latest and most demanding formats, including VC-1, MPEG-2 and H.264 on a mainstream PC.
AMD said that its Phenom X3 has as much as a 30 percent performance improvement in some instances compared to a dual-core chip operating at the same frequency.
AMD Phenom X3 processor and AMD 780G chipset based desktop PCs offer DirectX 10 game compatibility. Gamers looking to scale their performance with the addition of a discrete graphics card can accelerate their performance with ATI Hybrid Graphics Technology. This technology can harness the graphics power of both an ATI discrete graphics card and the motherboard GPU in tandem, delivering in some applications up to 70 percent improvements in 3D performance, AMD claims.
AMD Phenom X3 8400 (2.3GHz, 95W) and AMD Phenom X3 8600 (2.1GHz, 95W) can improve performance over dual-core processors on single-threaded applications and can scale with the same applications that scale with quad-core. AMD Phenom triple-core processors can also increase performance for multitasking usage models and multi-threaded applications, aligned with similar benefits available with AMD Phenom X4 quad-core processors.
Systems powered by AMD Phenom X3 processors 8400 ($150) and 8600 ($175) are expected to be available from OEMs and system builders only.
AMD first disclosed plans to make the Phenom X3 in 2007. The company had a difficult 2007 as its full-year loss swelled to $3.38 billion from a net loss of $166 million in 2006. Partly to blame was a design problem with its Barcelona server chip that AMD said was key to regaining its competitive edge against Intel.